Work with one of the top digital marketing agencies to create an indomitable online presence.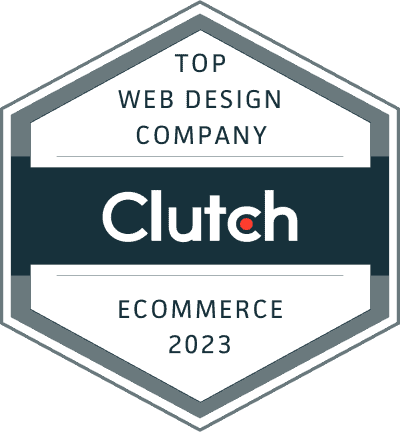 Top 1% Global Leader Digital Agency
Ranked by Clutch 2023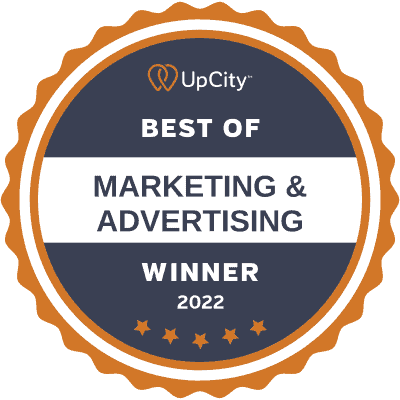 Top 1% Digital Agency in United States
Ranked by UpCity 2022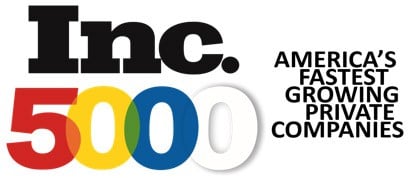 Fastest-Growing Companies in the USA
4 Years in a Row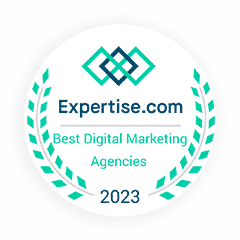 Top 1% Best Digital Marketing Award
Ranked by Expertise 2023

#2 Global Award Winner
Ranked by MASHABLE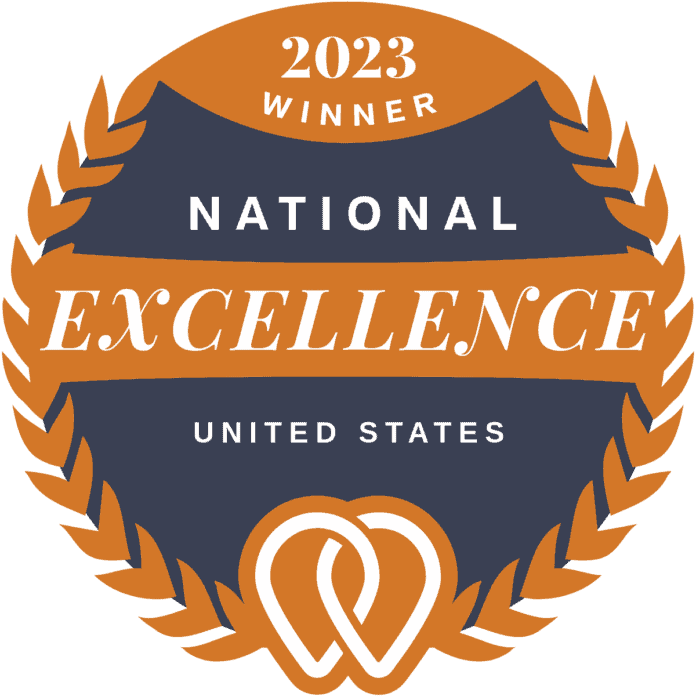 Top 1% Award of Excellence Winner
Years 2020, 2021, 2022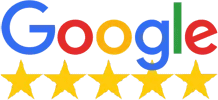 500+ 5-Star Reviews in Google
Ranked by Our Customers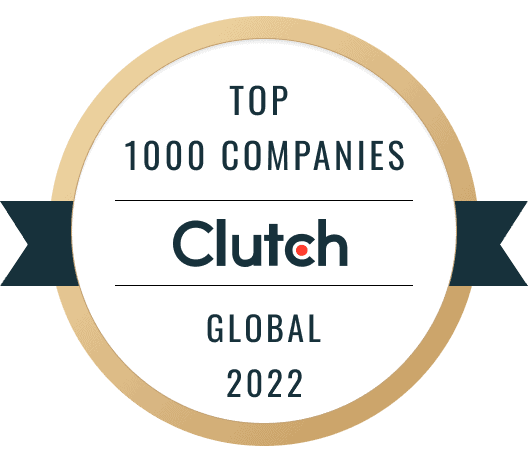 Top 1000 Global Digital Agency
Ranked by Clutch 2022

#1 Global Digital Agency
Ranked by Business Journal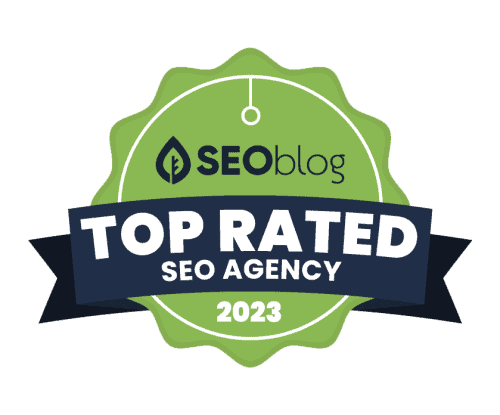 Top Rated SEO Agency
Ranked by SEO Blog 2023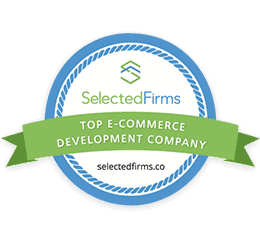 Top Ecommerce Development Company
Ranked by Selected Firms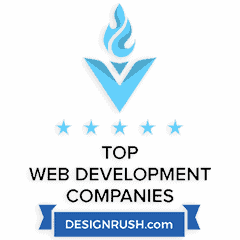 Top Web Development Agency
Ranked by Design Rush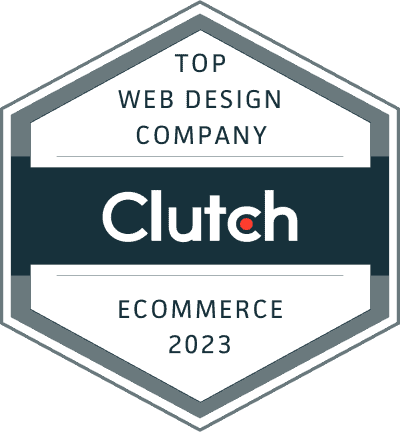 Top 1% Global Leader Digital Agency
Ranked by Clutch 2023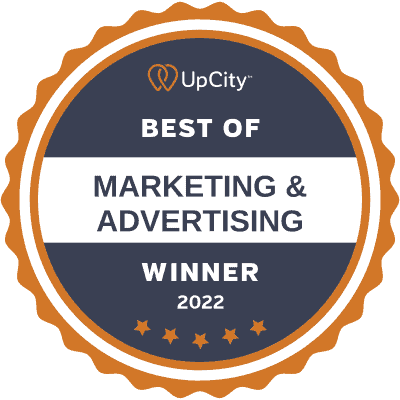 Top 1% Digital Agency in United States
Ranked by UpCity 2022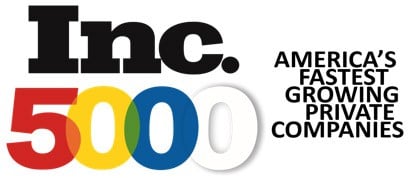 Fastest-Growing Companies in the USA
4 Years in a Row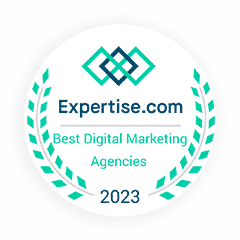 Top 1% Best Digital Marketing Award
Ranked by Expertise 2023

#2 Global Award Winner
Ranked by MASHABLE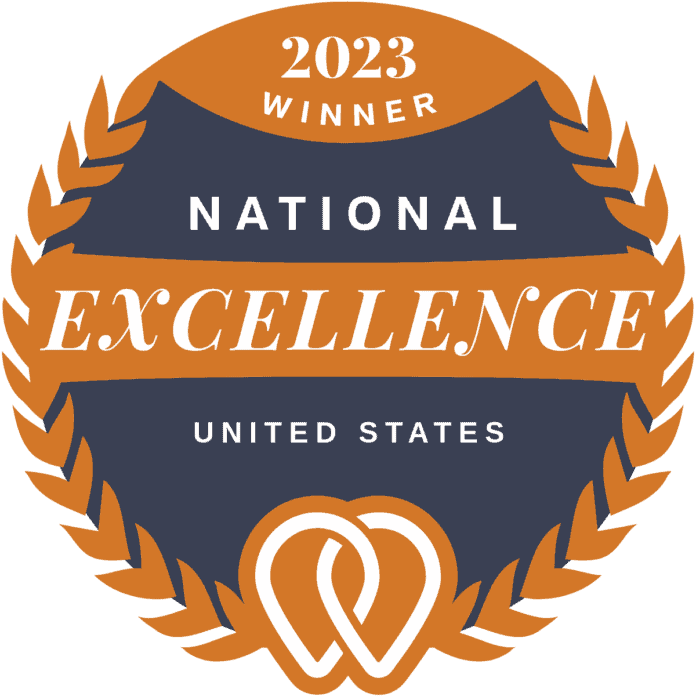 Top 1% Award of Excellence Winner
Years 2020, 2021, 2022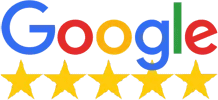 500+ 5-Star Reviews in Google
Ranked by Our Customers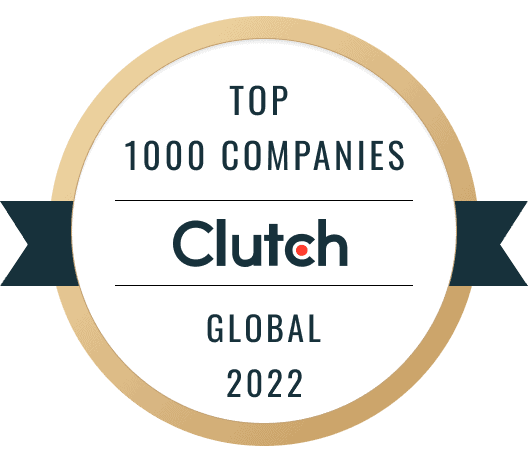 Top 1000 Global Digital Agency
Ranked by Clutch 2022

#1 Global Digital Agency
Ranked by Business Journal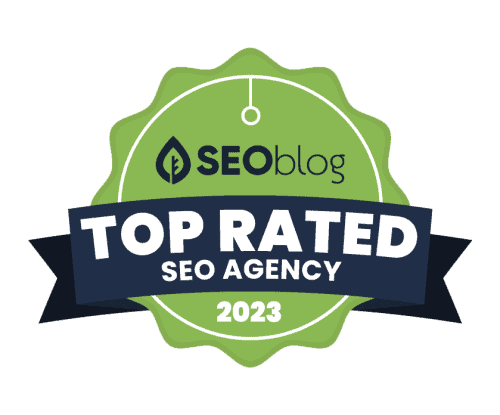 Top Rated SEO Agency
Ranked by SEO Blog 2023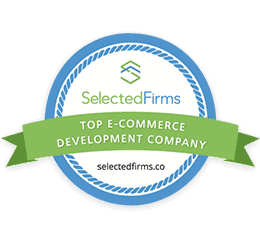 Top Ecommerce Development Company
Ranked by Selected Firms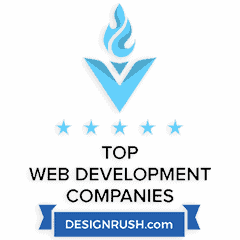 Top Web Development Agency
Ranked by Design Rush
Indianapolis Based Businesses
If you're a fellow Hoosier, you know the importance of a good work ethic. It seems that Indianapolis as a whole understands it perfectly well.
In 2022, Indianapolis reached third place on the annual Best of the Midwest: Startup Cities Rankings list, surpassing Pittsburgh for the first time. In fact, it was the only city to move up the list among the top 10, as you can see on this map.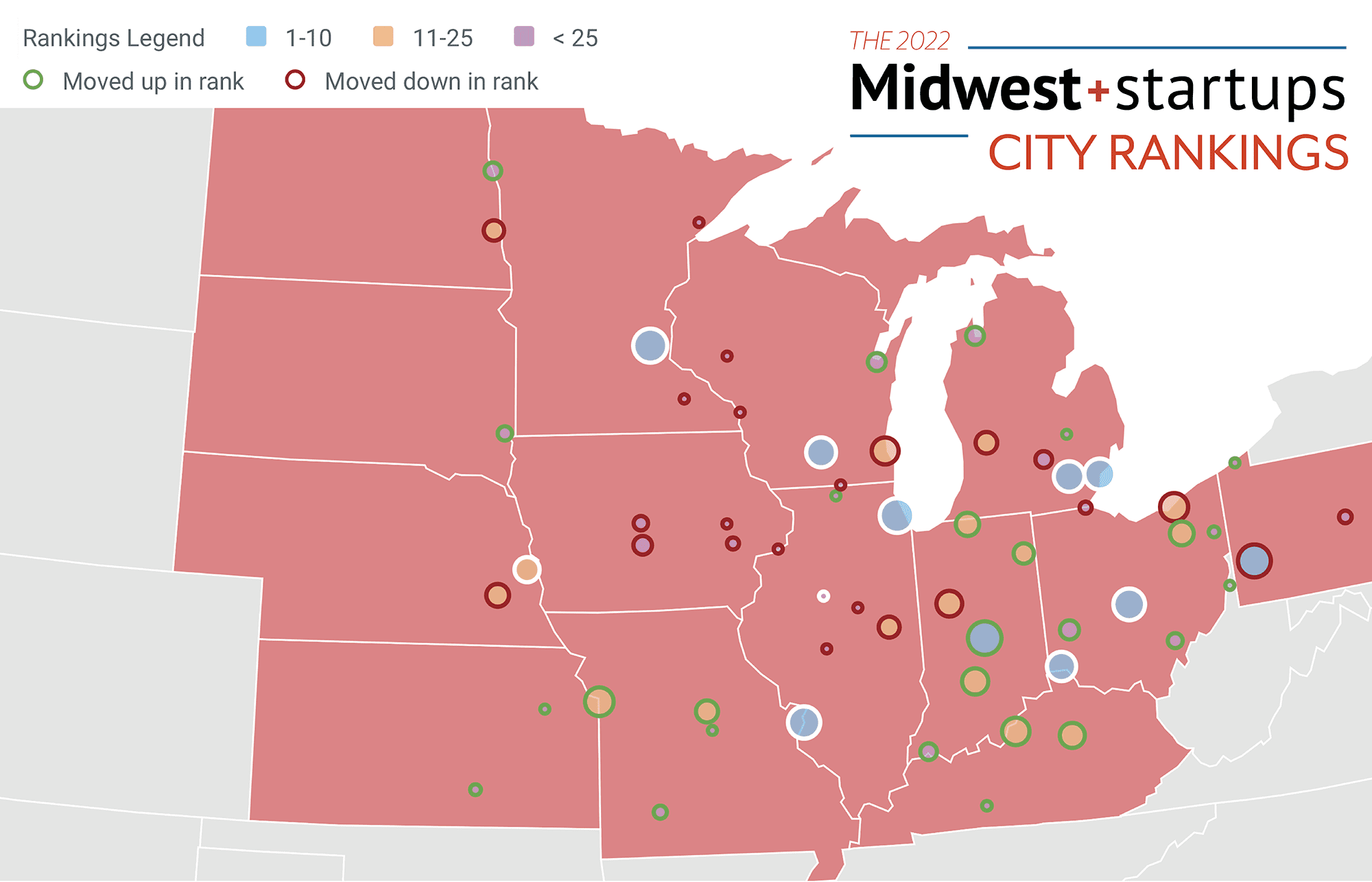 Pittsburgh wasn't the first city to be overtaken by Indianapolis after a fierce battle. St. Louis suffered the same fate in 2019, losing the fourth spot on the list.
Indianapolis's impressive growth as a business hub can be attributed to Indiana's aggressive campaign of supporting startups through direct investing, competitive tax credits, and a massive fund-of-funds program. Indiana's hard work has paid off, making Indianapolis, or Indy, one of the most advantageous cities for doing business and cultivating innovation and entrepreneurship.
But what does that mean for your business?
It means you'll have less trouble getting your business off the ground. But so will thousands of other hard-working Hoosiers.
So, what now?
Now, you have to find a way to cut through the noise.
That's where a full-service digital agency comes into play.
NEWMEDIA is one of the leading digital marketing agencies in Indianapolis. Today, you'll learn why it's also the Indiana marketing agency for your business.
Indianapolis, IN website design, UX, digital development and marketing agency
INCREDIBLE PRODUCT MEETS IMPECCABLE DESIGN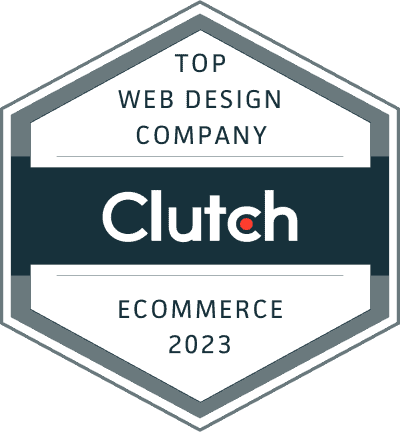 Global Leader Digital Agency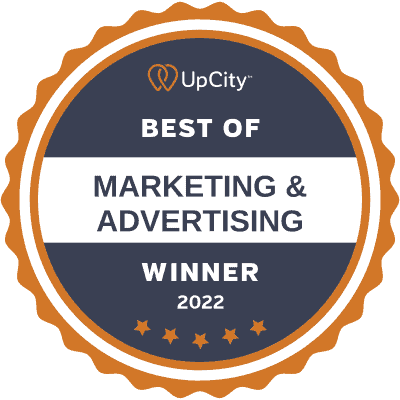 Digital Agency in United States
Web Design | SEO+Social Digital Marketing Agency
We can craft the perfect digital strategy to grow your business, and then execute it for you to generate massive scale. And we can move much faster than you would expect.
What Can a Digital Marketing Agency Do for
In today's digital age, your business growth is directly proportional to how well you compete in the digital race. Digital marketing strategies are an invaluable part of the efforts to overtake the competition and stay ahead.
While helpful resources have also gone digital, they can't possibly compete with the knowledge, experience, and level of personalization digital marketing experts bring to the table.
So, what exactly do these experts and their marketing agencies do? Let's find out.
Growing Your Online Presence
Several surveys and reports have shown that between 70% and 80% of shoppers do their research online before making a purchase.
If one of these shoppers was to research your business, what would they find?
You don't have to have millions of followers and rank first on Google (for now!), but you should have a robust online presence that makes it easy for inquiring people to find you.
Businesses that fail to grow their online presence successfully risk losing lucrative opportunities that online shopping and e-commerce now make possible.
A digital marketing agency makes sure this doesn't happen.
Top digital marketing agencies will start by ensuring your business has an all-encompassing online presence, from an easy-to-navigate website to engaging social media channels. This way, potential customers and other interested parties can reach you and your business 24/7.
With the right marketing agency, your online presence will be reflective of a reputable business with a positive image, leading to a larger audience and customer base.
Choosing the Right Marketing Strategy
If you've spent some time researching marketing services online, you've probably seen that omnichannel marketing is all the rage right now.
But, despite what the title of one of the world's most-awarded films says, you don't need everything, everywhere, all at once.
A digital marketing company will help you shape your online presence wisely, choosing only the most suitable marketing avenues for your business. This way, you'll avoid wasting time, effort, and money on marketing campaigns and social media channels that do little for your business growth.
Sure, knowing which social media platforms have the largest audience is important. According to an analysis by Kepios, Facebook still leads the race, as you can see in the chart below. Any comeback from the "Facebook is dead" folks?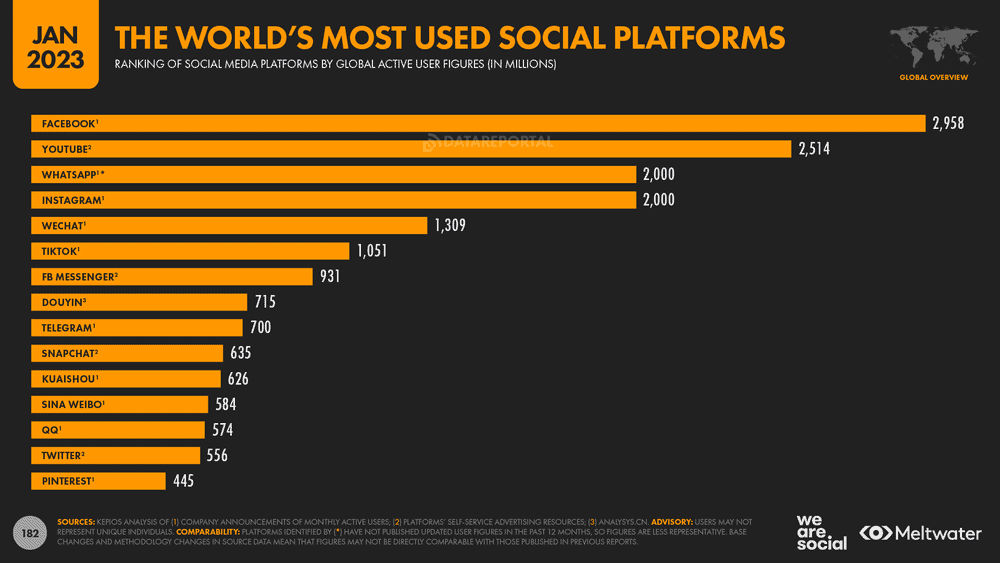 However, when it comes to marketing campaigns, it doesn't matter what social media platform is most widely used globally. What matters is what platform is most widely used by your ideal audience.
The key to choosing the right marketing strategy lies in getting to know this audience and their browsing and shopping behaviors and habits. And a full-service marketing agency holds that key effortlessly.
Crafting Valuable, High-Impact Content
Now that you know why to be online and where to be online, there's just the small matter of determining what to post online. Posting anything to fill space and meet the quota won't get you anywhere.
What will get you places—places you want to be—is a successful content marketing strategy.
Content marketing is vital for businesses of all sizes and industries, and a digital marketing agency will help you master it.
You'll know precisely what kind of content to create based on the questions your audience typically asks and the subjects they enjoy. For some businesses, video content is crucial for getting more traction. For others, blogs are the way to go. Or e-books. Or testimonials and reviews. Or perhaps influencer marketing.
We can go on and on. And so can this chart from MBA Skool.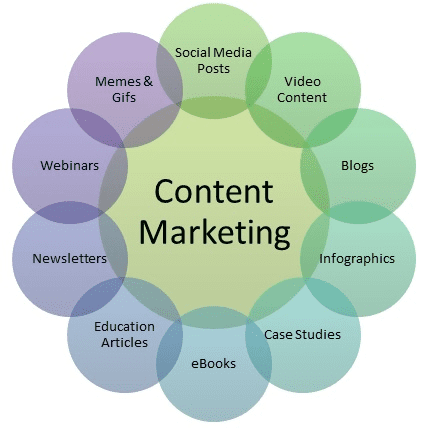 Regardless of the best content type for your business, a digital marketing agency has got you covered. These experts will ensure you only produce and post highly valuable, relevant, and compelling content across all your platforms, from pay-per-click advertising campaigns to social media pages.
Providing Access to the Latest Tools
Effective digital marketing requires a unique set of tools.
Sure, you can find helpful online tools for free or through free trials, but scaling up your business calls for that premium stuff, and a digital marketing firm has access to all of it.
These advanced tools offer numerous ways to streamline marketing operations, including automation, accounts management, and actionable analytics. Using these tools will allow you to strengthen every aspect of your marketing strategy, from social media management and content marketing to search engine optimization (SEO) and lead generation.
The best marketing agencies can even get you a discount on premium software tools through their technical partners.
So, you've got all the right marketing campaigns rolling, and you're all set forever, right? Wrong! (We're not sure how to write the wrong answer buzzer sound effect, so do us a favor and just picture it in your mind.)
Unfortunately, the world of marketing is constantly changing. Just take Google as an example. Most experts estimate that the tech giant changes its search algorithm between 500 and 600 times each year. Yup, your math isn't wrong. That's once or twice a day.
And Google is just one piece of the puzzle.
With these never-ending changes, monitoring and evaluating the overall digital strategy is of utmost importance.
A digital marketing agency stays on top of all the changes and ensures your custom strategies do too. Regularly updating your marketing operations is the only way to achieve steady growth for your business, regardless of external circumstances.
Which Digital Marketing Services Can NEWMEDIA Offer to Your Business?
NEWMEDIA is a leading full-service digital marketing agency in Indianapolis. And full-service is much more than just a buzzword. Simply put, a full-service agency is a powerhouse for all digital marketing solutions. At NEWMEDIA, we have the knowledge, experience, and tools to bring added muscle to your marketing department and take your business to the next level. 
Here's a taste of what we do.
We don't want to point any fingers, but it isn't rare for marketing agencies in Indianapolis to slap their name on a website template and call it a day.
Choosing best-sellers when shopping usually means you'll end up with the best products. However, using that same tactic when looking for a website theme means you'll end up with the same website as thousands of other business owners.
No matter how appealing this template looks, this isn't the way to stand out. Having a custom website is the way to do it.
Of course, custom-designed websites are highly complex to set up. But you don't need to worry about the ins and outs of web design. Leave it all to NEWMEDIA.
At NEWMEDIA, we believe that uniqueness is what makes your website, brand, and products memorable and recognizable. For this reason, our digital marketing services include custom web design.
A custom web design gives you complete control over your website's appearance. You can add unique features, valuable functions, and striking visuals essential for your business and overall brand storytelling.
If you already have a brand color scheme and font style, make sure to use them on the website, thus aligning it with your brand strategy. If not, you can work with our talented web design experts to find the perfect solution for your website.
Besides looking better, custom websites are more scalable. As your business grows, you can tweak the design elements and add new features to address business changes.
The same goes for conversion optimization. Our web designers will know your website inside out, allowing them to tweak design elements when necessary quickly.
You might wonder, "Didn't we just go over this?" But while sounding similar, web design and web development aren't the same.
Web design is all about visual appearance and graphic design solutions. It aims to increase the website's usability and ensure each user experience is straightforward. Simply put, web design dictates how your website looks and feels.
In contrast, web development is the technical stuff beneath the surface, requiring coding and building elements that aren't visible to the visitors. For this reason, web developers must know coding languages like JavaScript, HTML, and CSS, as well as many other skills like database management, debugging, and content management.
While different, web design and development work together to achieve a functional and professional website for each of our clients.
Search Engine Optimization (SEO)
Did you know that 75% of internet users never go past the first page of Google search results? This percentage isn't going to change any time soon. What should change is your search engine optimization strategy.
SEO services are among the most sought-after services offered by NEWMEDIA. This shouldn't come as a surprise, considering how crucial SEO is for connecting your business with its target audience.
Our SEO specialists will work with you to create customized SEO strategies, including keyword research, business analysis, and high-quality content creation. With these elements, people won't have any trouble finding your website, leading to an influx of organic web traffic.
A well-developed SEO strategy is nothing short of a miracle worker. It can help launch a brand new business, skyrocket existing small businesses that are struggling, or even bring exposure to enterprise-level organizations stuck on a plateau of slow growth.
Besides boosting your business on search engines in general, our talented Indianapolis team will ensure your website ranks well in local searches. This way, nearby Hoosiers will be able to find your business quickly. Naturally, local search engine optimization works best if your business has a physical location in Indianapolis.
We can continue to talk about the importance of local SEO, or we can let numbers speak for themselves. Check out this image from ThriveMyWay, displaying some staggering statistics on the importance of local SEO.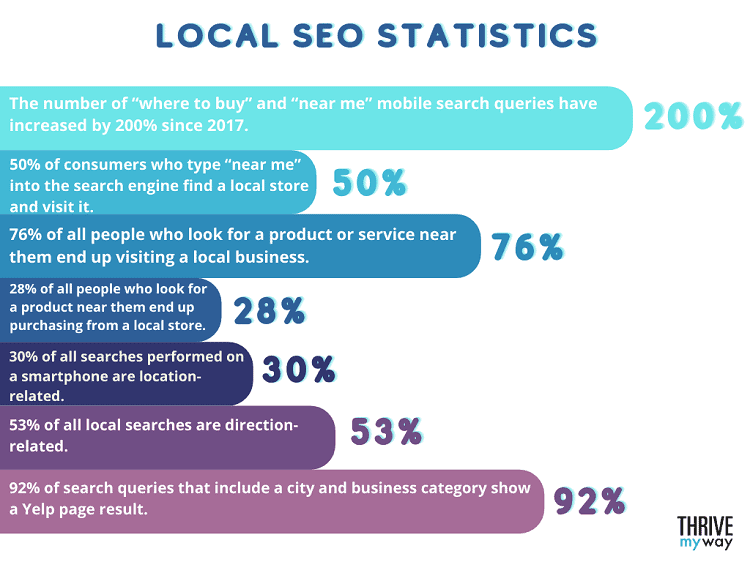 Given how popular social media has become recently, our social media marketing services are probably among the most expected on the list. A thought-out and effective social media strategy is the backbone of your business's success online.
NEWMEDIA will help your business harness the power of social media, thus propelling it to new heights.
We'll start by defining your ideal audience, which will steer our digital strategy in the right direction. From there, we'll work together to create and implement an effective campaign across all channels relevant to your business.
Our team will guide you on what tone to use when engaging with your audience, following our reputation management strategy. The ongoing interactions and responses will keep your audience coming back and build brand loyalty, which is a key to your success.
Most aspects of digital advertising are constantly changing, but social media undoubtedly takes the cake. New trends are constantly popping out, and we've also seen a fair share of new social media platforms in recent years.
NEWMEDIA will ensure your business always stays on top of trends, thus getting the recognition of users across multiple platforms and age groups. Whether you want to reach the adults on Facebook, young adults on Instagram, or Gen Z on TikTok, #WeGotItCovered.
Like any marketing strategy, we'll continuously monitor the social media strategy to ensure it continues to yield positive results.
Email marketing might be one of the oldest strategies in the book, but it hasn't stopped being effective when done right. In fact, email marketing revenue is on the rise and is expected to hit a mind-blowing $17.9 billion in 2027, as you can see on this chart from HubSpot.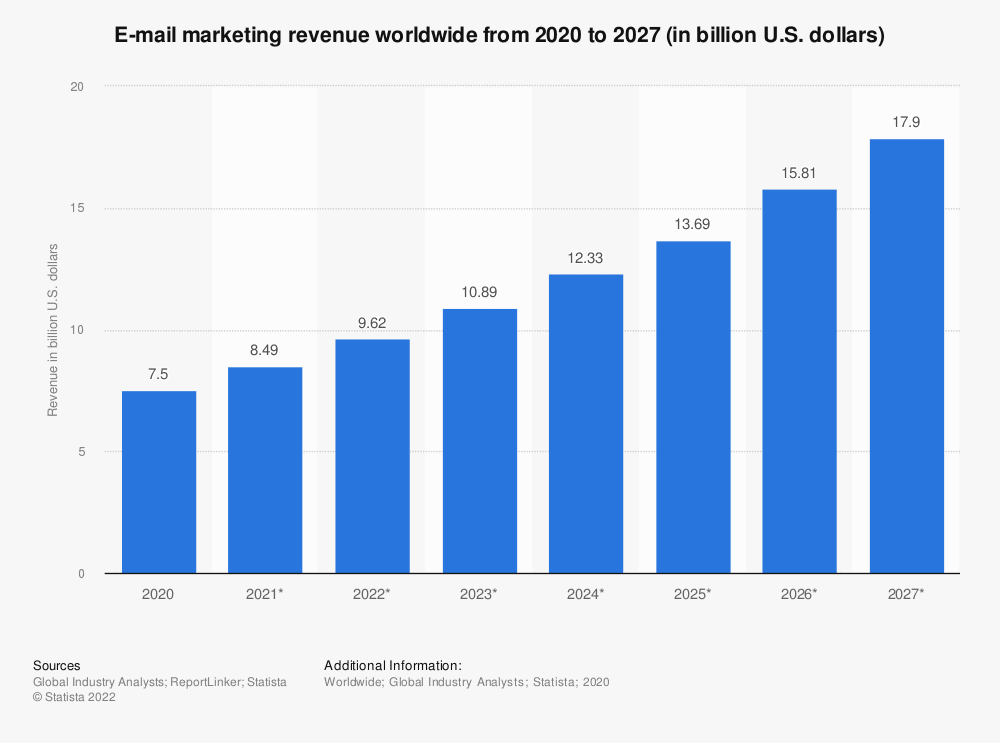 However, there's more to an effective email campaign than sending a bunch of emails. There are a million things that can go wrong. Your emails can be too frequent, unimaginative, poorly designed, or tone-deaf.
Whatever the case, the result will be the same – the recipient glances at them and sends them straight to the trash. That is, if you even get them to open the emails in the first place.
To spare your emails this unfortunate fate, you should enlist the help of our marketing experts. We will craft the ideal email marketing campaign for your existing audience but also work to expand your subscriber base exponentially.
We'll continue to monitor the campaigns, tweaking them as necessary. In the end, you'll receive a detailed report on the revenue they've generated, making your company a part of the growing trend above.
Content Marketing and Copywriting
At NEWMEDIA, we offer an impressive number of digital marketing services. But most, if not all, of these services rest on a single thing – content. Without high-quality content, most of these services would be virtually useless.
Besides fresh content being the invisible string holding all of our other digital marketing services together, we specialize in content marketing and copywriting.
Our talented writers can tackle any writing task and produce superb results. Blog posts, e-books, infographics, videos, guides…you name it, and we can make it happen.
Consistent high-quality content comes with numerous benefits. It can help your business create a positive experience for your customers, compelling them to come back. As a fun bonus, when they do come back, they'll trust you more, thanks to the great content they now associate with you. Excellent content will also help you generate more leads, improve conversions, and increase your business's visibility and authority.
Over the years, we've had the opportunity to work with hundreds of clients of all sizes from a range of industries for website designing and redesigning projects. Some of our clients include:
The new Delta Sky Club website portal, designed and developed from scratch by NEWMEDIA, allows Delta passengers who go online in any of their Sky Club lounges across the U.S. to quickly get news, weather & stock market information, in addition to tracking flights on any airline (not just Delta!), searching directly in Google, and getting maps and driving directions to/from any address on Earth.
NEWMEDIA Los Angeles, in collaboration with Sterling-Rice Group (SRG), built a new website for the Almond Board of California under an aggressive development timeline. We built a multi-language website for them while ensuring a consistent user experience by bringing all four existing websites into a single universal system. Our team of experts delivered this mammoth project even after the deadline was shortened by four weeks.
The Six Flags team reached out to NEWMEDIA for a complete website redesign and multi-site ecommerce web development. We redesigned the website to change its complete look and feel and organized content into categories and subcategories to simplify content discovery for visitors. Over the course of the project, we worked in close coordination with the Six Flags team to deliver the website quickly before their parks reopened.
PostNet approached us to completely redesign all their websites, including those of franchisees. We developed a fresh responsive website for them to offer a consistent browsing experience to visitors irrespective of the screen size of the device they use to access the website. Additionally, we developed a tool to help visitors find their nearest PostNet center. Finally, we designed the 300+ franchise websites for them with local SEO and franchise SEO.
YMCA (now "The Y") is an organization that we've all heard of and/or been a part of at one time in our lives. YMCA of Metro Denver came to us for a fresh website design that would communicate their mission of being for youth development, healthy living, and social responsibility. Even more exciting, they had just had a brand refresh and this was the chance to support that refresh with a complementary website.
When CBS Television was producing the show that came to be called Haystack Help, they needed a complex yet easy to use website application to direct the TV viewers to visit, and their search for a Denver website developer led them to NEWMEDIA. Initially, prior to contacting NEWMEDIA, they had selected another web development partner for the project. Then, there was a problem…
Make Waves in the Digital Sea With NEWMEDIA
By now, you probably understand why NEWMEDIA is among the top marketing agencies in Indianapolis. But what if we told you our accolades reach far beyond the borders of Indiana and even the U.S.? At NEWMEDIA, we are committed to helping businesses succeed online and beyond. Our mission is to provide innovative, elevated marketing solutions that drive unprecedented growth.
But don't just take our word for it
Our Recognitions Speak for Themselves
ranks NEWMEDIA a Top 1% Digital Agency in the United States
ranks NEWMEDIA a Top 1% Global Leader Digital Agency.
ranked NEWMEDIA's work the #2 Global Award Winner (and they ranked Twitter #3).
ranks NEWMEDIA among its fastest-growing companies, 4 years in a row.
Don't be confused by the many imitators, with names that look and sound alike - there is only one, original NEWMEDIA.COM - helping clients grow their businesses since 1996.
LET'S GROW YOUR BUSINESS TOGETHER
We believe that our digital marketing agency can help transform any business, ensuring each client gets the highest quality service. Call us old-fashioned, but meeting face-to-face still holds a special place in our hearts, so we suggest meeting up in our beautiful offices. You can find us at 120 E Market Street, Suite 1290, Indianapolis, IN 46204.

We can almost hear some of you saying, "Aren't you a digital agency?" And to that, we say – touché! You can also reach us via email at info@newmedia.com or via phone at 317-854-9420. Get in touch with our experienced professionals today, and let's start making magic together.