Is your business ranking well in search engine results pages for local searches? If you have optimized your website for search, it doesn't mean your local site will also rank for relevant local search queries.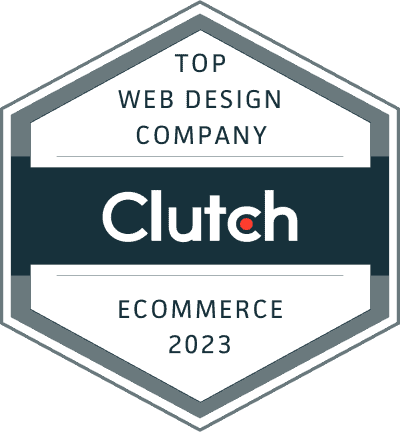 Top 1% Global Leader Digital Agency
Ranked by Clutch 2023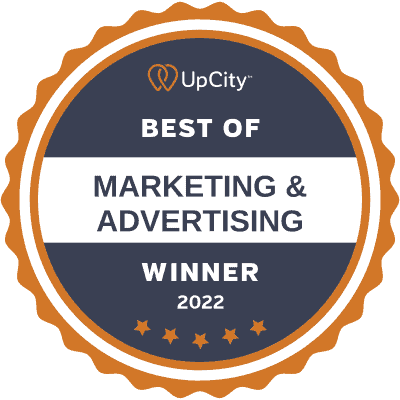 Top 1% Digital Agency in United States
Ranked by UpCity 2022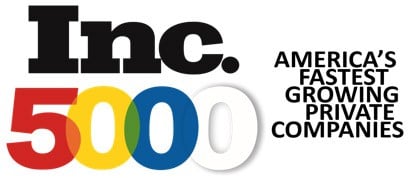 Fastest-Growing Companies in the USA
4 Years in a Row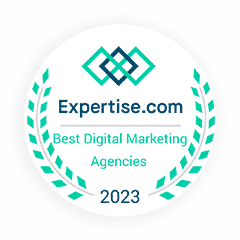 Top 1% Best Digital Marketing Award
Ranked by Expertise 2023

#2 Global Award Winner
Ranked by MASHABLE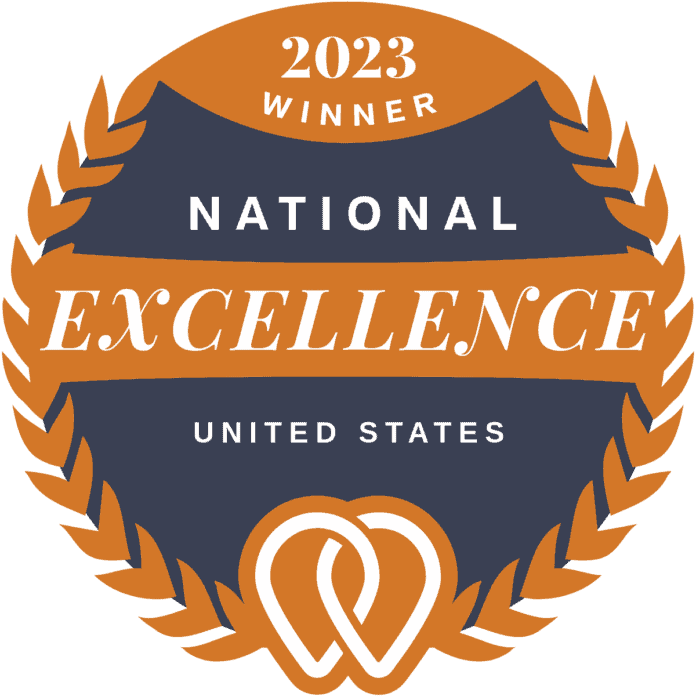 Top 1% Award of Excellence Winner
Years 2020, 2021, 2022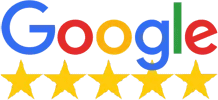 500+ 5-Star Reviews in Google
Ranked by Our Customers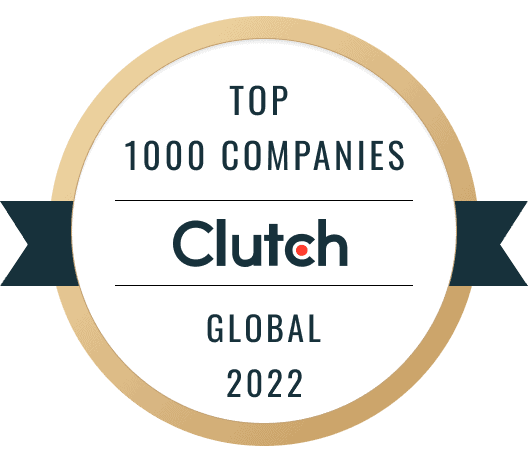 Top 1000 Global Digital Agency
Ranked by Clutch 2022

#1 Global Digital Agency
Ranked by Business Journal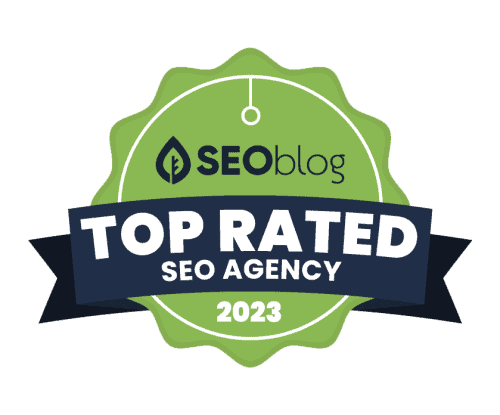 Top Rated SEO Agency
Ranked by SEO Blog 2023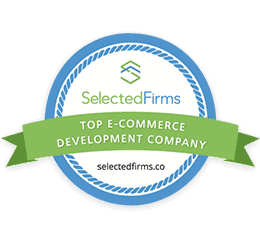 Top Ecommerce Development Company
Ranked by Selected Firms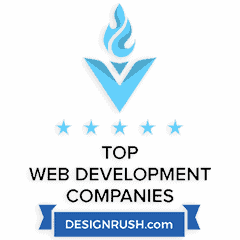 Top Web Development Agency
Ranked by Design Rush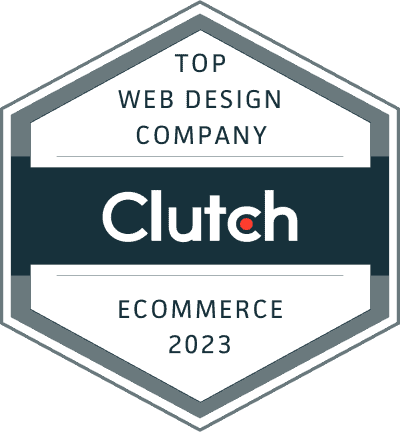 Top 1% Global Leader Digital Agency
Ranked by Clutch 2023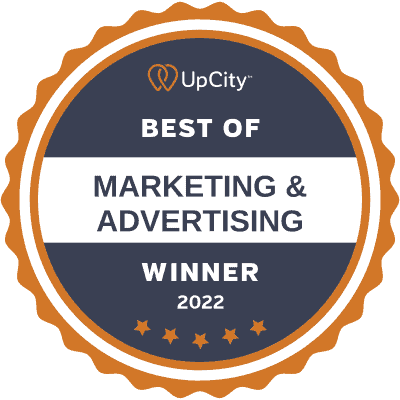 Top 1% Digital Agency in United States
Ranked by UpCity 2022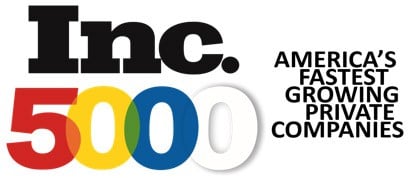 Fastest-Growing Companies in the USA
4 Years in a Row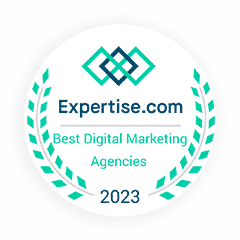 Top 1% Best Digital Marketing Award
Ranked by Expertise 2023

#2 Global Award Winner
Ranked by MASHABLE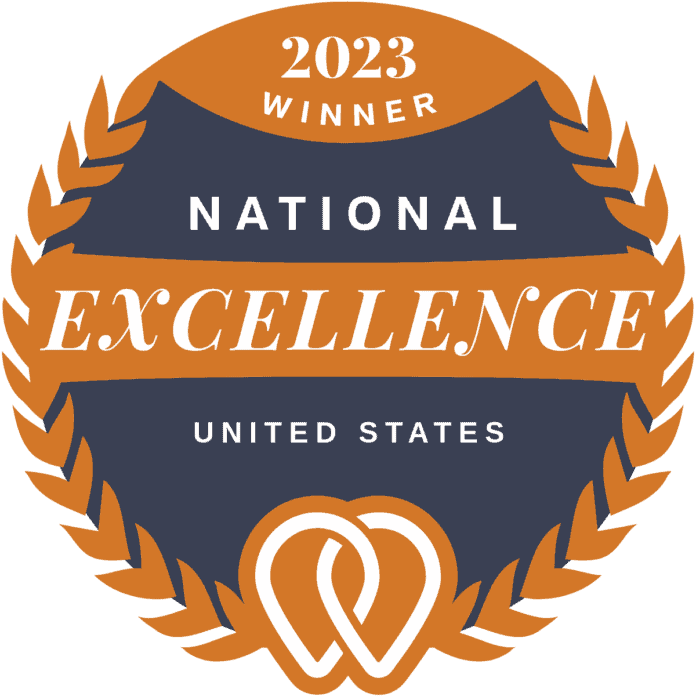 Top 1% Award of Excellence Winner
Years 2020, 2021, 2022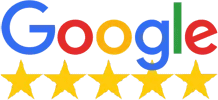 500+ 5-Star Reviews in Google
Ranked by Our Customers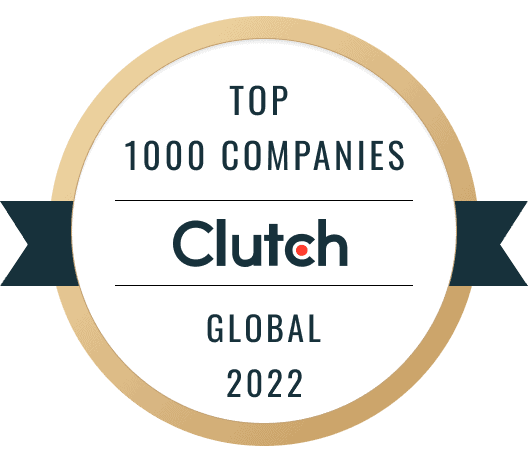 Top 1000 Global Digital Agency
Ranked by Clutch 2022

#1 Global Digital Agency
Ranked by Business Journal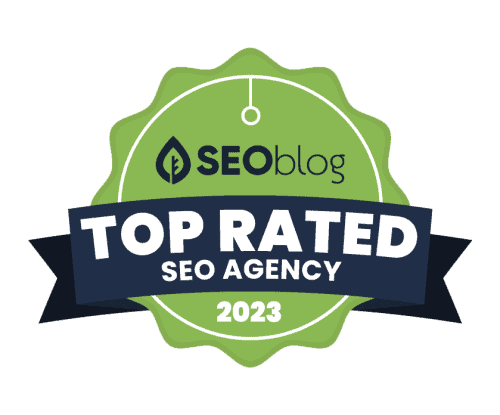 Top Rated SEO Agency
Ranked by SEO Blog 2023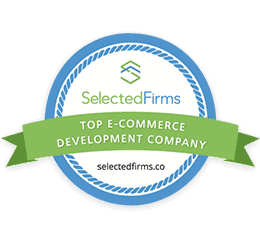 Top Ecommerce Development Company
Ranked by Selected Firms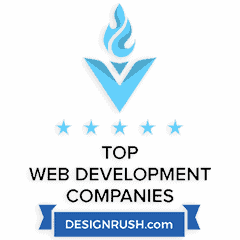 Top Web Development Agency
Ranked by Design Rush
Digital marketing is the backbone of business today.
You must know how to best utilize your budget.
Digital ad spending has surpassed $261 billion.
There is something for everyone in online marketing.
Global reach
Cost-effectiveness
Granular targeting
Massive ROI
High engagement
Data-driven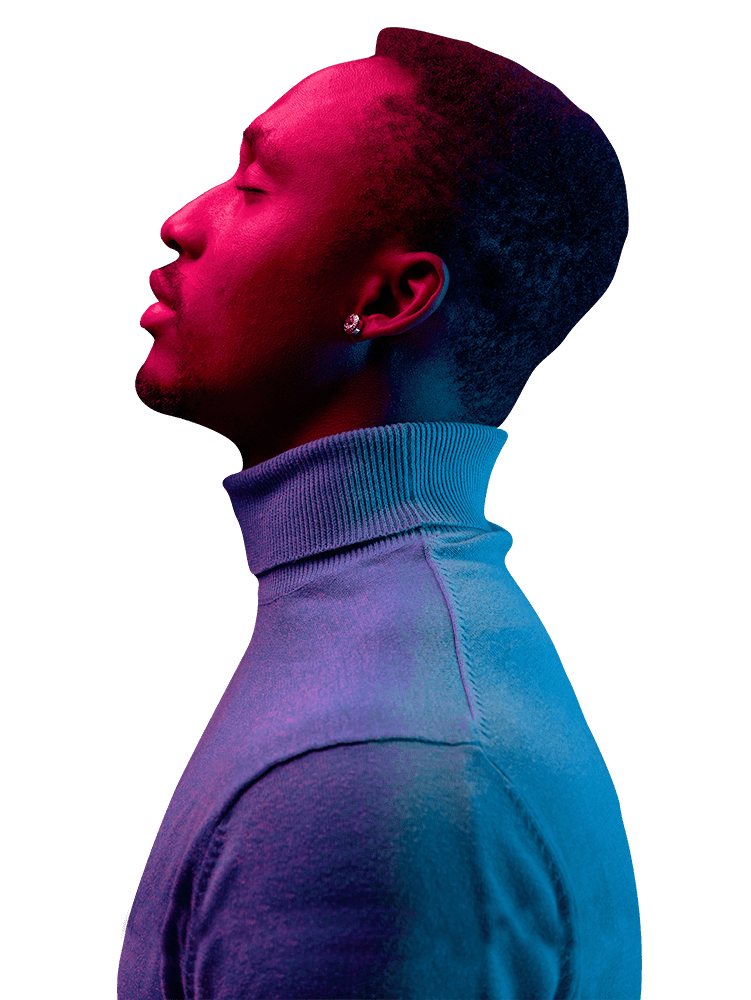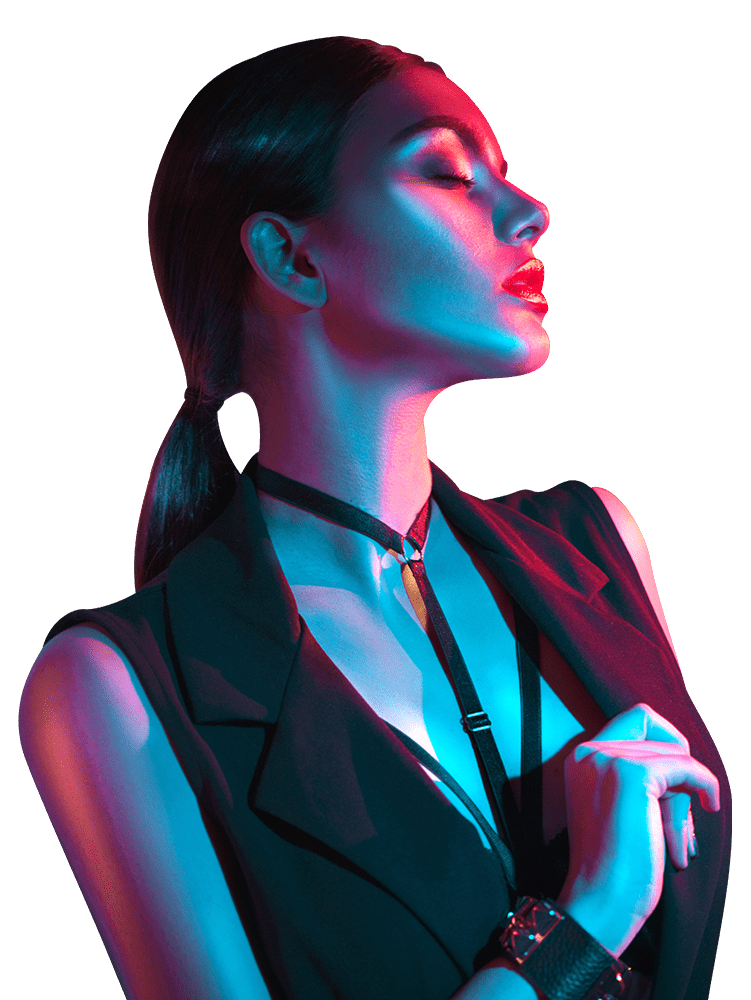 Local Search Engine Optimization
Local SEO is crucial for your business if you target people in a specific location. For example, if you are a grocery store owner, you'd like to rank relevant search queries generated from a specific location so nearby people can find your business.
If not optimized for local SEO, you will lose customers and business without you having an idea of it. There is no room for missing local SEO.
If you want to rank for the right keywords in a target location, you need to optimize your business and products for local SEO.
What is Local Search Engine Optimization?
It is an SEO technique that helps your business to be more visible in local search results. It is suitable for businesses that have a physical location and targets a specific geographic location (as opposed to an entirely online presence).
It involves finding and targeting local keywords, optimizing Google My Business, and utilizing the name, address, and phone number (NAP) smartly.
Google, and other search engines, use different ranking factors for local SEO than traditional search: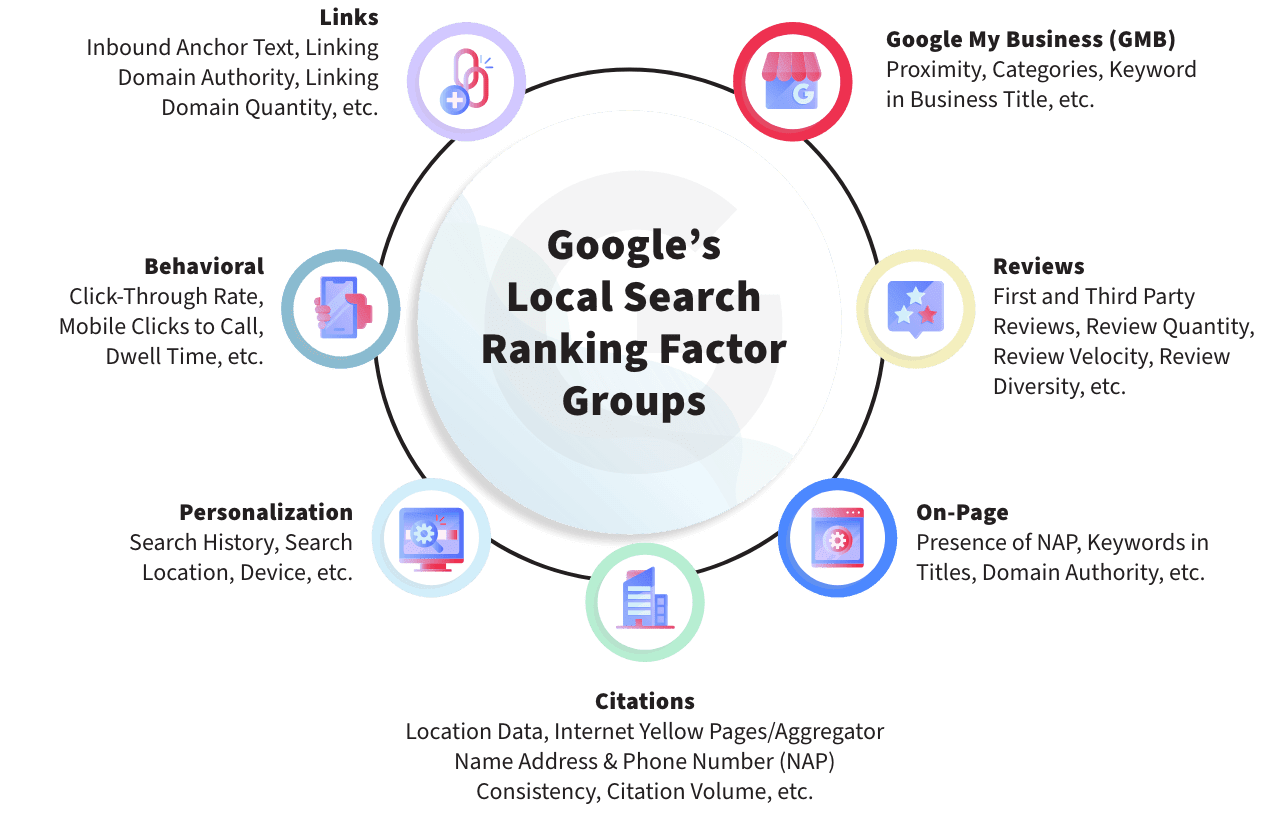 Google Business Profile, reviews, and citations are the most important ranking factors for local search. These are specific to local SEO and search engines like Google give importance to these factors more than anything else when ranking local search results.
Here is what Google says about its local SEO:
"When someone searches for a business or place near their location, they'll find local results across Google in places like Maps and Search."
As the number of global smartphone users and internet users is increasing, the need for local SEO is on the rise at the same pace. People now use their phones to search for local businesses before making a purchase decision.
The following local SEO statistics and research will show you its true power and why it matters more than anything else today:
1. 46% of all searches on Google are related to local information and 97% of users searched online to find a local website. (Go-Globe)
2. 77% of people always or regularly read online reviews when searching for a local company. (BrightLocal)
3. 81% of consumers used Google (followed by Yelp and Facebook) to evaluate a local business in 2021 as compared to 63% in 2020. (BrightLocal)
4. 78% of people use the internet to find information about a local business more than once a week. (BrightLocal)
5. 88% of local business searches on mobile devices lead to a call or visit to the business within 24 hours. (HubSpot)
6. 'Close by' and 'near me' search queries grew by a whopping 900% in just a couple of years. (HubSpot)
7. 72% of people who do a local search visit the business within 5 miles. (HubSpot)
8. 78% of location-based mobile searches lead to an offline purchase. (HubSpot)
9. 92% of people will click or pick the business on the first page of local search results. (HubSpot)
10. Local search results are estimated to drive 70% of consumers to a physical store. (HubSpot)
11. Local searches result in purchases 28% of the time. (HubSpot)
12. 18% of local smartphone searches lead to a purchase in a day as opposed to only 7% of non-local searches leading to a purchase. (Think with Google)
13. 72% of computer and tablet users while 67% of mobile users want to see ads that are customized for their zip code. (Think with Google)
14. 4 in 5 people use search engines to find local information. (Think with Google).
How Google Local SEO Works
The following local SEO statistics and research will show you its true power and why it matters more than anything else today:
It is important to understand how Google ranks businesses in its local search. This will help you focus on what matters for rankings.
Google uses 3 factors to determine the ranking of a local business: Relevance, Distance, Prominence
It refers to the relevance between the search query and Google Business Profile (previously known as Google My Business). If a business matches accurately what a person is looking for, Google will prioritize it and rank it higher.
This is a reason why your Business Profile needs to be complete, accurate, and detailed. This helps Google match your profile with relevant search queries easily and quickly. Incomplete Business Profiles are hard to match with search queries due to missing details, and this negatively impacts local search ranking.
Distance or proximity refers to the distance of the business from the location term used in the search query. Businesses that are close to the location mentioned in the search query will get preference and will rank higher as a potential customer is more likely to visit nearby businesses.
Google determines location based on the location of the searcher or location term used in the search query.
An accurate and complete business address in your profile will help you rank for the right and appropriate search queries and you will have a better chance of customers visiting your business.
Prominence refers to the popularity of a business. Prominent businesses and places get more visibility in local searches too. Google determines business popularity based on multiple factors such as links, directories, reviews, number of positive reviews, and search engine ranking of your business website.
All these factors help Google understand how well-known your business is. Prominent local sites will have higher visibility in local search results.
How to Do Local SEO and Improve Local Search Results?
There are several things you need to look for and work on when improving the local search ranking of your business, but the top ones include:
1. Google Business Profile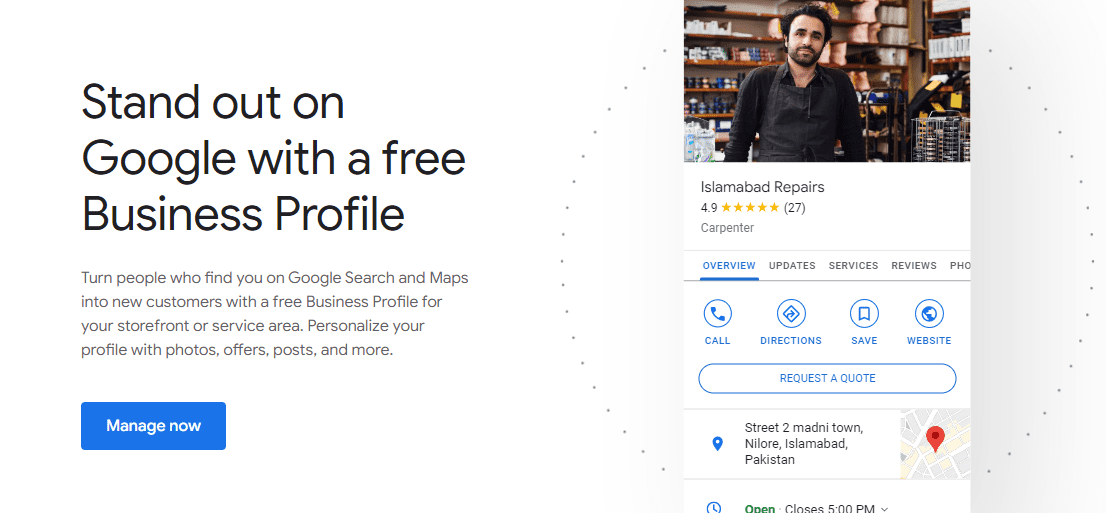 Google Business Profile (also known as Google My Business) is a free platform by Google that lets local businesses create a profile for their business with key information to rank in search and maps. You can create a free business profile and optimize it to improve local search rankings.
You can create a business profile if you have a physical store or office where customers can contact you during business hours in person. You must have a brick-and-mortar business to create a business profile on Google. It doesn't work for online businesses.
Here is what a Google My Business Profile looks like in search results: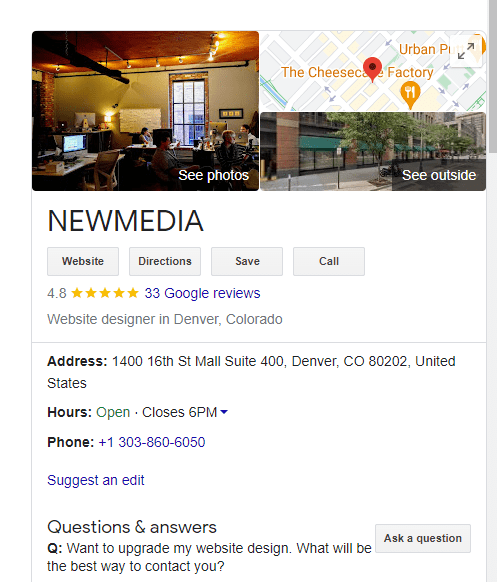 Bing also lets businesses create a listing and profile for brick-and-mortar businesses. It is known as Places for Business. You can create your business profile on Bing to improve local search ranking. Here is how your business profile appears on Bing: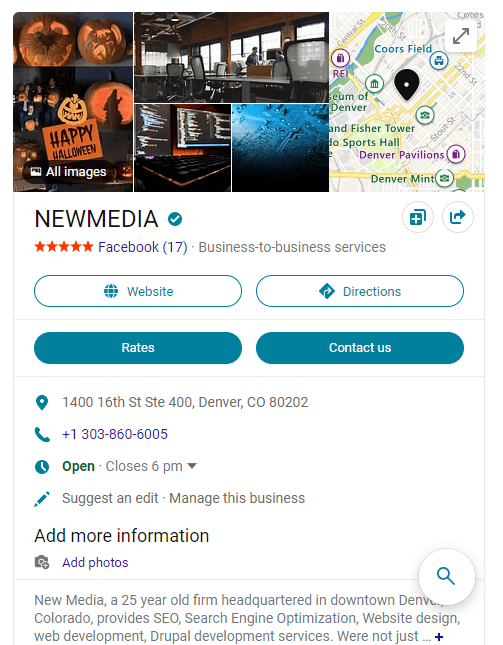 Any business that doesn't have its profile created on Google won't rank for local search. And not just profile creation, but it must be accurate and optimized for the right keywords and location. Google My Business is one of the most important ranking factors for local SEO. If you don't have a business profile, your chances of local ranking are negligible.
Your business profile includes a lot of information that helps potential customers get to know your business better:
Business name
Address
Phone number
Description
Website
Exact location
Reviews
Business category
Business hours
Photos and videos
Products
Questions and answers.
Google (and Bing) keeps adding more details about businesses from time to time so you can expect your map pack to improve over time.
Google Business Profile Optimization Checklist
Follow these guidelines to improve the visibility and ranking of your business using Google My Business:
Add complete details. The more details about your business you add, the better
Keep your business information updated all the time
Verify your business location to appear in Maps. Google uses manual address verification
Add photos of your products, business, and nearby places so people can find you easily
Manage reviews and respond to questions quickly and accurately
Add products to help people see what you sell.
Reviews are part of your Google My Business, but Google considers them as a separate ranking factor for local businesses. Reviews are the third most important local SEO ranking factor, you can't ignore it.
Google uses reviews to determine business prominence. It includes the total number of reviews and the percentage of positive ratings. A business having 50 reviews with 35 5-star reviews will outperform a business with 500 reviews with 50 5-star reviews.
Reviews aren't just important for Google, but your ideal customers also consider reviews more than you think. BrightLocal survey revealed that a major chunk of customers always or regularly read online reviews for local businesses: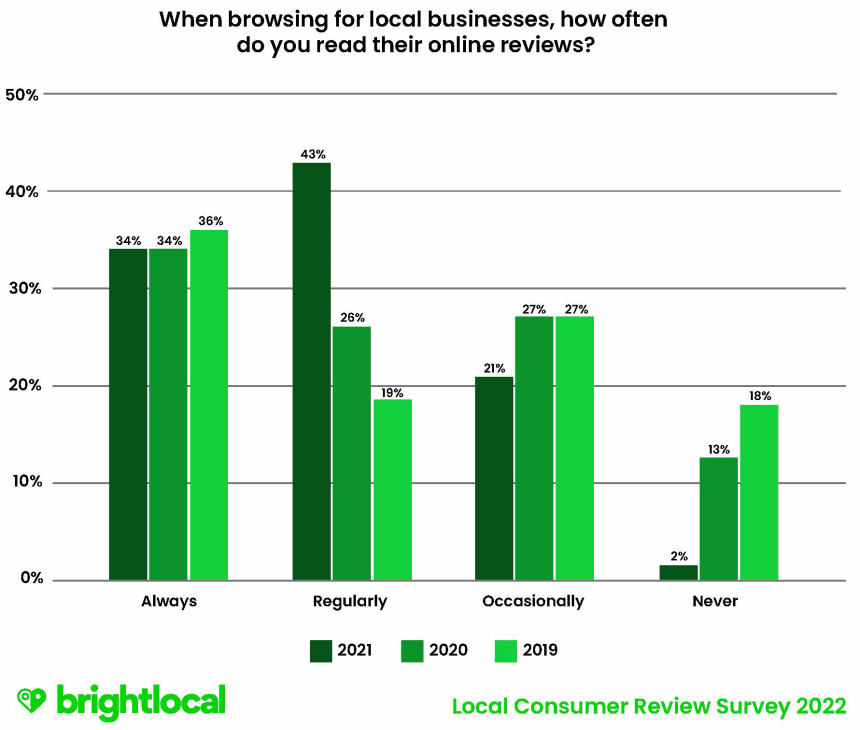 Google also considers other factors when evaluating online reviews of local businesses:
Text and photos
Length of the review
Keywords used in the review
Star rating
Review consistency
Review sentiment.
Reviews on your website and third-party sites like Yelp also play a key role in Google local rankings. Google won't just consider reviews shared on your Business Profile, but it also gives importance to reviews from other sources.
Make sure you have your business profile updated on third-party review sites including Yelp and Facebook as these are the two most used review sites: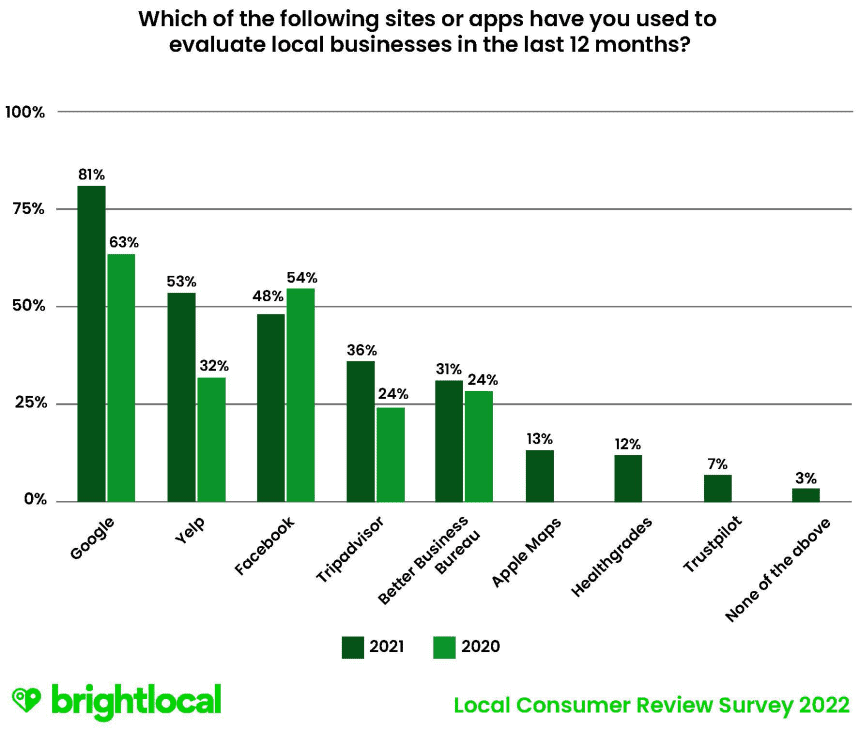 Start collecting reviews on your local website too. This is also used by Google to determine the authority of online reviews and reviewers.
How Do Reviews Impact Search Engine Rankings?
Search engines look at a lot of different variables when evaluating business reviews for rankings. Here is a list of the most important factors that you should be concerned about:
Review Recency: One of the first things a search engine crawler will notice is review recency. Reviews from recent dates are favored more than old reviews as they are indicative that the business is still operational and is doing a great job of pleasing its customers.
Older reviews still have value but if your business stops receiving reviews on recent dates, that might create an issue. Make sure you keep getting reviews at a decent pace.
Review Format: The format of the review is also crucial. Star ratings are by far the best review format for search engines. This is because search engine crawlers can crawl and understand these ratings easily.
Google, for instance, uses review snippet structured data to find valid reviews. Based on the validity of the review, Google decides to include star ratings and review summary in SERPs.
Your target audience, on the other hand, might be more interested in video reviews with or without ratings. That's a different story. When you are interested in improving local SEO for your online business, give due importance to the review format and make sure it includes star ratings with text.
Text alone or star ratings alone won't be of much help.
Review Diversity: Reviews on multiple platforms also play a key role in local SEO. More diverse your reviews are, the better. It gives search engines review signals from multiple platforms and review sites, and this establishes authority.
Review Authority: Not all reviews are treated equally. Reviews from established and well-known people such as local guides might carry more weight as compared to a review from a new account.
Similarly, you must have reviews on different platforms. Having hundreds of reviews on Google Maps alone might not be as helpful as compared to reviews across different platforms.
Your business should have reviews from all types of people across all platforms.
Review Velocity: It is different from review recency. It looks at the consistency of getting new reviews. Getting the bulk of reviews in a day or two and then completely dead for a month raises a red flag.
The review velocity should be consistent across all the platforms. A big gap or having multiple reviews at once aren't nice signals.
Online Review Optimization Checklist
Follow these online reviews guidelines for local search optimization:
Enable reviews and ask customers to leave an honest review
Get active on Google Maps and ask customers to leave a review. Share the Google Maps review link with your customers and make it easy for them to write a review
Request walk-in customers to leave a review with photos and a few lines
Send your customers emails with a link to review. Make it easy for them to write and submit a review. You can get the review link from your Google My Business account
Respond to reviews. Whether it's a positive or a negative review, respond to all of them
Reach out to customers who only add ratings without text. Request them to add a few lines.
Local citations or mentions of your business are also a Google ranking factor for local SEO. A citation includes NAP (name, address, and phone number) and it usually comes in two forms:
Structured citations
Unstructured citations.
Structured local citations include listings on directories and local listing platforms like Better Business Bureau, Yellow Pages, and Foursquare. These citation platforms let you create citations with all the necessary details of your local business.
Unstructured citations are business mentions on non-citation platforms such as blogs and web pages. These local citations are not as organized as structured citations and might often miss key information.
Google considers both structured and unstructured citations for local SEO. The factors include:
Accuracy
Consistency
Quality and quantity of citation
Relevance.
The accuracy and consistency of the NAP are the keys to local SEO. You need to make sure all the local citations have accurate information about your business which should include all the following:
Business name and website
Complete address
Phone numbers
Email addresses
Images
Description
Opening hours
Links to social media.
Local Citations Checklist:
Here is a checklist to optimize your local citations to improve the local search visibility of your business:
Run an audit to find all NAP data available online
Update all the citations on all the platforms, business directories, and websites
Reach out to websites for incomplete mentions of your business
Add your business listing to local niche-based directories
Claim your NAP on all the top business directories and citation platforms
Keep NAP consistent and accurate
Use unique descriptions for different citations
Find competitor citations and then create your business citations on the same sites and platforms.
On-page SEO is a huge factor that Google uses to rank local businesses. And local keywords play a key role in improving the on-page SEO of your business.
You need to find and use local keywords in your listings, website, and content. Google and Yelp are the two best sources to find the best local keywords for your business.
Here is an example from Google: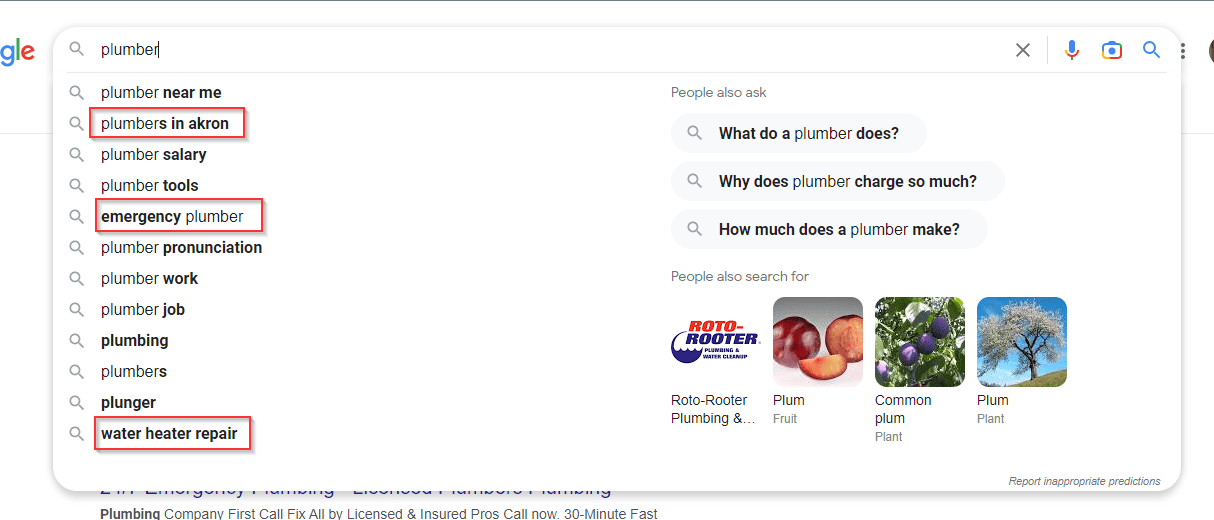 Yelp also offers a wide range of niche-based suggestions to choose from: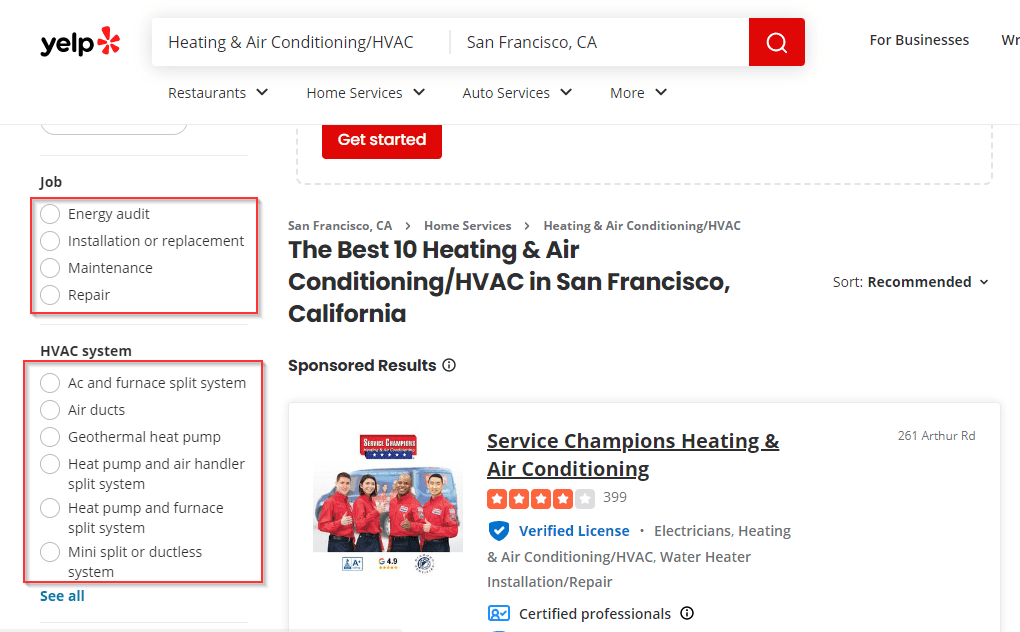 You can take keyword research to the next level by using a keyword research tool like Google Keyword Planner, Ahrefs, Semrush, or any other.
You need to go beyond using the name of the location with your business such as a plumber in Akron. Every plumber in Akron is doing it. You need to find more specific local keywords to outperform your competitors and improve local ranking.
Local Keyword Research Checklist
Follow these best practices to find appropriate local keywords for better local search visibility:
Always add location in your business title
Find relevant keywords from Google suggestions and Yelp listings and add them to your website and citations
Use a keyword research tool like Ahrefs to find specific local keywords relevant to your business
Analyze your competitors, their websites, and business listings. This will give you a nice idea of what keywords to target
Target long-tail local keywords to rank for voice search
Use images with appropriate local keywords to rank for image search.
Backlinks still matter for local SEO. But you don't have to acquire links from random websites, rather you need local links.
Google prefers local links more than authority links for local SEO. Links are used to rank businesses in Google Maps so you shouldn't ignore them.
When acquiring local links, you need to focus on two things:
Get links from relevant sites and blogs within your industry
The link should be from a local business owner or a local site from the same location.
The good news is that you don't need to build a ton of links. Here is an example of a local search query with the number of referring domains: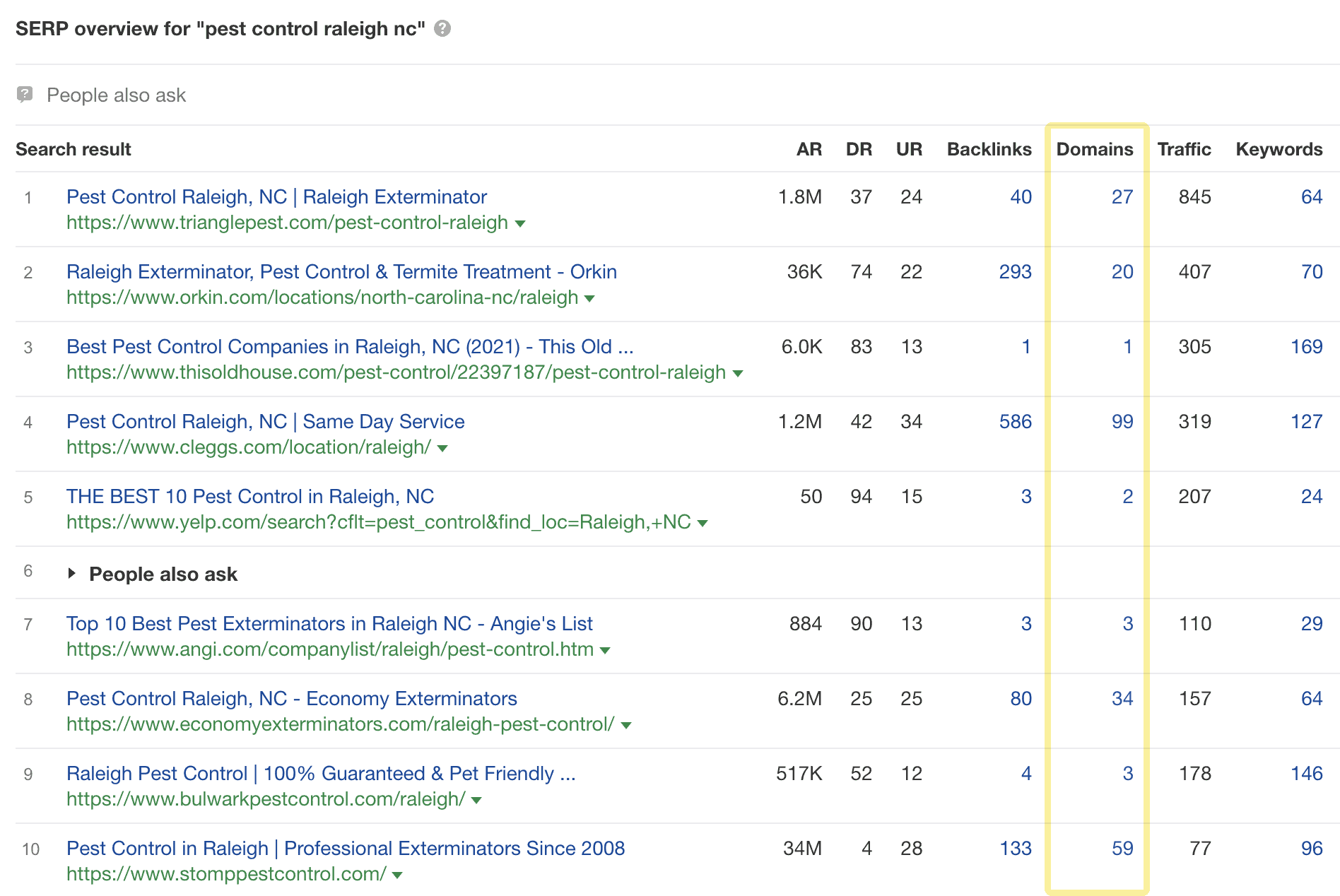 A few links are enough as long as they are relevant and local.
But are local backlinks enough?
Probably not.
As your business grows, you need backlinks from authority sites too. These non-local links help build authority. Don't just focus on acquiring just one type of backlinks to improve local search engine ranking, keep it all mixed up.
Follow these best practices to build local backlinks:
Search for business mentions without links. Reach out to the source and ask them to add a link
Reach out to local business partners and networks for links
Reach out to businesses that offer complimentary services and products within the same industry and write a guest post for them
Convert citations into links.
On-page optimization is one of the biggest local SEO ranking factors. Even if you meet all the other local SEO factors, a poorly optimized website will ruin everything. You need to look into on-page optimization carefully: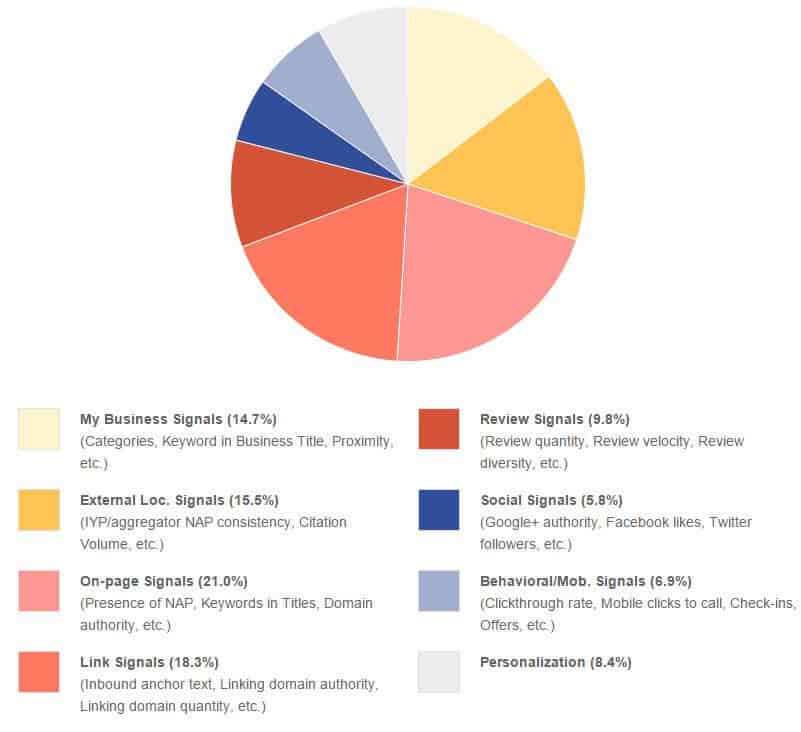 On-page SEO factors include pretty much everything ranging from NAP, quality content, image optimization, HTML tags, internal links, and more. However, you need to keep in mind that on-page search engine optimization for local businesses would be different from conventional online businesses.
Here is a list of the top on-page SEO factors that you need to consider for local SEO:
Write great linkable content. Local SEO doesn't just mean that your business should be visible in Map Pack, but it should rank for local keywords. You need to write and publish high-quality content targeting local keywords with a focus on local intent.
For example, if you sell plumbing services in Denver, you need to write content for relevant keywords such as:
Best plumbers in Denver
Cheap plumber Denver
Commercial plumber Denver
Emergency plumber Denver.
You can find these keywords via the Google suggestion box or a paid tool like Ahrefs. Write helpful content around your main keywords to rank organically for relevant terms in local searches.
Make sure you target local intent correctly. Understand what the local searchers are interested in when they use this keyword. This will help you understand local intent better leading to higher local search engine visibility.
Follow these guidelines for local SEO content optimization:
Add your main keyword in the title
Understand why your target audience is searching for a specific keyword and then try to provide them with an answer in the form of content. Understand local intent before writing content
Use long-tail keywords as they are easier to rank
Add headings and subheadings throughout your content
Write short paragraphs, add bullets, and media
Your content should be easy to skim
Do the research and write extremely helpful content that's link-worthy and shareable
Avoid writing overly promotional content
Create images and videos that you own in your content
Avoid using AI content as it does more harm than good
Focus on long-form content as it ranks better (2,000+ words)
Make content readable in writing and formatting
Avoid keyword stuffing instead, add keywords naturally
Add rich snippets wherever possible to make content stand out from the crowd in SERPs.
We already discussed the importance of the name, address, and phone number of your business. It should be clearly mentioned on your website.
Yes, NAP presence on your website is an on-page SEO factor and Google considers NAP for local search queries.
This means Google might show your website in search results to local searchers based on NAP only even if you don't have any specific content targeting that keyword. However, your NAP should be consistent and match the NAP on Google My Business and everywhere else.
It doesn't just need to be consistent, but it must be written correctly. Here is how to write NAP in the right format to make it understandable and readable for search engine crawlers and people: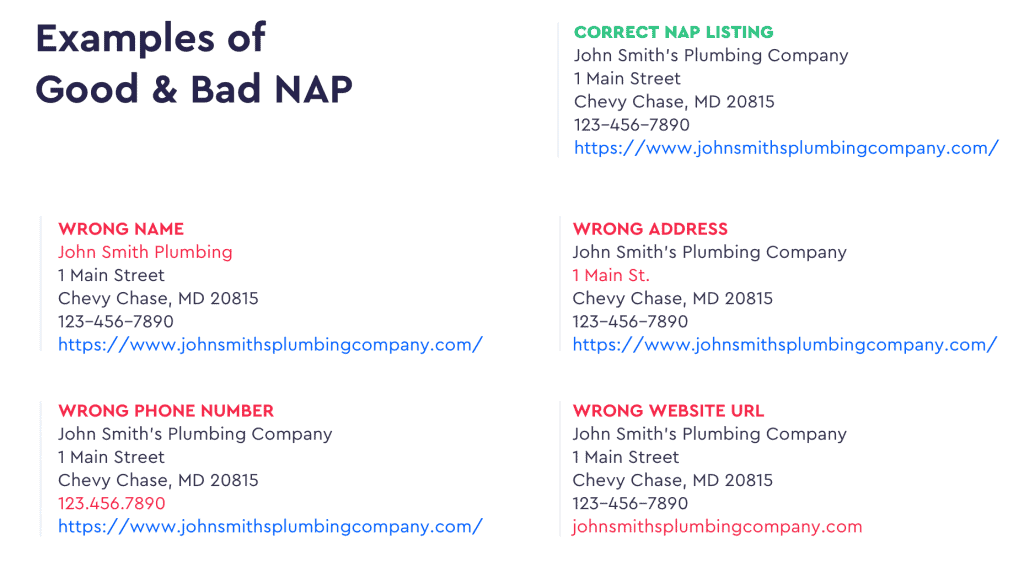 Where to write NAP on your website?
You should write the name, address, and phone number of your business on all these places on your website:
Header and footer
Contact us page
About us page
Service area page.
Here is an example:

The business name, address, and phone number are clearly mentioned in the footer in the correct format. It isn't just visible to the website visitors, but search engine crawlers can see it too on all the web pages throughout the website.
A key part of content optimization is the use of appropriate HTML tags. An HTML tag is a small code that helps search crawlers read your content properly. These tags improve the search visibility of your website and content.
HTML tags are also useful for content readability. The output of the majority of these tags is visible to the visitors and it improves comprehension, readability, UX, and aesthetics.
Here is a list of the most important HTML tags for local SEO:
It is a tag used to give a title to a webpage. The title you give to a page is its title tag. Any given web page has one title tag, and it is visible in SERPs like this: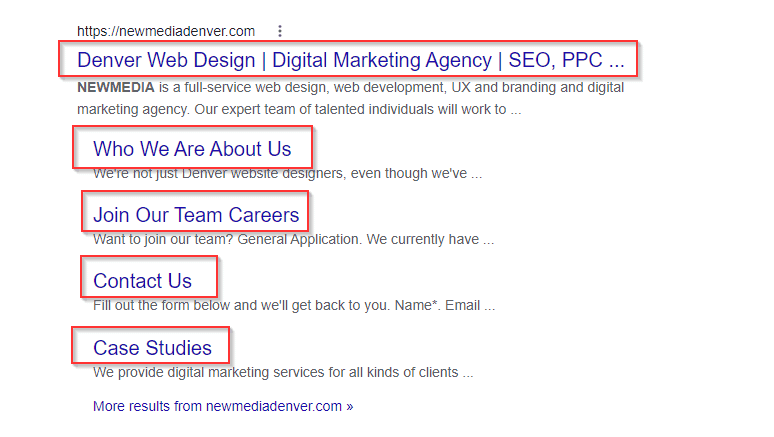 These are all title tags of different pages.
Google doesn't necessarily show you the title you have written in the search results and might tweak it based on the query. But this doesn't mean you should write a title for your web pages.
These titles are visible to everyone who visits your website, so title tags serve both search engines and humans.
Follow these best practices to write compelling title tags for local SEO:
Keep it short (under 60 characters) so it is visible on all devices
Add your primary keyword in the title tag
Make it catchy and persuasive so people can't resist clicking on your website in the search results
Add your business name in the title preferably toward the end
Avoid adding keywords that make no sense rather keep titles interesting.
These tags are used to structure your content and divide it into headings and subheadings. There are 6 heading tags that go like this: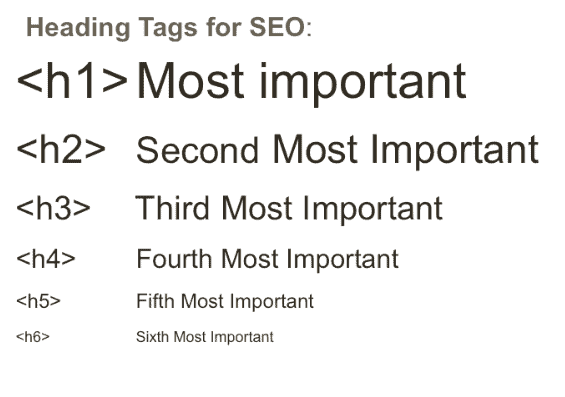 These headings tags rank in terms of their importance where H1 is the most important heading and is usually the title of your page (it is converted into a title tag). Then H2 is the second most important heading and so on.
You have only a single H1 for any web page, but you can use multiple H2-H6 tags. These tags help with content structuring and make it easy to read. Here is how to make your content reader and search engine friendly using heading tags: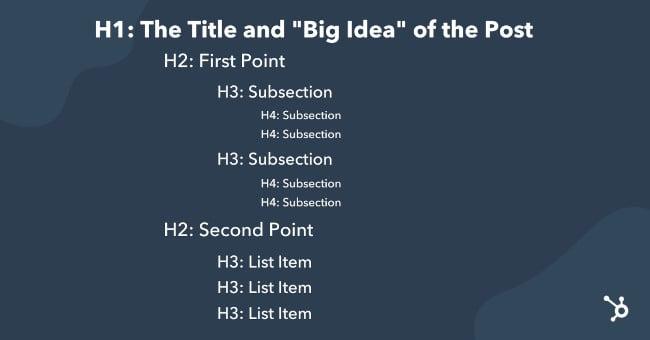 Heading tags work both ways.
They divide content into different sections for the search engines to understand what the content and different sections are about. This helps in indexing and ranking.
At the same time, heading tags make content reader-friendly. It makes your content skimmable and improves its visual appearance. Content without heading tags looks weird no matter how high quality it is.
Follow these best practices for heading tags and take local SEO to the next level:
Use only a single H1 tag and this should be the title of the page
Keep heading tags descriptive
Adding keyword variations in heading tags is a good idea to rank for relevant search terms
Use heading tags for content structuring and creating a well-defined hierarchy
Add heading tags to big chunks of content.
It is an HTML tag that summarizes the content and purpose of a webpage. It tells search engines what a page is about, and this helps in indexing and ranking.
The meta description is visible on the search results page, so it is read by your target audience too. Here is an example of a meta description:

Google might not show your version of the meta description rather they pull any piece of content on your webpage and use it as a meta description. This is done to make your website relevant to the search query.
But this doesn't mean you should stop writing meta descriptions. Even if you have pages without meta descriptions, they will still rank for relevant search terms. But this puts a lot of burden on Google because it now has to scan the entire webpage to match it with search queries.
When you have a meta description, it makes things easy for search engine spiders. It gets easier for crawlers to better understand your page, its content, and its relevance. The decision to use your meta description in search results still resides with Google.
You must do your job of writing compelling meta descriptions and let Google do its job in showing the best piece of content (meta data or otherwise) to its users.
Follow these guidelines to write the best meta descriptions to improve local SEO:
Your meta description should be between 150-160 characters. There is limited space for meta description so keep it short and nice
Use your primary local keyword in the meta description
It should be relevant and consistent with the web page content
Make it descriptive and a summary of your web page
Add a powerful CTA in the meta description to persuade readers to click and visit your website
Avoid keyword stuffing
If you can't decide what to write, skip it.
Image alt text is the tag for alternative text to describe an image. It is the text that is used instead of an image when the image fails to load. This text is also read by screen readers and other devices where images can't be seen or in case of accessibility issues.
The purpose of the alternate text is twofold:
To help search engines understand what an image is about so it can be ranked appropriately in image search
To help users understand an image when the image fails to load or isn't viewable.
Image alt text plays a critical role in local SEO where a lot of people search for product images. You must use appropriate alt tags for all the images on your website.
Here is what John Mueller from Google said about alt texts: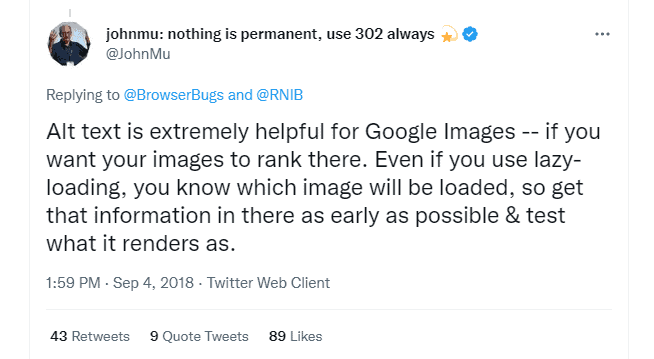 Here is how alt text is used instead of an image: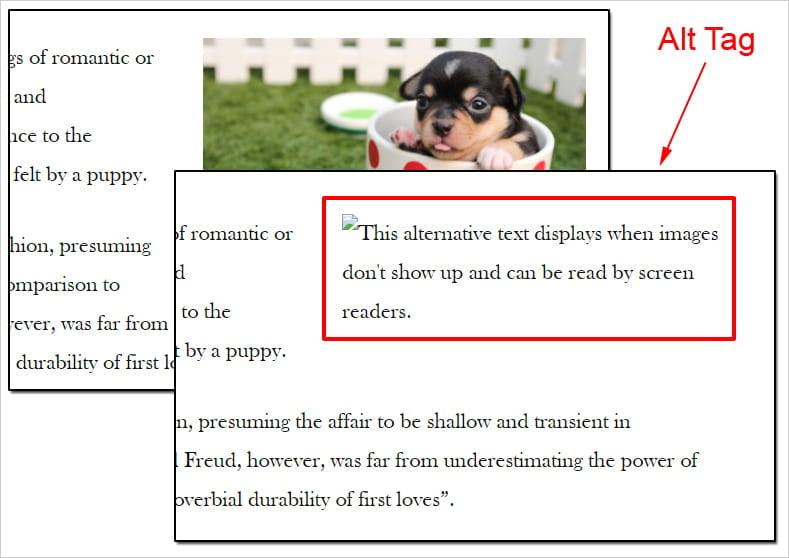 And here is how screen readers use alt tags: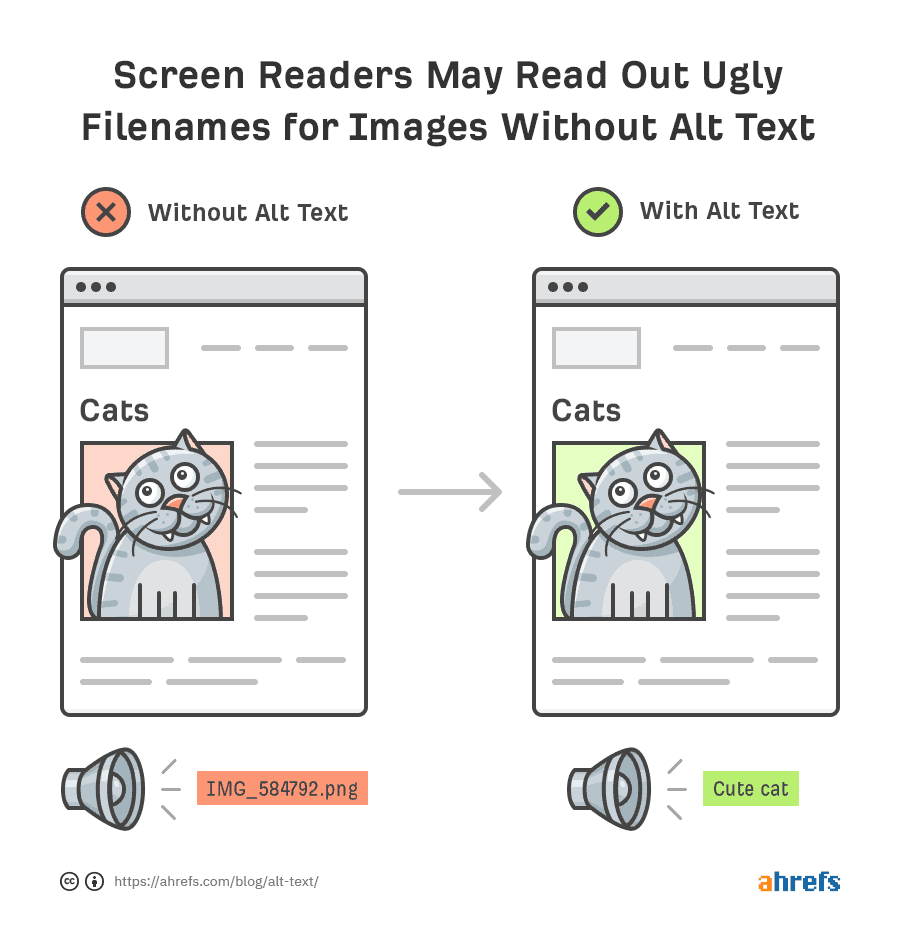 You can see that image alt texts are associated with UX. Follow these guidelines to write the best image alternative texts for local SEO:
Write descriptive alt texts that explain the image content
Explain the picture and its content
Be concise and accurate
Add local keyword naturally if it fits
Avoid stuffing keywords
You can skip alt text for abstract images that are hard to explain.
The way you structure and write URLs for your local website impacts local SEO. URLs might not impact ranking to a great extent as it is a minor ranking factor, but you can't ignore URLs. They are still considered by search engines.
The URL is also visible to your target audience. They can view it in search results and the address bar. This is a reason why user-friendly and simple URLs should be your top priority.
Here is an example of how URLs are viewed by your audience:

A well-structured URL design helps search engine crawlers better understand your website's layout. It gives key information to web spiders about the hierarchy of your website.
Here is an example of good vs bad URLs: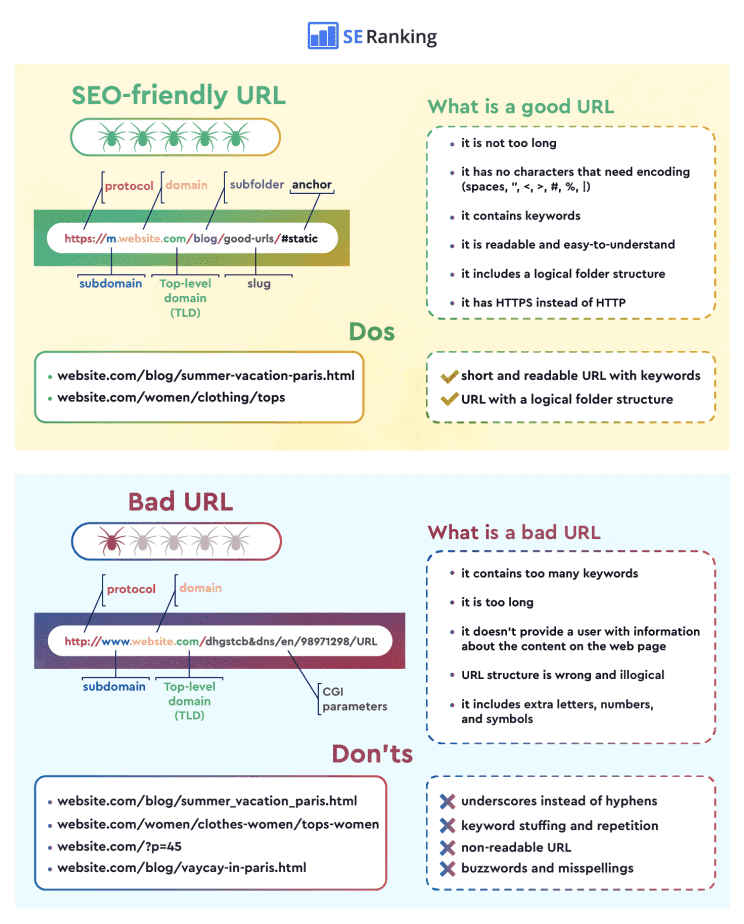 Follow these best practices to create SEO-friendly URLs that improve local SEO and UX:
Keep it reader-friendly
Avoid writing too long URLs
Avoid using special characters. Only use a dash to separate words
Add your keyword in the URL
Your URL should be descriptive and must be relevant to the web page title
Use the correct directory and folder to tell search engine spiders the exact location and importance of the URL.
Internal linking is a crucial on-page optimization technique. It connects pages on your website with each other.
Internal links help with all the following:
Help users navigate and move around your website easily
Distribute link juice among different pages on your website
Help search engine crawlers understand your website and crawl it completely
Avoid orphan web pages
Create website structure and hierarchy
Target relevant keywords and improve search engine ranking.
Here is an example of how internal links help improve the authority of new web pages: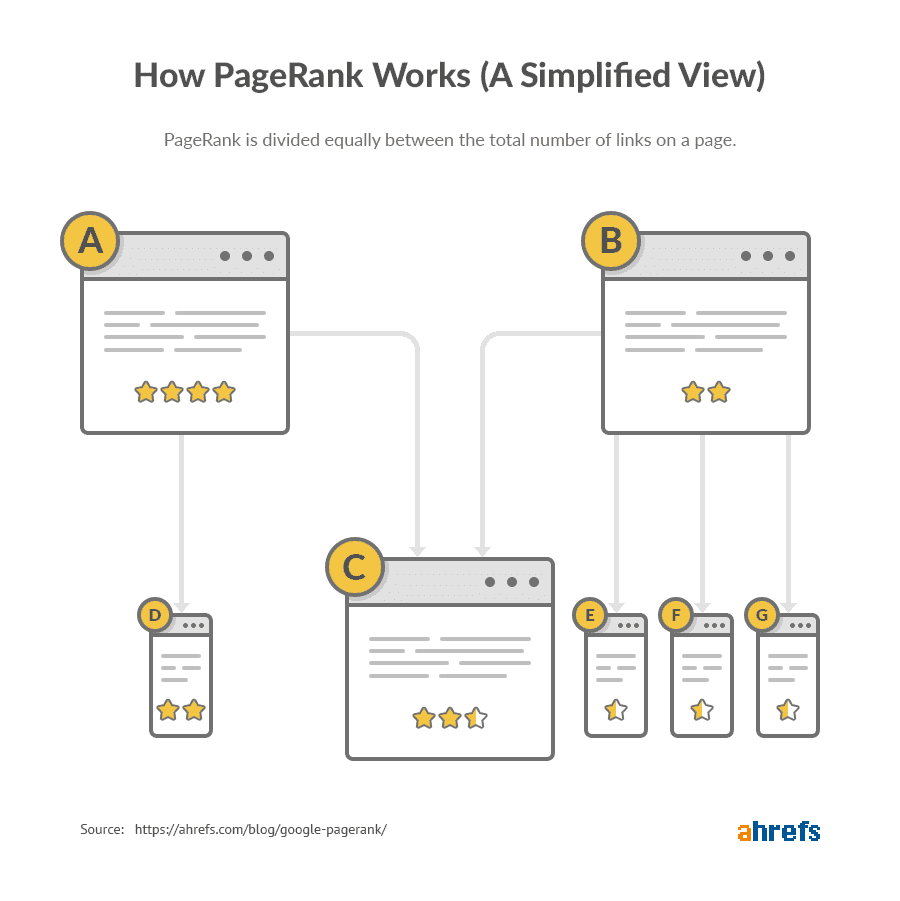 You can link high authority pages on your website to new pages to pass link juice. This is a great way to improve the crawling and ranking of new content.
This helps avoid creating orphan pages that are never seen by search engines and are, therefore, never crawled, indexed, and ranked: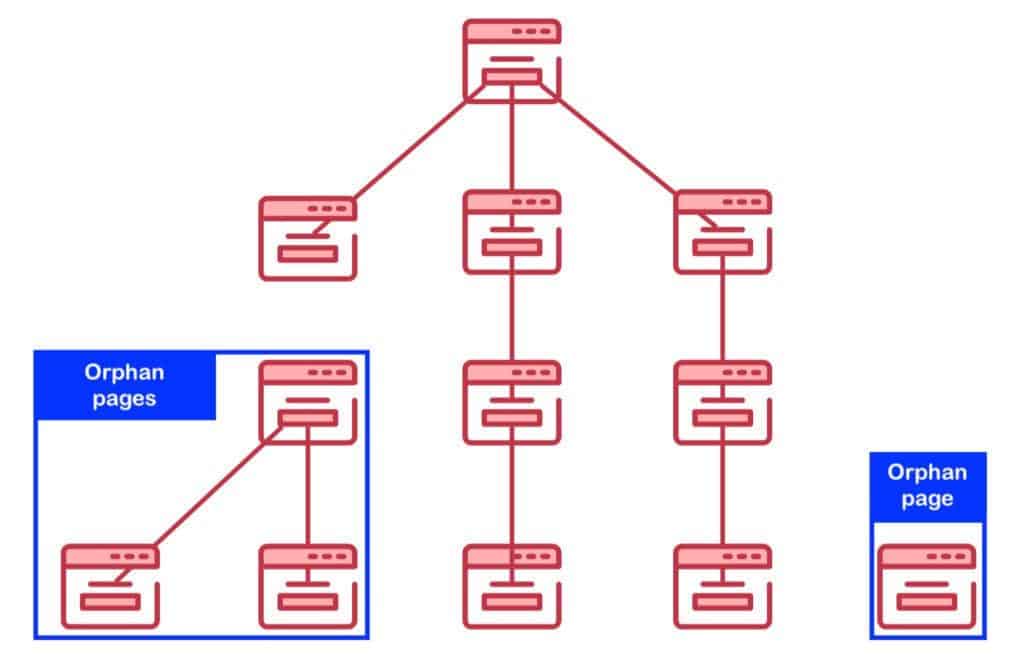 Here is how you should be creating internal links to improve on-page optimization for your local business website:
Create meaningful internal links to relevant pages on your website
Use relevant anchor texts. This is where you can use local keywords to boost rankings
Link new web pages from old and authority web pages with lots of links
Avoid linking to too many web pages from a single page
Make sure all the pages on your website are linked accurately and there are no orphan pages.
Here is a quick overview of the best practices for on-page local SEO:
Write high quality content and promote it religiously
Target the right local keywords with a focus on long-tail keywords
Add NAP throughout your website, especially the header and footer
Keep NAP consistent
Use HTML tags for your benefit
Keep URL structure simple and user-friendly
Don't hesitate to use lots of internal links for local SEO.
NEWMEDIA's Local SEO Services for Local Businesses
At NEWMEDIA, we offer local SEO services to help you improve the ranking of your local business. You don't have to go through the painful process of doing all the hard work for creating a Google Business Profile, citations, local SEO work, review management, and others. We take control of your local SEO while you can focus on serving your customers.
When you work with NEWMEDIA as your Local SEO agency, your business will gain from our comprehensive local SEO services to boost its online presence, attract the right audience, and ultimately convert customers.
Here is an overview of the local SEO services we offer:
Local SEO strategy
Google Business Profile and Bing Places setup, verification, and management
Review management
Local business marketing for local business owners with customized local SEO strategy services
Local citation and local business listings to top directories and platforms
Citation management
NAP audit for consistency
Local keyword research and competition analysis
On-page optimization for local SEO
Local backlink acquisition strategy
Analytics and reporting
Dedicated local SEO expert
If your business philosophy and values align with what we do, contact us to develop your successful digital marketing campaign right away.