Do you want to design the best ecommerce website? Check out this detailed guide on ecommerce website design and how our web design agency can help you achieve your goals.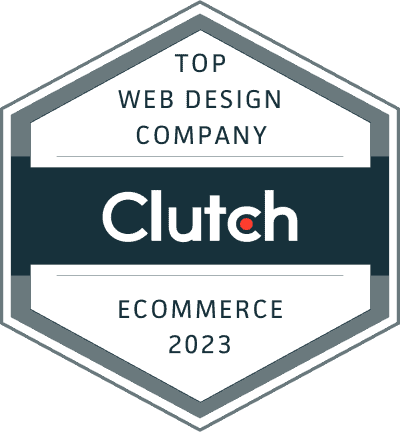 Top 1% Global Leader Digital Agency
Ranked by Clutch 2023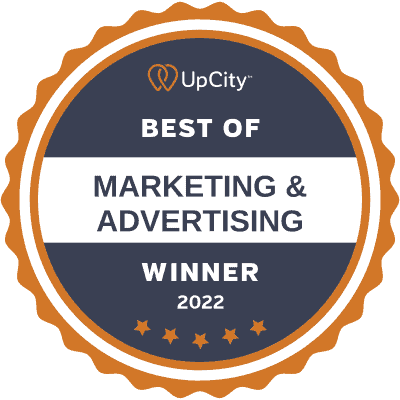 Top 1% Digital Agency in United States
Ranked by UpCity 2022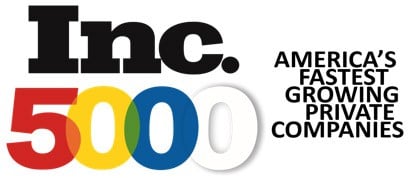 Fastest-Growing Companies in the USA
4 Years in a Row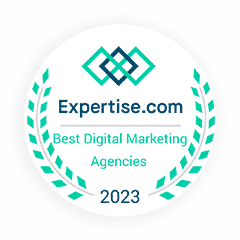 Top 1% Best Digital Marketing Award
Ranked by Expertise 2023

#2 Global Award Winner
Ranked by MASHABLE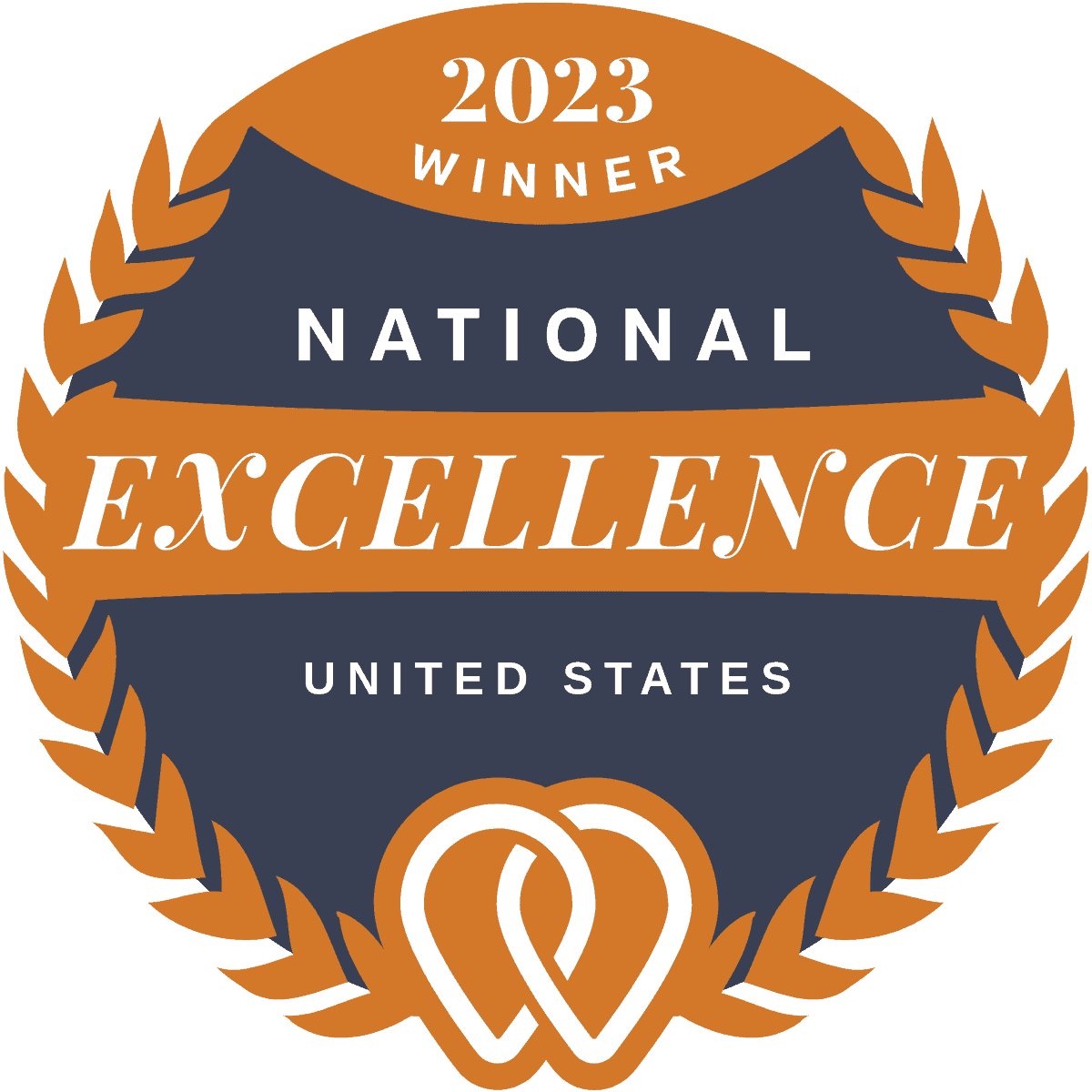 Top 1% Award of Excellence Winner
Years 2020, 2021, 2022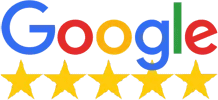 500+ 5-Star Reviews in Google
Ranked by Our Customers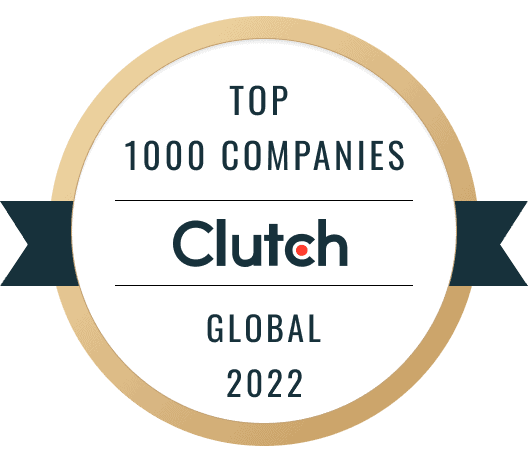 Top 1000 Global Digital Agency
Ranked by Clutch 2022

#1 Global Digital Agency
Ranked by Business Journal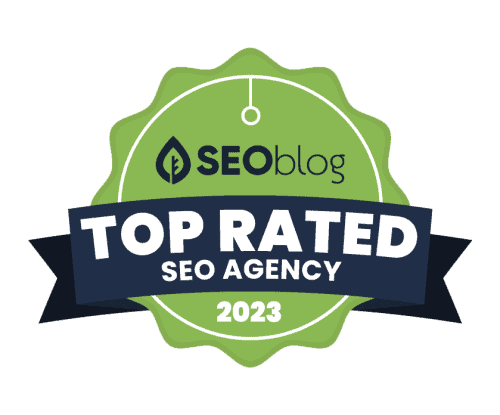 Top Rated SEO Agency
Ranked by SEO Blog 2023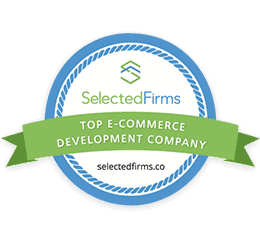 Top Ecommerce Development Company
Ranked by Selected Firms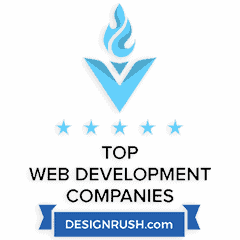 Top Web Development Agency
Ranked by Design Rush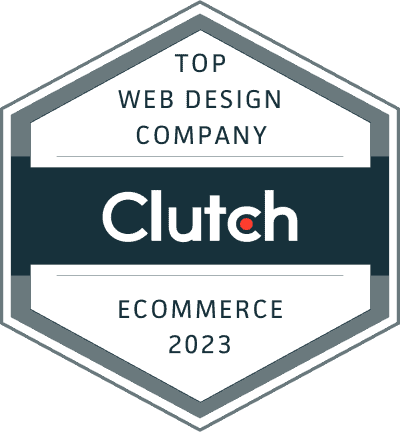 Top 1% Global Leader Digital Agency
Ranked by Clutch 2023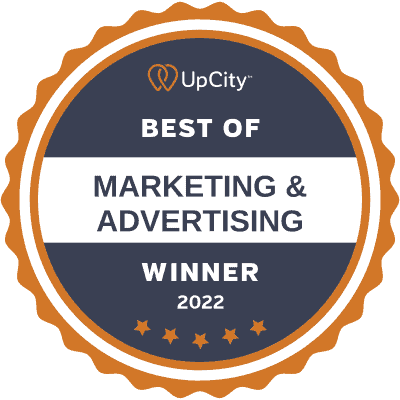 Top 1% Digital Agency in United States
Ranked by UpCity 2022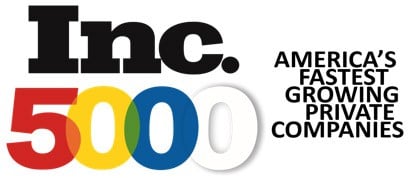 Fastest-Growing Companies in the USA
4 Years in a Row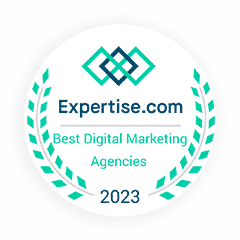 Top 1% Best Digital Marketing Award
Ranked by Expertise 2023

#2 Global Award Winner
Ranked by MASHABLE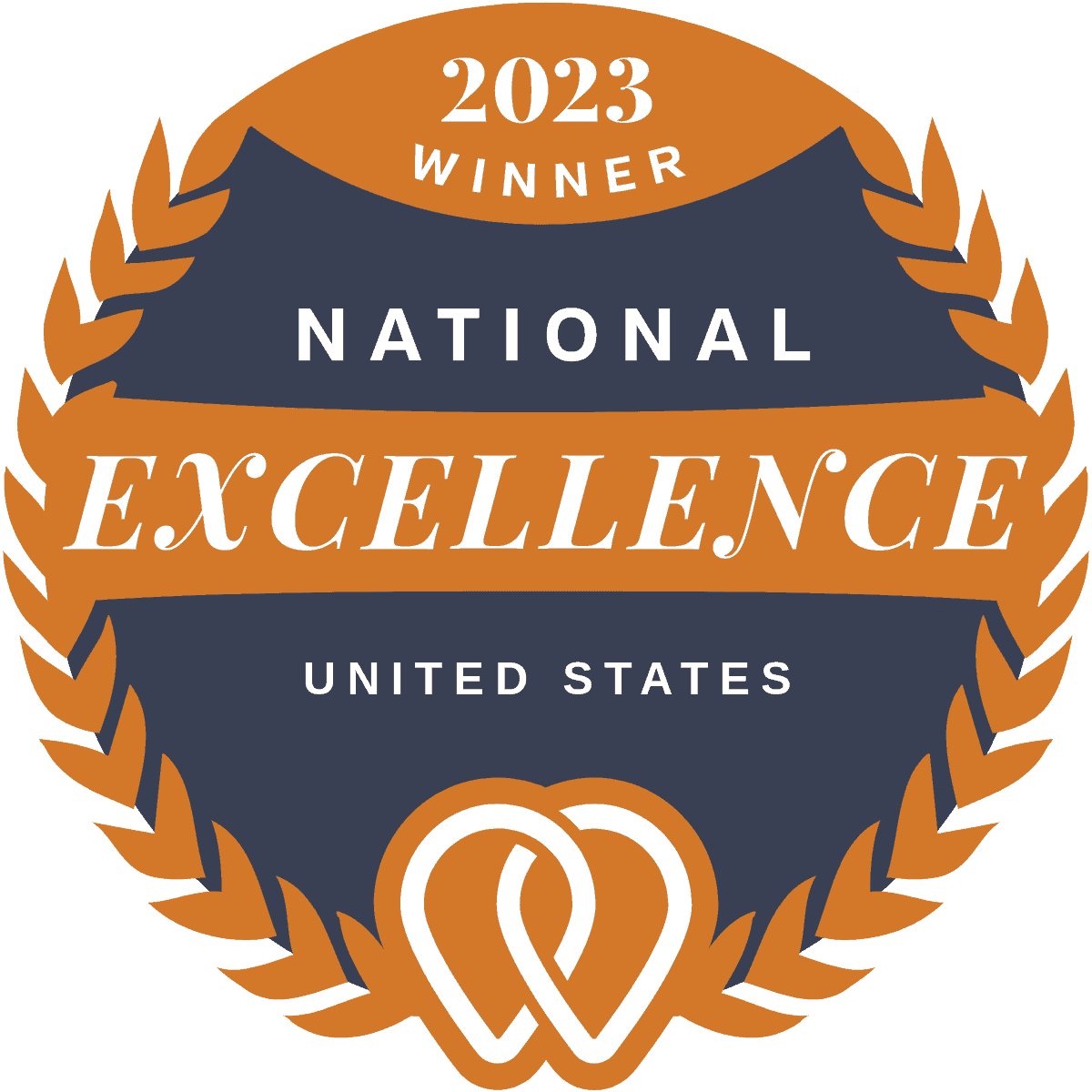 Top 1% Award of Excellence Winner
Years 2020, 2021, 2022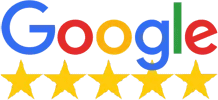 500+ 5-Star Reviews in Google
Ranked by Our Customers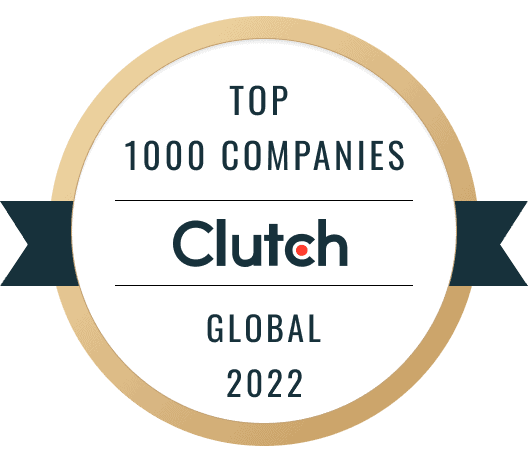 Top 1000 Global Digital Agency
Ranked by Clutch 2022

#1 Global Digital Agency
Ranked by Business Journal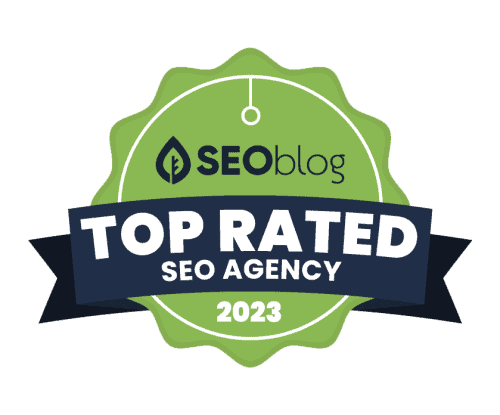 Top Rated SEO Agency
Ranked by SEO Blog 2023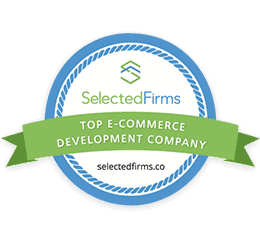 Top Ecommerce Development Company
Ranked by Selected Firms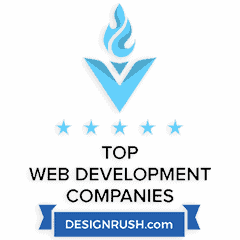 Top Web Development Agency
Ranked by Design Rush
Digital marketing is the backbone of business today.
You must know how to best utilize your budget.
Digital ad spending has surpassed $261 billion.
There is something for everyone in online marketing.
Global reach
Cost-effectiveness
Granular targeting
Massive ROI
High engagement
Data-driven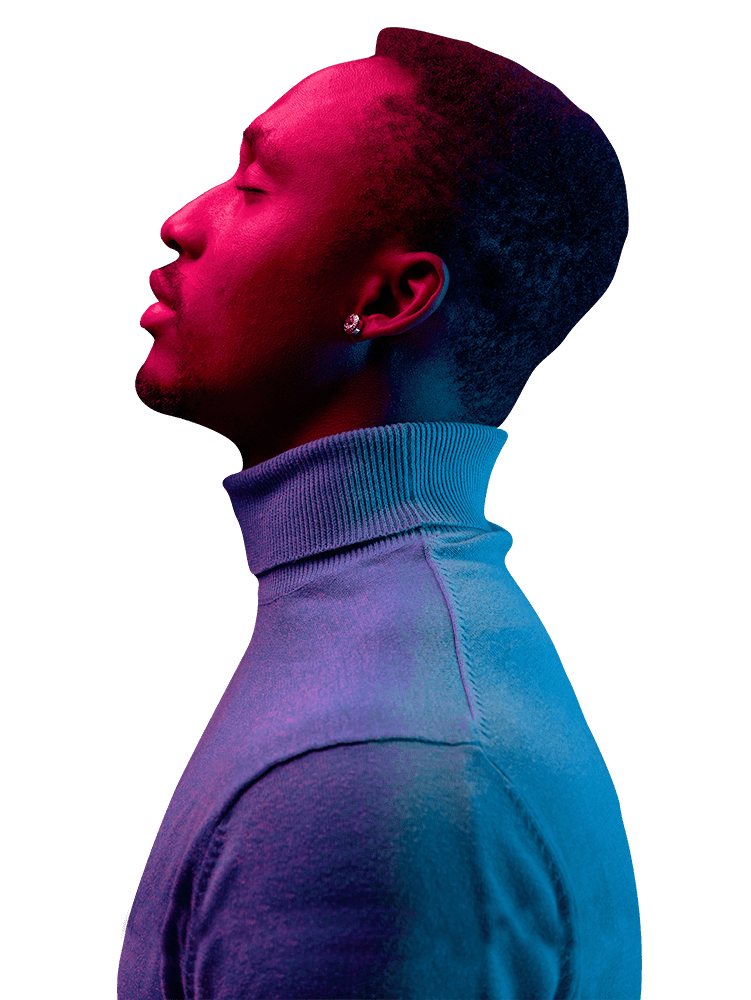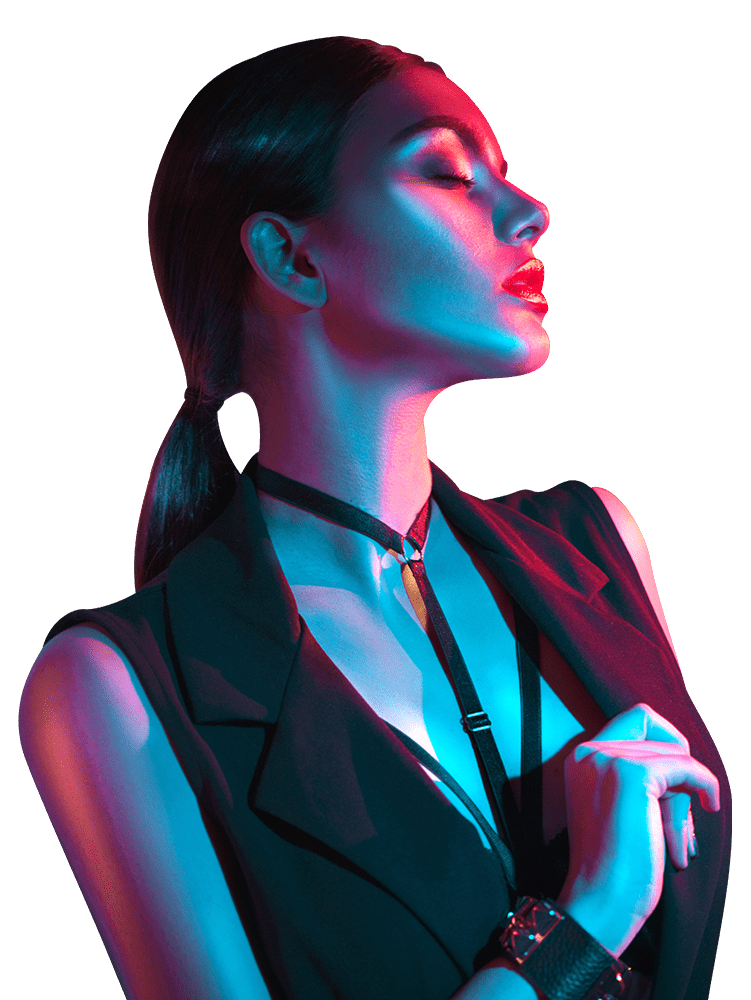 Ecommerce is growing at a fast pace, and it contributed $5.2 trillion to the world economy in 2021. Consumers love shopping online as it is convenient and cost-effective, and this shift has led to a major shift towards click-and-mortar businesses globally.
Your ecommerce website design is the first thing that visitors see and the way it is designed has a significant impact on user experience, sales, brand credibility, and ease of use. A well-designed ecommerce website will outperform a mediocre ecommerce site on any given day.
People don't just buy products online, they buy experience. And UX is embedded in the design of your online store.
What is an Ecommerce Website?
An ecommerce website that lets you buy and sell products and services online. As a business, you sell products to your customers, accept orders, process payments, manage logistics, and offer all types of additional services.
Here is an overview of how an ecommerce website works: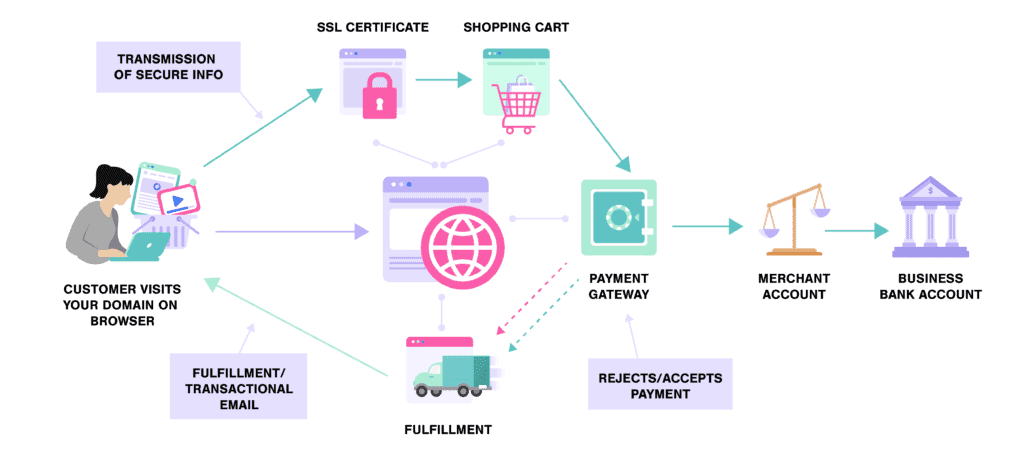 There are multiple types of ecommerce businesses:
*You can sell physical goods, digital products, and services through an ecommerce website to your ideal customers. It doesn't matter what ecommerce business model you have, you must have a well-designed site to keep visitors hooked.
Ecommerce Website Design vs Traditional Website Design
The design of an ecommerce website is quite different from any traditional website design due to a difference in the business model. An ecommerce website works differently than a traditional website. An ecommerce website processes orders and collects payments whereas traditional websites don't do this.
The product database, cart, checkout process, account registration, payment processing, order management and tracking, and high security are a few features that are embedded within the design of an ecommerce site. Miss any, and you won't have a functional online store.
Here is an example of an ecommerce website sitemap: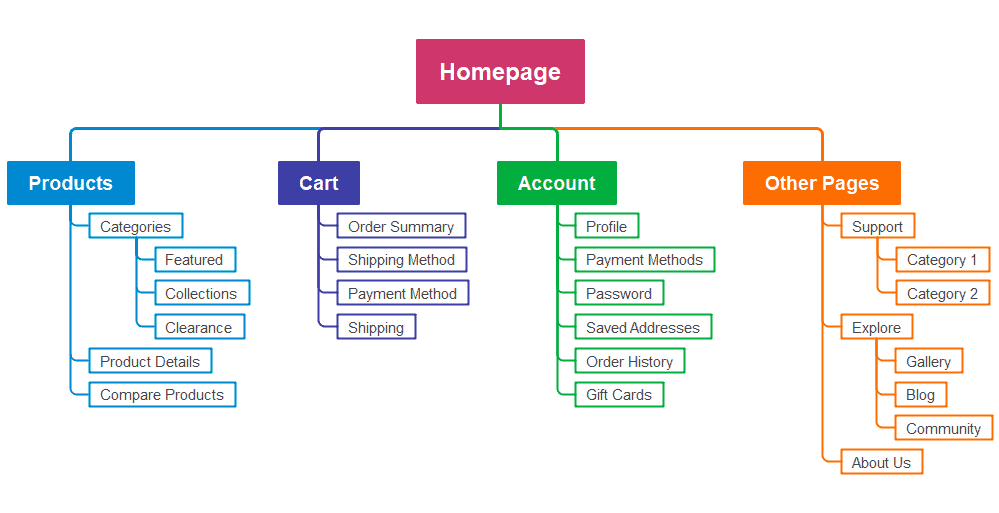 These functions are embedded in the design of an online store so visitors can easily move around and shop for products.
Traditional Website Design
A traditional website design doesn't have any of these functions so its design is usually simple and straightforward. Think of a blog. It doesn't need a product database, payment processor, order management, and several other features and functions.
A simple one-page website design will work great for a blog. You can see it doesn't have a product database, cart, and account. This means less designing and easy management.
Here is a general layout of a website design: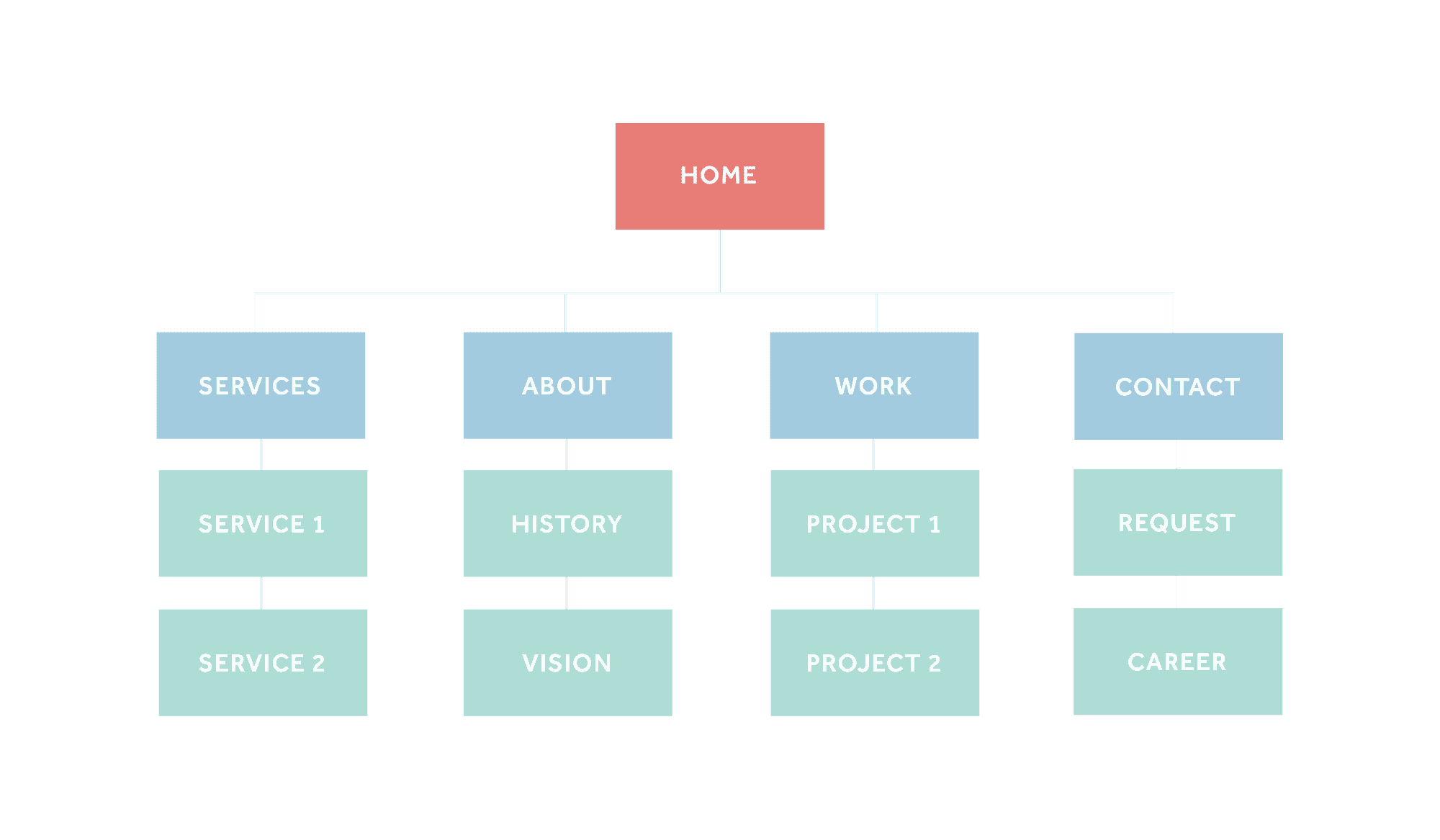 The functions on your website influence user experience and therefore, impact website design. When you have to sell a product online through your website without any human interaction, your site's design must do the selling. This is what makes ecommerce website design important and different from other web designs.
How to Design an Online Store
Here is how to design an ecommerce website that attracts and retains visitors and persuades them to take action and buy from your store:
Selecting the right ecommerce platform for your site is the first step that's often ignored by a lot of businesses. There are several ecommerce solutions and content management systems that let you create and design an ecommerce website but not all of them give you the same flexibility in terms of design.
The leading ecommerce platforms include:
WooCommerce
Squarespace
Woo Themes
Shopify
Wix
BigCommerce
3dcart.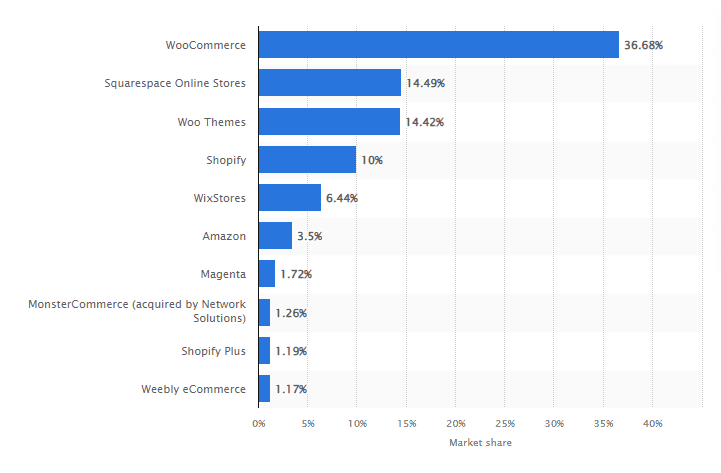 All these platforms offer free and paid themes and templates for ecommerce stores with customization features. But not all of them are created equal.
WooCommerce, for instance, is an open-source ecommerce platform built on WordPress that is extremely flexible with full support for custom ecommerce website designs.
Wix, on the other hand, is the 5th most used ecommerce platform globally that offers everything an ecommerce business needs, but it doesn't offer unlimited design options. You can use Wix themes and customize them using its editor. And this comes with limitations.
You need to pick the right ecommerce platform. If you are looking for a custom ecommerce website design that's unique and exactly based on your requirements, you need to choose WooCommerce or Shopify as these are the two most flexible platforms in terms of website design.
If you are interested in ease of use and website maintenance and least concerned about design uniqueness, choose any other platform that offers customized themes and templates, customer support, and add-on features.
Make your ecommerce website design unique – significantly unique.
Why?
Uniqueness improves brand identity.
The color scheme, font, typography, layout, navigation, theme, and everything else should not just be different but matchless. This helps your target audience differentiate your brand and products from your competitors.
A unique design is hard to achieve with ecommerce themes and templates. These are used by hundreds of businesses with minor or major customization.
Here is an example: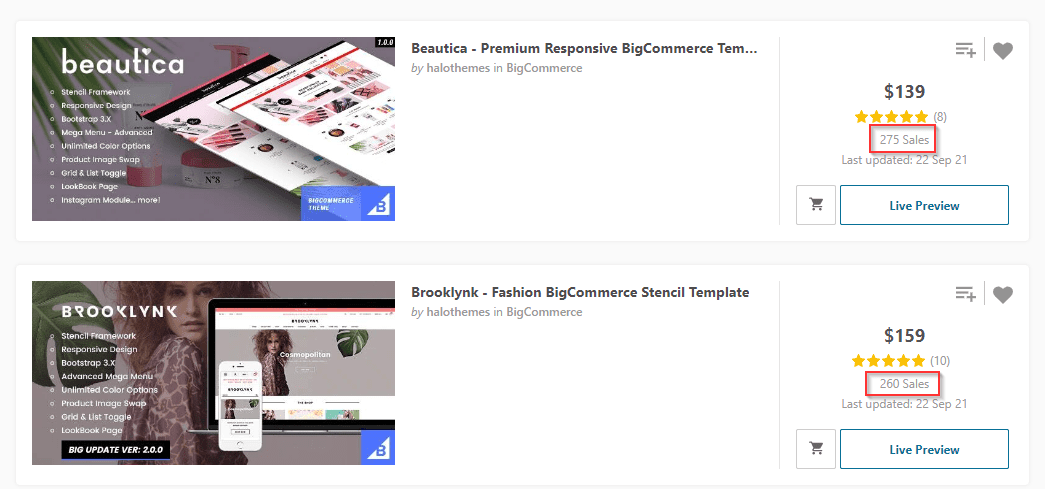 These top BigCommerce themes have been sold to 500 different customers. Though you can customize these themes, you can't make them unique.
Unique ecommerce website design means:
Brand identity
High credibility
Customer attachment
Memorable as your customers can easily identify your website at every interaction.
Website design is mostly driven by color. You need to choose the right, purpose-driven color scheme for your brand and website. Color is known to increase brand recognition by 80% as people relate certain colors to specific brands.
For example, blue and red are associated with Pepsi, blue is linked with IBM, and maroon is associated with Quora.
When you define and choose a color scheme for your brand and ecommerce business, and you use it consistently, it gets easier for your target audience to recognize you as it associates that color with your store specifically.
You need to choose a color scheme smartly for your ecommerce store as colors are related to psychology. Colors impact feelings, mood, perception, and behavior. Here is an overview of what different colors mean: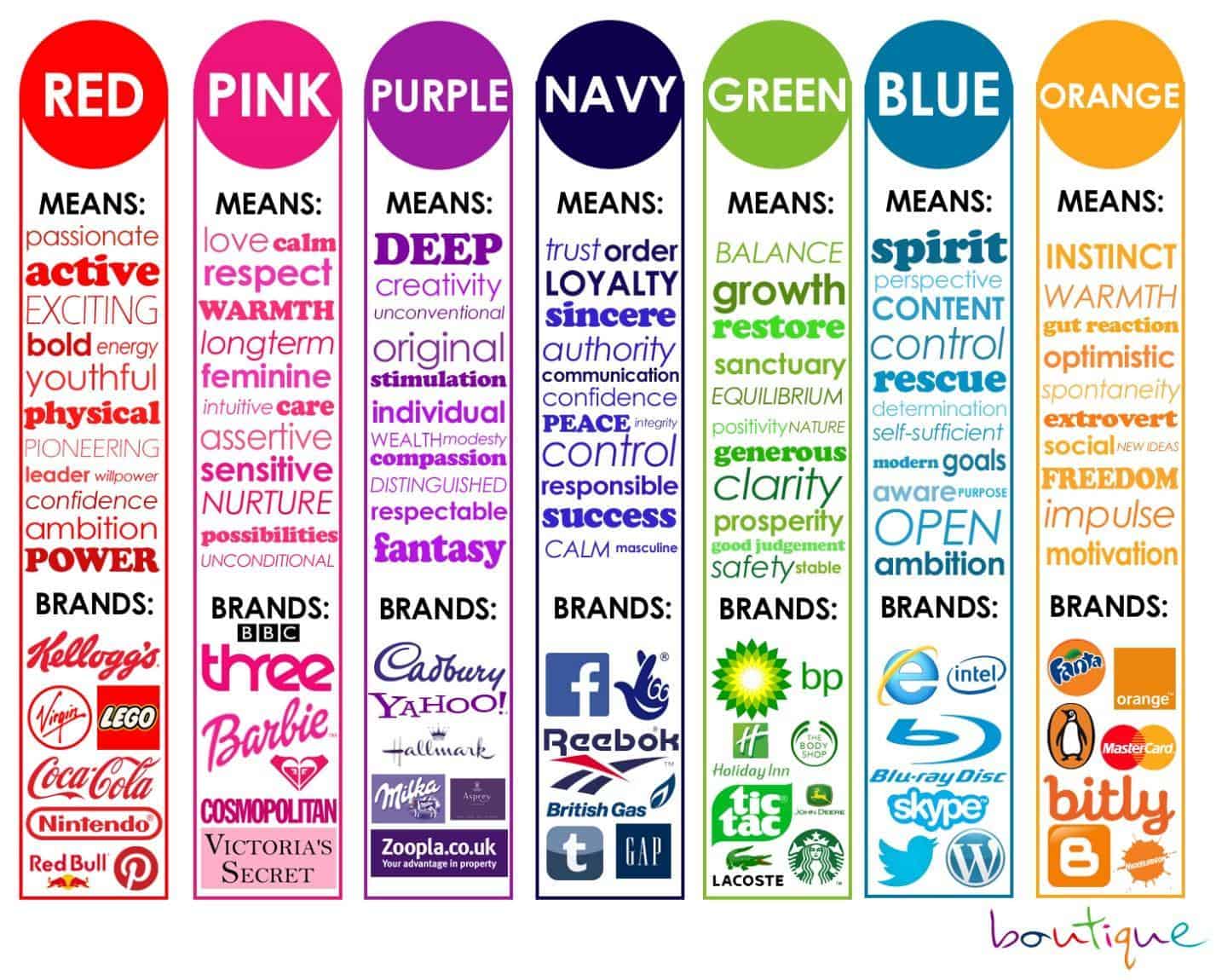 If you have identified a color scheme for your brand, use it in website design. If not, it is time to identify colors that reflect your brand identity and philosophy based on how the color relates to what you sell and do.
Don't take colors lightly when designing an ecommerce website. The colors you use have a huge impact on your brand and customer perception of your brand.
Do your homework.
White space or negative space is empty space around the content, visual, and functional elements on a web page. It is a key element in website design that improves user experience, aesthetics, reading ability, and comprehension.
Here is an example of two types of white space often used in website design: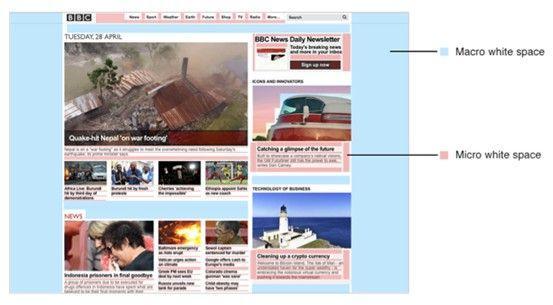 White space creates a visual hierarchy and helps you drive user attention to specific elements on a web page (e.g., a call to action). Here is an example of how white space creates harmony and group elements together:
Your ecommerce website design must ensure security for the users. Since they have to add their financial information and pay for products, it is essential to provide customers with all the security features they expect.
Research shows that 18% of people abandon an ecommerce website during checkout because they don't trust the site with their credit card information: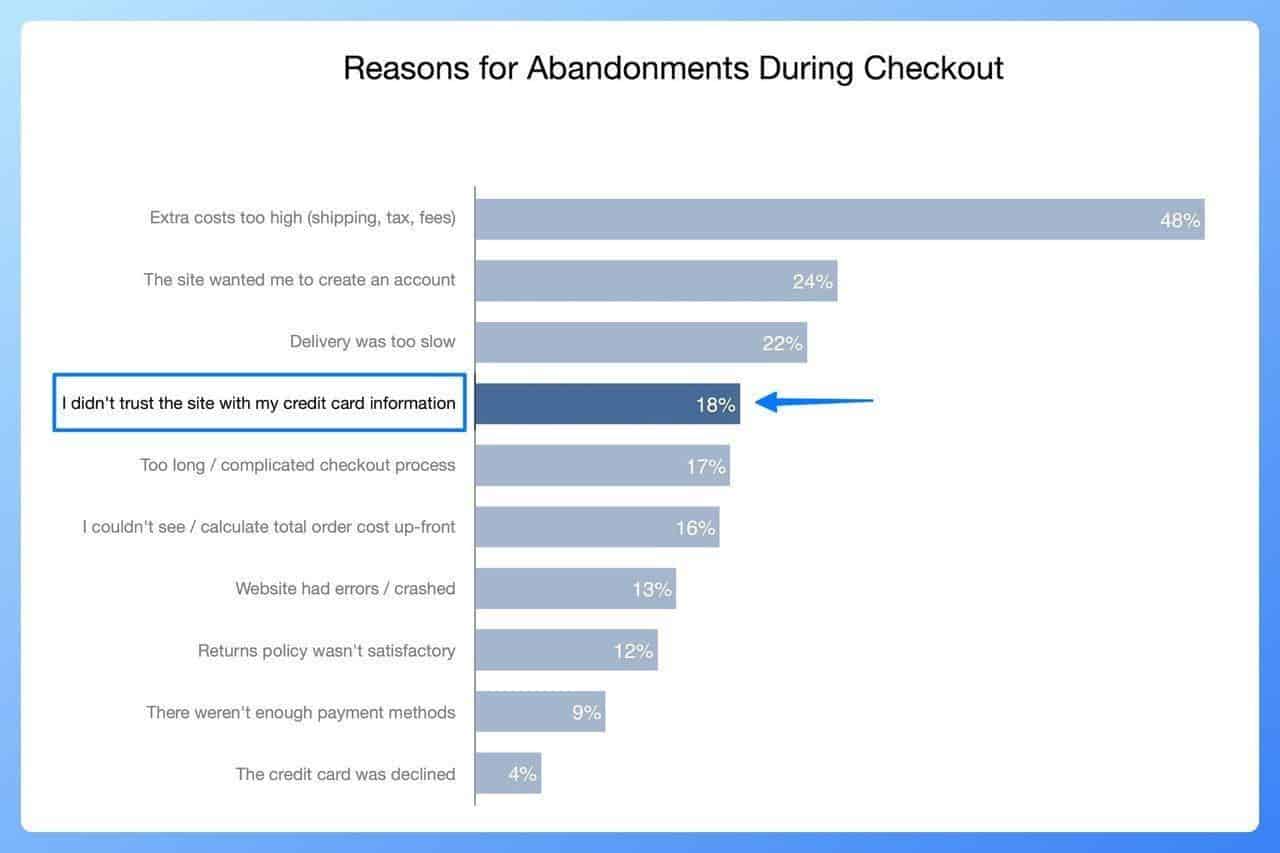 Using a trust badge or trust seal on your ecommerce store in the footer, checkout page, and other key areas can significantly improve conversions and sales. A survey found that PayPal is the most trusted trust seal followed by Norton and Verisign: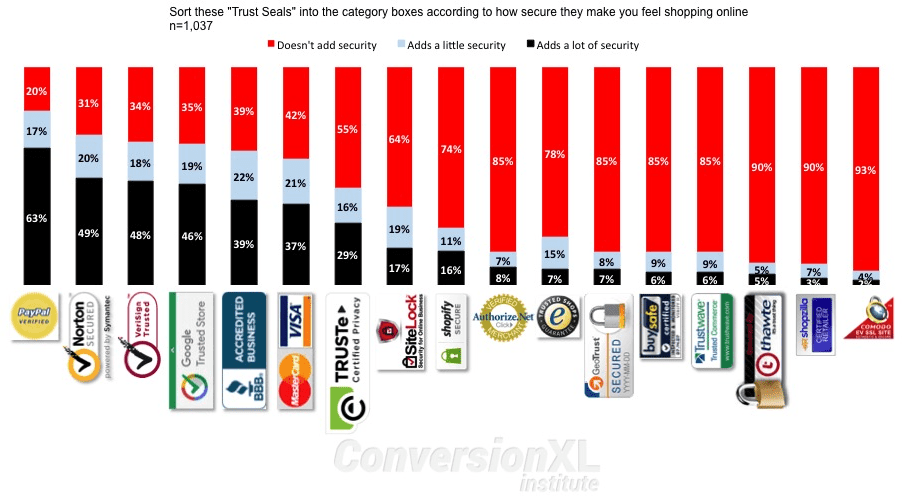 This is a reason why all the great ecommerce website design examples have these security and trust badges.
There are different types of trust badges you can use to make visitors secure:
Accepted payment badges
Safe checkout
Third-party endorsements
Money back guarantee badges
Free shipping and returns.
Add these badges on the checkout page, footer, homepage, and product pages. The idea is to make your ideal customers feel secure and safe, so they don't end up abandoning your ecommerce store due to mistrust.
When designing an ecommerce website, don't forget to add social proof. It builds trust and drives conversions.
As much as 63% of consumers say that they are more likely to buy from a site with product ratings and reviews. Testimonials on a sales page or product page increase sales by 34%. Customer reviews are the most trusted feature for an ecommerce store: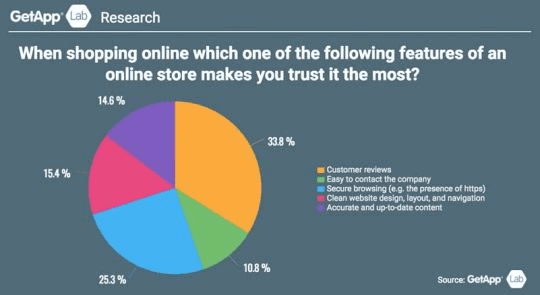 There are several ways to use social proof in ecommerce website design to boost conversion and sales:
Add reviews and ratings
Highlight the best reviews for each product
Add top customer testimonials and endorsements on the home page
Indicate how many people have purchased a product
Show recent purchases
Highlight the best selling product.
8. Optimize Checkout Process
The checkout process is a key concern for ecommerce stores as this is where a lot of people leave. The average online shopping cart abandonment rate is 70%. This means, on average, 70 out of 100 people will never checkout after adding products to the cart.
Why?
Here are the top reasons why customers leave an online store during the checkout process: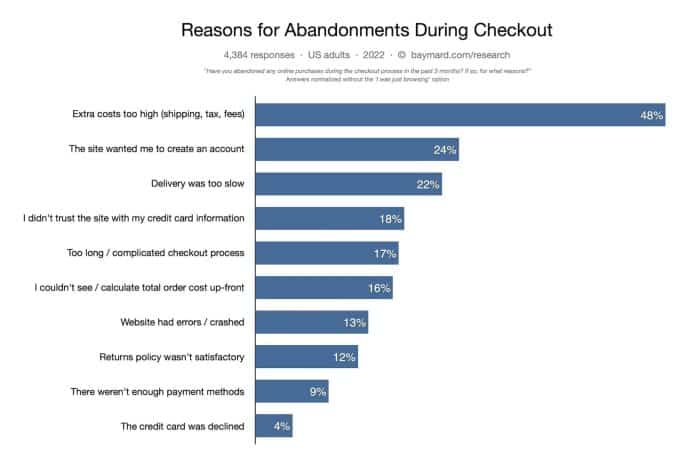 You can easily address most of these issues during the design process. Follow these steps to optimize the checkout process and reduce the abandonment rate significantly:
Keep the checkout process simple
Allow guest checkout
Be transparent with fees and taxes and mention them upfront
Mention the estimated delivery time right on the product page
Allow visitors to see the total cost of the order on the product page
Add multiple payment methods
Add trust badges on the checkout page.
Here is an example of a nice checkout page that has everything mentioned clearly on a single page: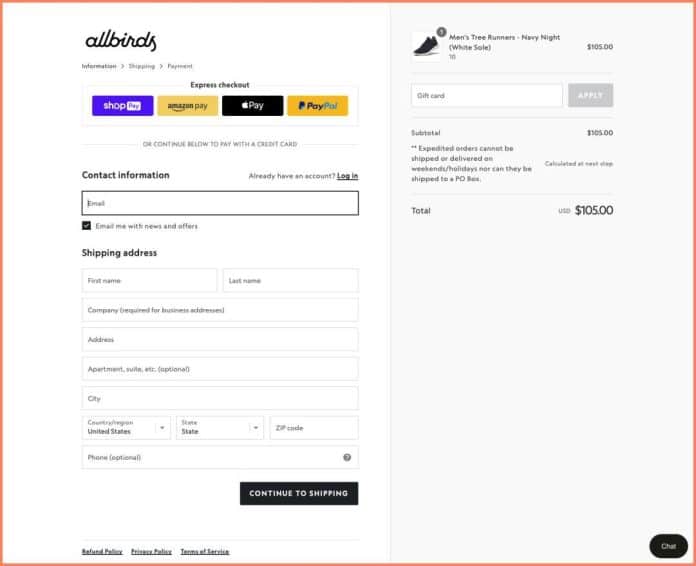 The customers don't have to move back and forth to find necessary information. Everything is visible on a single page with an express checkout feature.
9. High Quality Product Images
The quality, quantity, and size of product photos on your ecommerce store impact conversion and sales.
Your ideal customers have nothing but product images to make a purchase decision and they have to rely on these photos. The images must be high-quality and relevant to the actual product.
Follow these guidelines for product photos when designing an online retail store:
Use large images. A study found that increasing image size by 28% increases conversion rate by 63%
Adding multiple images increases the conversion rate.
If you can add product videos, that's great. As much as 33% of consumers prefer learning about a product by watching a video, 69% of people believe that a product demo helps them make a purchase decision, and 80% of consumers say that product videos give them more confidence when shopping for a product online.
Ideally, you should add both product photos and product videos for all the products. Ecommerce web design should cater to both.
Ecommerce website design isn't stagnant. It needs to be tested, tweaked, and improved consistently for conversions.
Constant experimentation to improve design will lead to better user experience, higher sales, and more revenue.
You can change most visual and functional elements on your ecommerce website such as CTA position, checkout process, trust badges, content, headlines, etc. Data-driven experimentation to improve design should be a permanent part of your ecommerce design process.
Ecommerce Site Design Checklist
An online store consists of a lot of different pages and is quite bulky. You must ensure that your store has all the necessary pages. Here is an online store design checklist that our experts at NEWMEDIA have developed:
* It begins with creating the right pages for your online business. These pages have significant value and are irreplaceable. Below we have discussed best practices to create and design these pages for your ecommerce store:
The home page is the first page that potential customers see. It is the front page of your ecommerce store. It represents the face of your brand. It must be catchy and persuasive. The idea is to keep visitors stick and shop from your online store.
Here is a quick checklist to create a stunning home page for your ecommerce store:
Main product or current offer
Search bar to allow visitors quickly find what they are looking for
Categories in the header or sidebar – above the fold
List of featured and/or recommended products
A clear and catchy CTA above the fold
High quality product image in the slider or header.
Here is a great ecommerce website example of a perfect homepage design: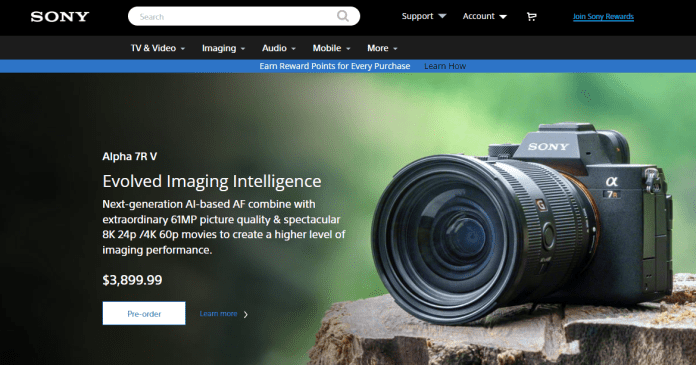 Sony has utilized above the fold area smartly. You find categories, search bar, a notification bar, and their top product with a nice high quality product image.
Above the fold area (that's instantly visible to the visitors) is very important and you must use it smartly. It should be catchy enough to grab visitor attention immediately. This is the purpose of a home page – to keep visitors hooked and persuade them to scroll down and shop.
A product page lists the features, images, specifications, and other details about the product. It is one of the most important pages on your ecommerce store and is responsible for sales. A well-designed and properly structured product page will significantly increase conversions.
Here is an overview of the main elements of a product page: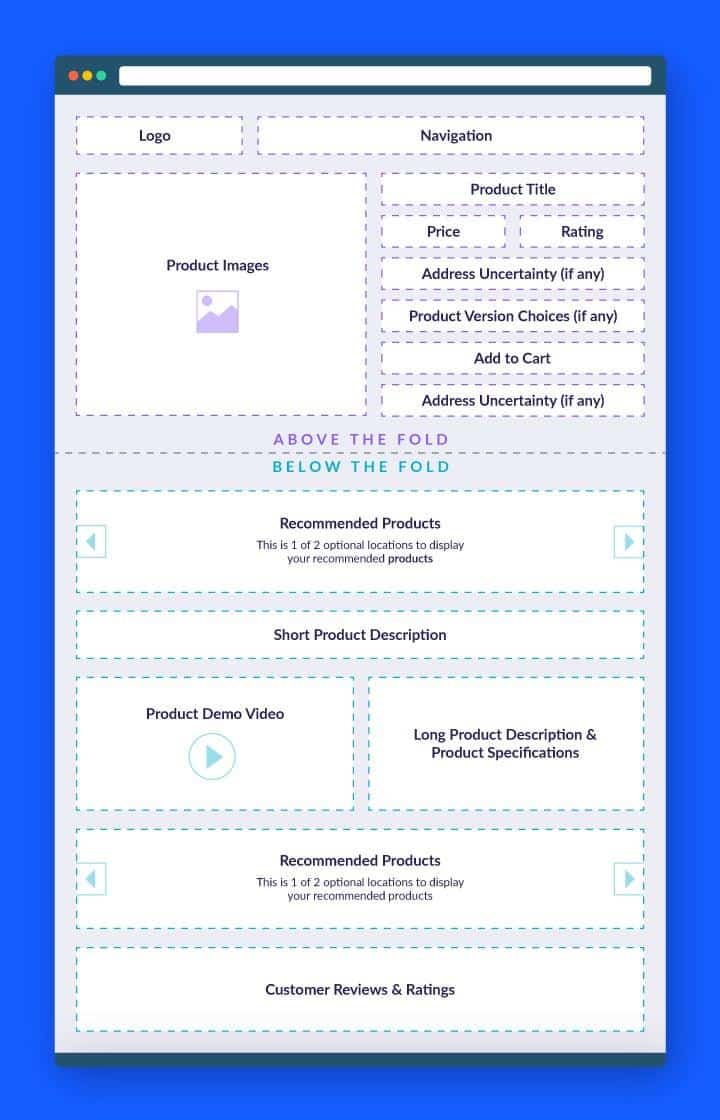 Here is how to design a perfect product page for your online store:
Several high quality product images
Product video
Product title, price, and a CTA above the fold
Customization features
Key product benefits
Detailed product description with specification
Customer reviews and ratings
Product recommendations, cross-selling, and bundled products.
Amazon has the perfect product page template that is optimized for conversions. Here is an example:

The pages have detailed titles, high quality images, product videos, CTAs, product customization options, and reviews and ratings above the fold. You can view product features in bulleted form and then detailed product description if you scroll deep.
If you want to create amazing pages for your ecommerce store, copy the template from Amazon. You don't have to create exactly similar pages, but you need to make sure you have all the necessary elements.
A landing page is a standalone page that is focused on selling a single product. Just like any other page, a landing page is a must-have for your ecommerce website.
A landing page is different than a product page. Here is how:
The purpose of a landing page is to boost conversions, so it promotes a single product
One product, one offer, and a single clear CTA
Highly targeted content and headlines
Restricted menu and links to other parts of the ecommerce store
Fully optimized for marketing and conversions.
Here is one of the best ecommerce website examples of a landing page: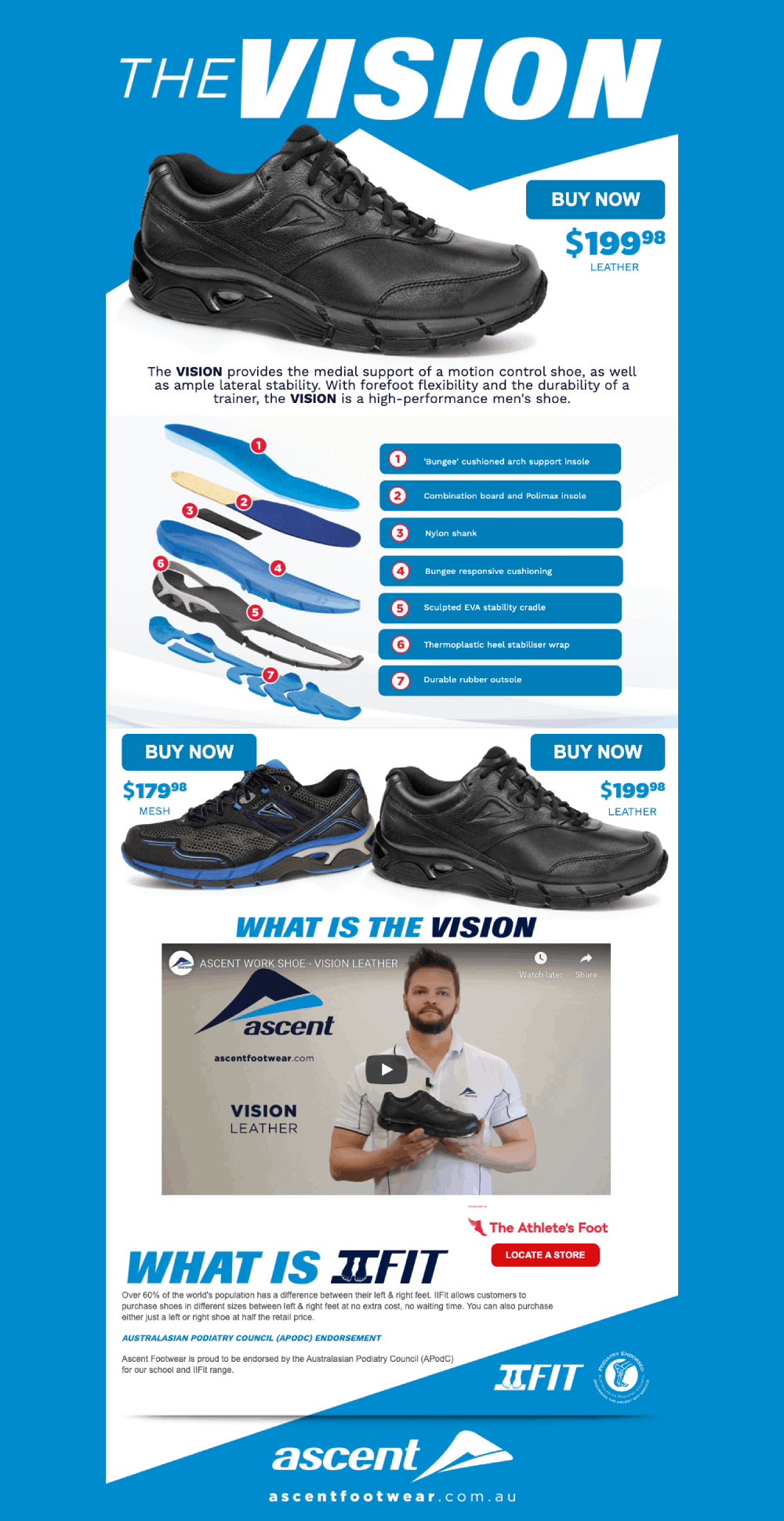 It has a clear purpose without any links to other pages on the store. These types of highly targeted landing pages are needed for marketing purposes and help you with:
New product launches
PPC campaigns
Targeted marketing campaigns
Target customized products based on the customer lifecycle stage
Testing and experimentation
Boost sales and conversions.
Since landing pages are clutter-free and targeted, they perform better than product pages especially if you are driving paid traffic.
Follow these best practices to design perfect landing pages:
Create multiple landing pages. The more landing pages you have, the better as it lets you get more insights
Have a clear objective for every landing page you create
Promote one product with an extremely specific headline, benefits, and description
Reduce distractions. Remove navigation, product recommendations, and links to any other external pages
Add CTA above the fold
Keep your landing page short. No need to add the full product description. Use key benefits only.
This is the page that's responsible for the sales. And a good number of potential customers (after adding products to the cart) leave your online store from the checkout page.
A well-designed, transparent, and secure checkout page is just the bare minimum to boost conversions. Here is a layout of a perfectly designed and optimized checkout page for ecommerce stores: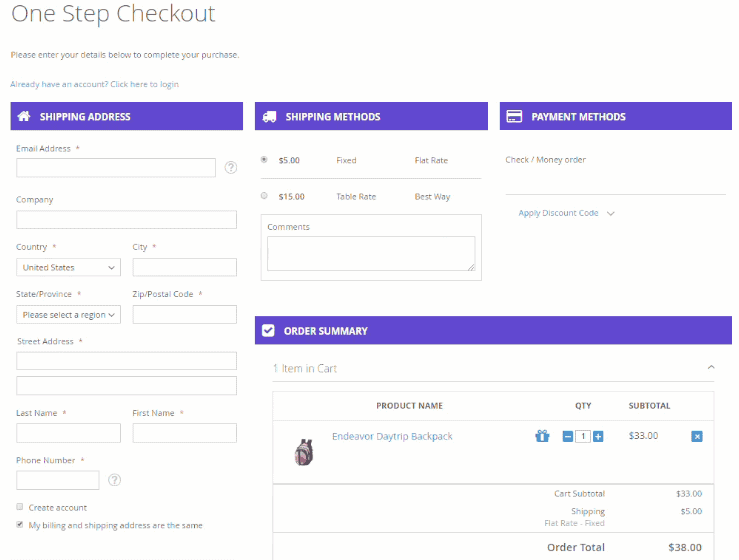 It is a single-step checkout page that's ideal for conversions. It is short and has all the necessary details. A lot of potential customers abandon an ecommerce store due to the long checkout process, hidden costs, unavailability of available payment methods, and lack of guest checkout option.
So, you must ensure the following:
Your checkout page must be short and crisp
Keep it to one page. Or add a progress indicator for long checkout pages
Offer guest checkout
Clearly mention all types of costs upfront. Don't add hidden costs at this stage
Add multiple payment methods
Offer express checkout with a single tap or click
Add trust signals
Reduce distractions and remove all external links
Use exit intent popups to collect email addresses so you can contact them later in case of abandonment or any other issue.
You don't just need a checkout page, but you need an optimized page that converts like crazy.