Learn how NEWMEDIA's digital marketing solutions help you to take advantage of your strategic location.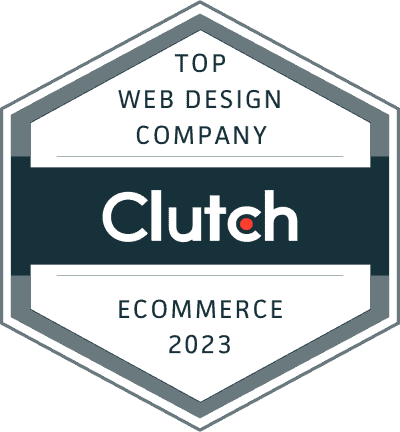 Top 1% Global Leader Digital Agency
Ranked by Clutch 2023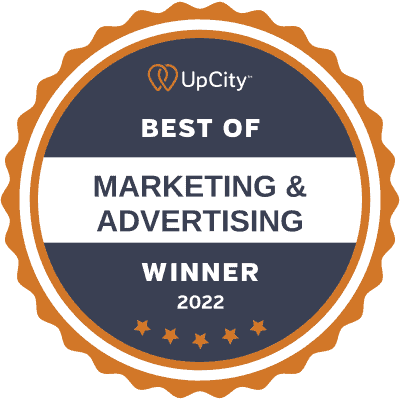 Top 1% Digital Agency in United States
Ranked by UpCity 2022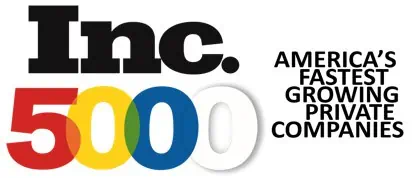 Fastest-Growing Companies in the USA
4 Years in a Row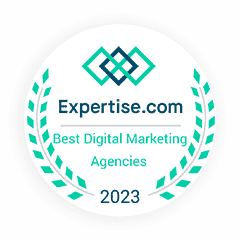 Top 1% Best Digital Marketing Award
Ranked by Expertise 2023

#2 Global Award Winner
Ranked by MASHABLE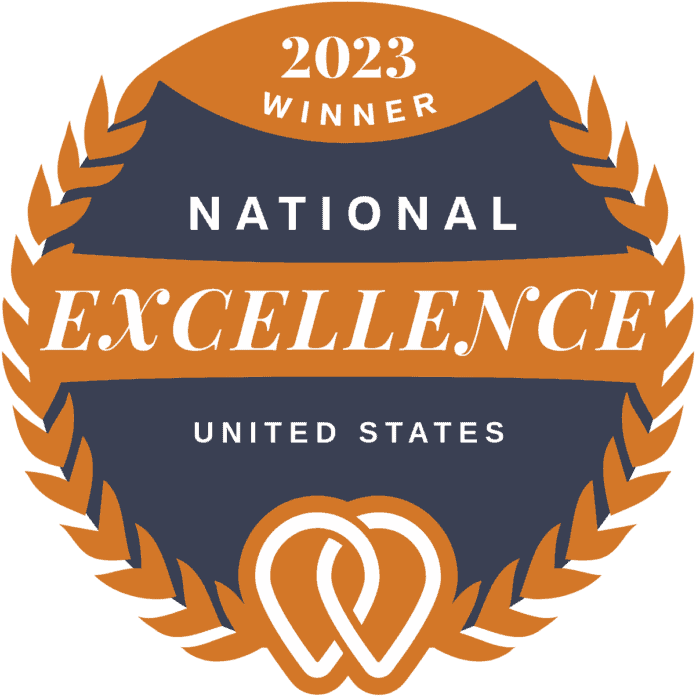 Top 1% Award of Excellence Winner
Years 2020, 2021, 2022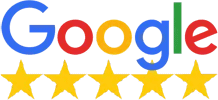 500+ 5-Star Reviews in Google
Ranked by Our Customers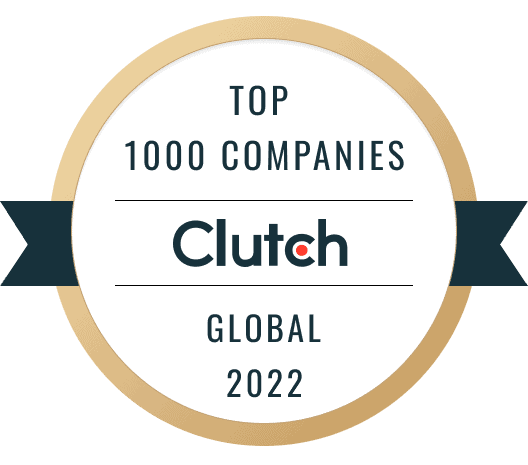 Top 1000 Global Digital Agency
Ranked by Clutch 2022

#1 Global Digital Agency
Ranked by Business Journal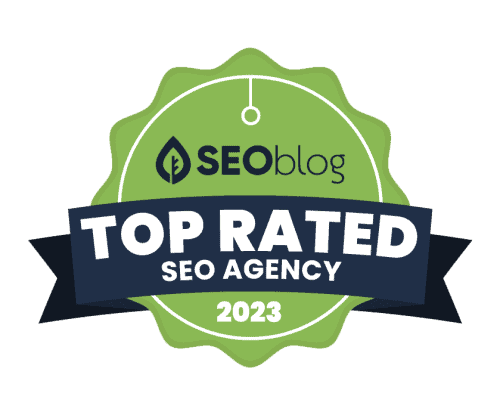 Top Rated SEO Agency
Ranked by SEO Blog 2023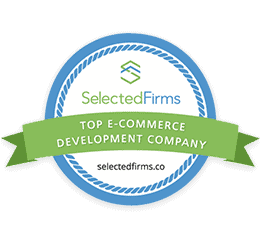 Top Ecommerce Development Company
Ranked by Selected Firms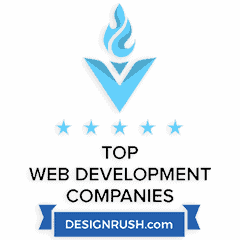 Top Web Development Agency
Ranked by Design Rush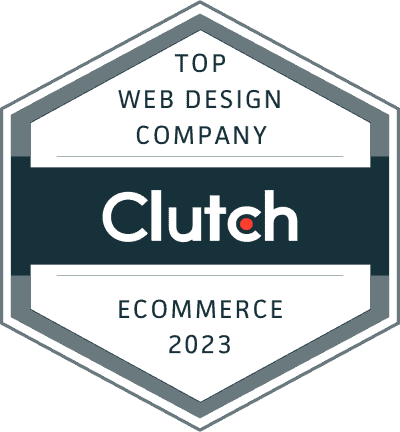 Top 1% Global Leader Digital Agency
Ranked by Clutch 2023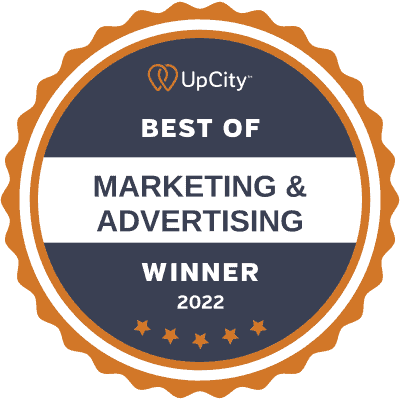 Top 1% Digital Agency in United States
Ranked by UpCity 2022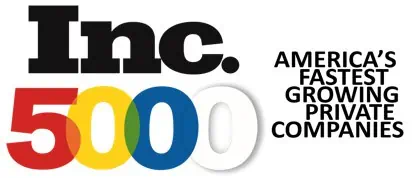 Fastest-Growing Companies in the USA
4 Years in a Row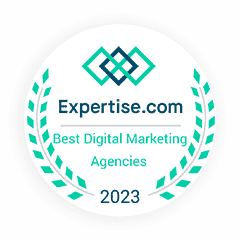 Top 1% Best Digital Marketing Award
Ranked by Expertise 2023

#2 Global Award Winner
Ranked by MASHABLE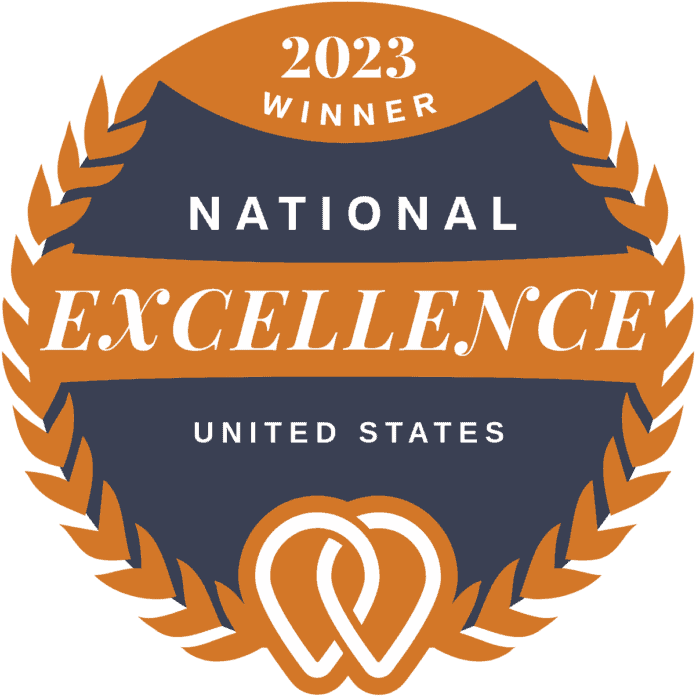 Top 1% Award of Excellence Winner
Years 2020, 2021, 2022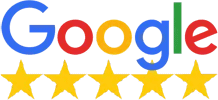 500+ 5-Star Reviews in Google
Ranked by Our Customers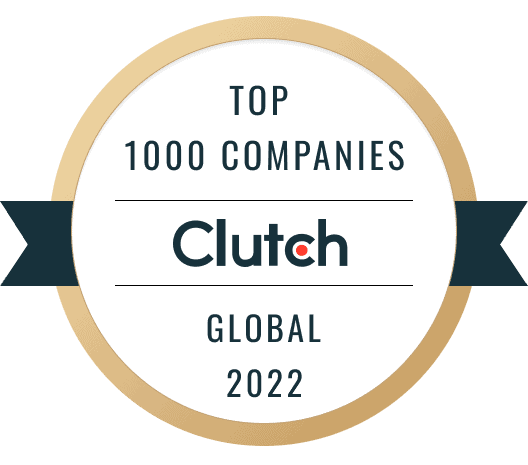 Top 1000 Global Digital Agency
Ranked by Clutch 2022

#1 Global Digital Agency
Ranked by Business Journal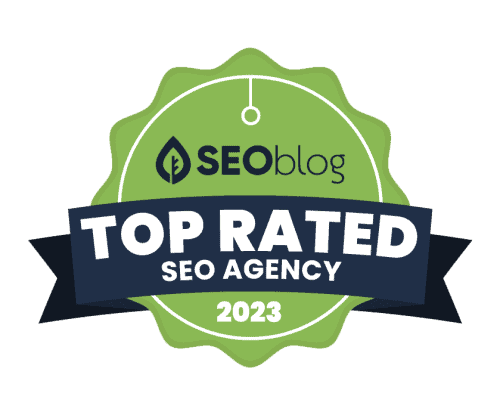 Top Rated SEO Agency
Ranked by SEO Blog 2023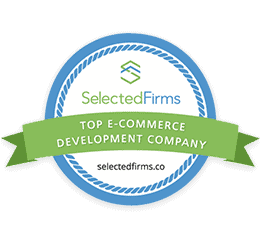 Top Ecommerce Development Company
Ranked by Selected Firms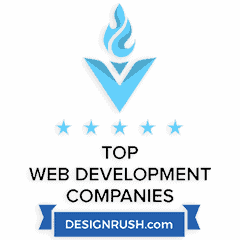 Top Web Development Agency
Ranked by Design Rush
Ah, Denver.
The "Mile High City" is where the NEWMEDIA web design journey began, and the city is a hub of startup success. According to the U.S. Census Bureau, there are currently 21,208 businesses employing people in the city, with the state of Colorado ranking fifth in the United States for startup activity.
That's great news for Denver – the city's economy is booming because of this business success.
But what does it mean for your company?
With over 21,000 other businesses all fighting for a slice of the Denver pie, you're dealing with a ton of competition when you try to market what you do online. And with Colorado having a startup growth rate of 74.1% since 2017, there are only more companies getting added to the pretty big pile you already have on your plate.
Digital marketing is the key to flying high in the "Mile High City." And with NEWMEDIA, you work with a leading web designer and formulator of digital marketing strategies in Denver.
Denver, CO website design, UX, digital development and marketing agency
INCREDIBLE PRODUCT MEETS IMPECCABLE DESIGN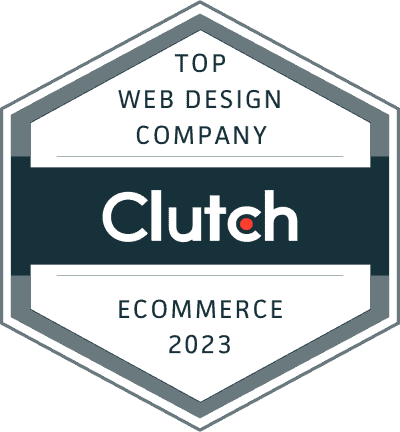 Global Leader Digital Agency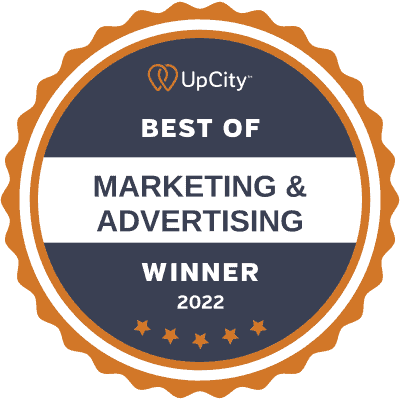 Digital Agency in United States
Web Design | SEO+Social Digital Marketing Agency
We can craft the perfect digital strategy to grow your business, and then execute it for you to generate massive scale. And we can move much faster than you would expect.
How a New Website Fits Into Your Digital Marketing Strategy
You know that your digital strategy has to be on point if you're going to come out on top in the Denver business lion pit. We could tell you that our web professionals design websites that act as the foundation for everything else you do to reach your potential customers and call it a day.
But we love the details. So, here are five ways that working with a NEWMEDIA website designer on your new site boosts your digital marketing strategy.
Up Your Marketing Collateral
Every customer who buys from your business experiences several "touchpoints" before they commit to a purchase. These touchpoints are anything that leads to them having contact with your business, such as receiving some of your email marketing, grabbing a flyer from an expo, or (you guessed it) visiting your website.
This collection of marketing techniques and tools you use to reach people is your "marketing collateral." And when it comes to collateral, there's nothing more valuable than your company's website. Check out this chart from Think with Google: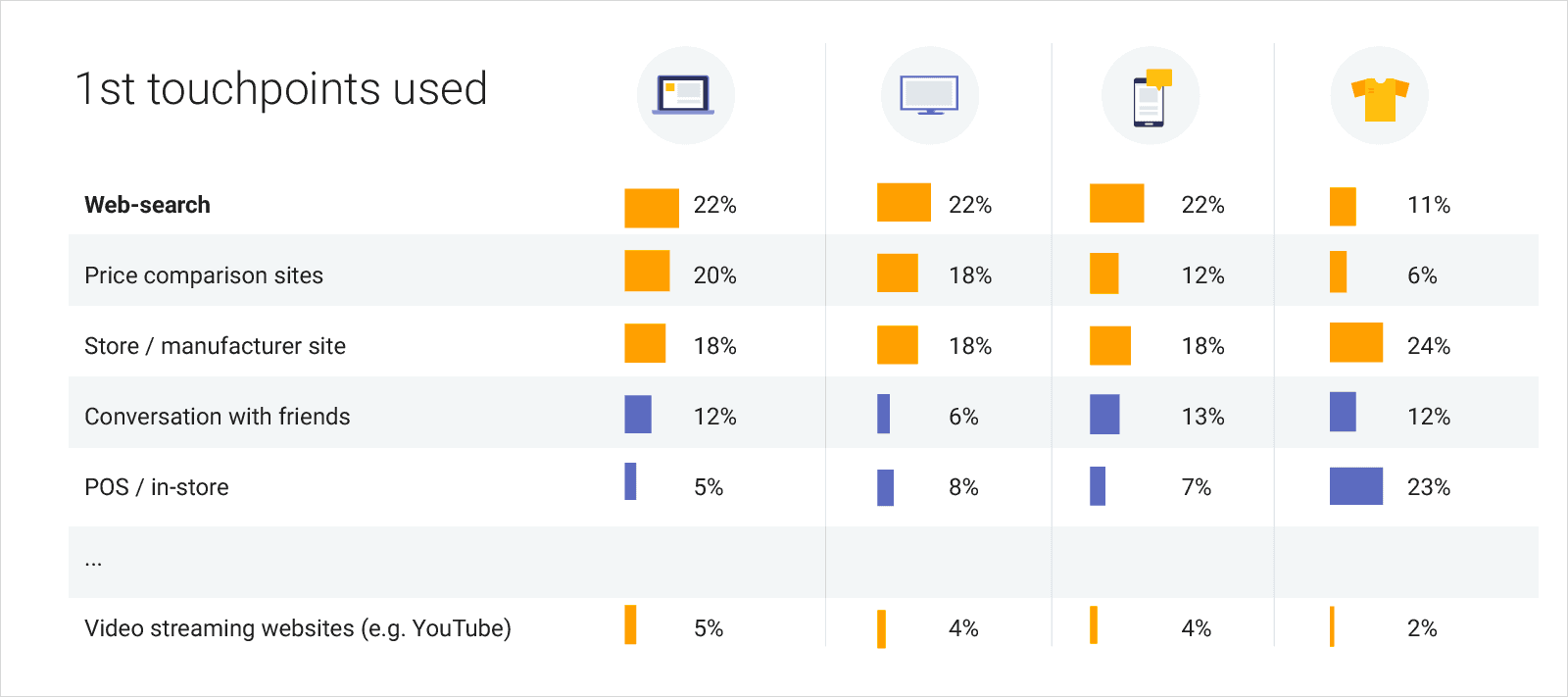 This chart shows us the percentage of people who land at your touchpoints for various industries using different means. You'll see that web search is the top performer, with 22% of people hitting their first touchpoint by searching for something they want using a search engine such as Google.
Search engine optimization (SEO) is what you'll use to make sure your business lands in that touchpoint, and you can't do SEO without a website.
Now, go a little further down, and you'll see "Store/manufacturer site." Across most industries, 18% of people count the content they see on a company's website as one of their most vital touchpoints, with that number rising to 24% for the clothes/fashion industries.
The point is that the more touchpoints you offer to your customers, the more chance they have of learning about you. And the more they learn, the more they grow to like (and trust) your Denver business enough to buy from it.
Look Professional to Your Target Audience
Imagine, for a moment, that you're preparing for a big meeting with a company that offers a product you're thinking about buying. You turn up to the company's office, only to find a dilapidated building. Paint is peeling off the windowsills, one of the letters seems to have fallen off the sign, and you get a weird feeling that this building isn't the best office in town.
But you head in anyway. And you're greeted by somebody in a rumpled t-shirt who looks like they've just rolled directly out of bed and into the meeting with you.
Are you going to buy from that person?
The odds are you won't because first impressions matter in business. It doesn't matter if this company is the best at what they do, as your opinion has already been soured by the ratty building and the guy who still has sleep gunk in his eyes when he looks at you.
Apply that same line of thinking to your website, and you'll understand the need to make a brilliant first impression through web design. And if our analogy isn't doing a good enough job of convincing you, some stats should do the trick: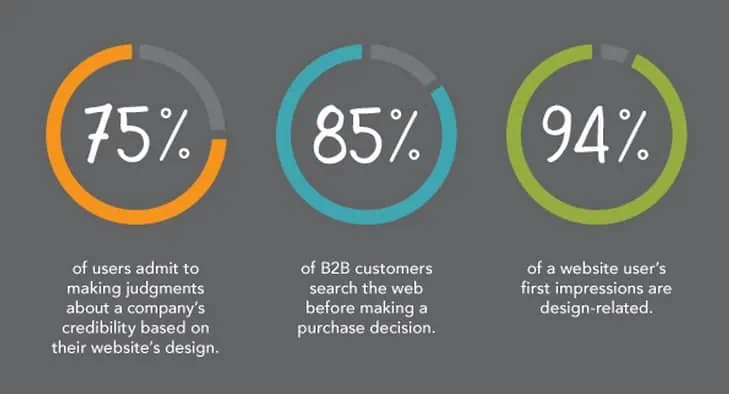 Check out the first in this trio of stats from Foxy.io.
An enormous 75% of people say that they'll make snap judgments about a company's credibility based on what they see when they land on that company's website. And with 94% of those first impressions coming as a result of design-related factors, it's clear that your website needs to look the part if your audience is going to see your business as the sort of professional company with which they'll do business.
Provide the Information Your Customers Need
This is a simple one – the majority of people in the 21st century rely on website content to learn more about a small business.
Just check out this chart from BrightLocal: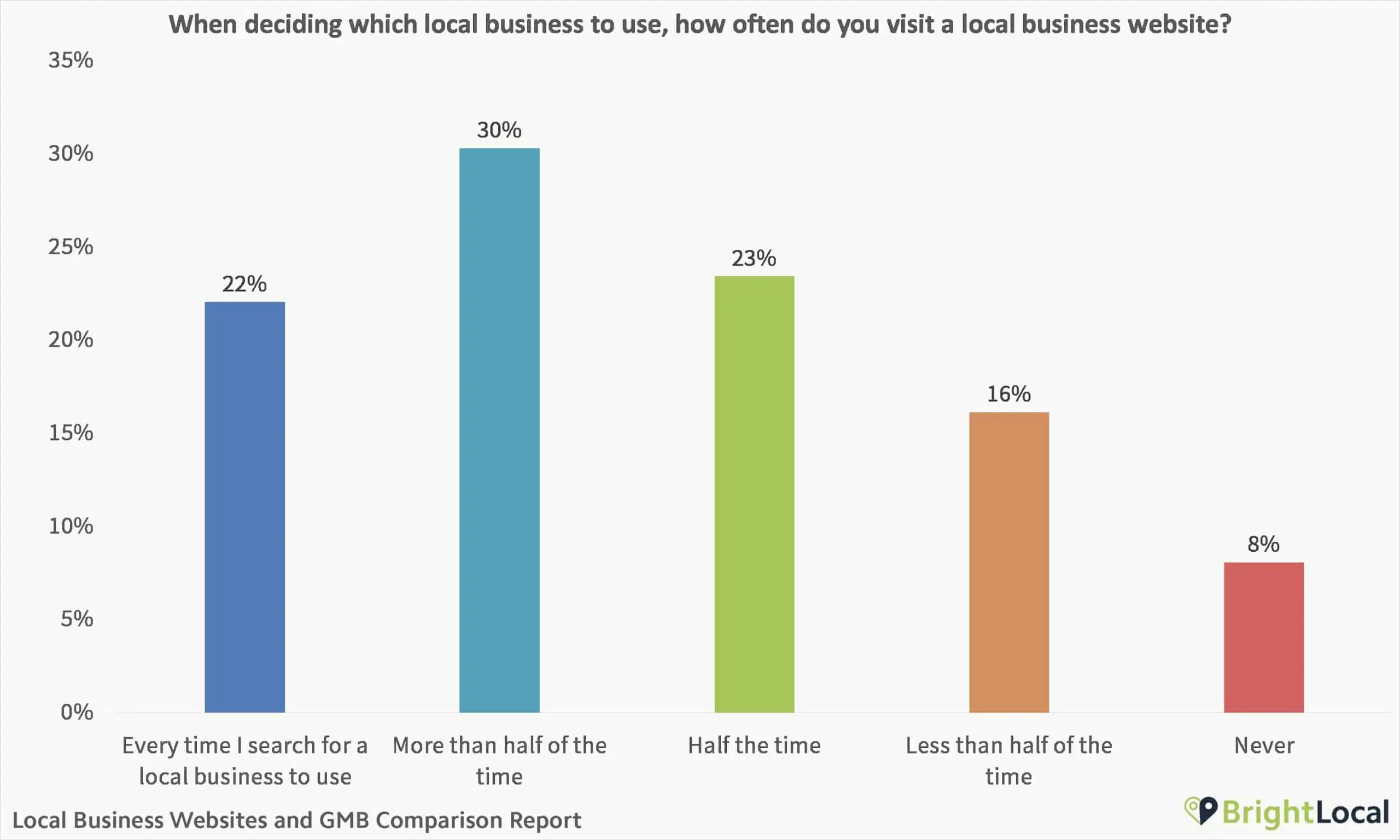 Nearly a quarter (22%) of consumers check a company's website every single time before they make a purchase, with 30% saying they check the business site more than half of the time. Only 8% of people claim they never use a website to gather information when making a purchase.
So, we can surmise that 92% of people get online to learn about your company.
And yet, far too many small businesses don't even have websites for this huge majority of consumers to visit, as we see in this chart from Zippia: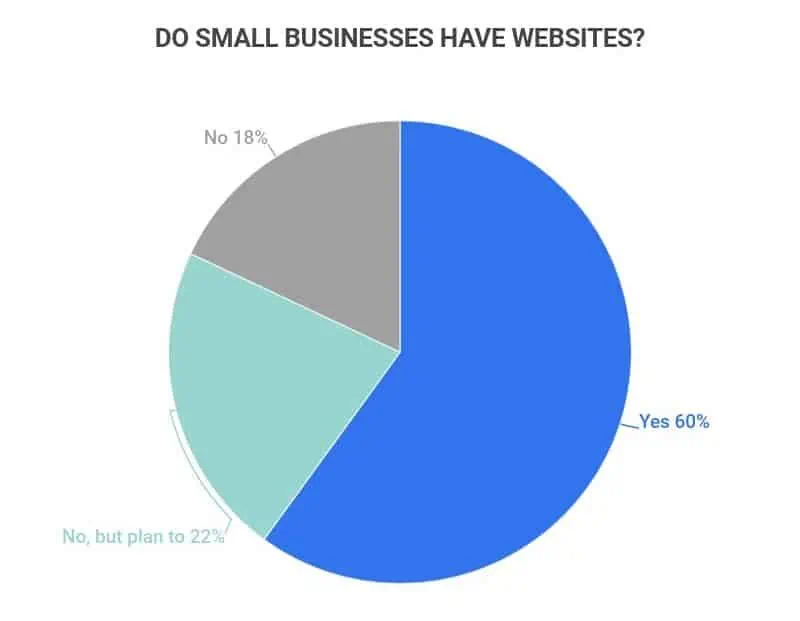 If you're in that 40% of companies that still need to get a business website, you're missing out on providing vital information to the 92% of people who usually use the web to learn more about the products they buy.
We all want to get a little more for less money. For example, you want to find ways to get as many eyes on your business as possible because more eyes mean more new leads coming through the pipeline.
Website design gives you an online presence. And through that presence, you can reach more people with less money, as this chart from Seriously Simple Marketing demonstrates: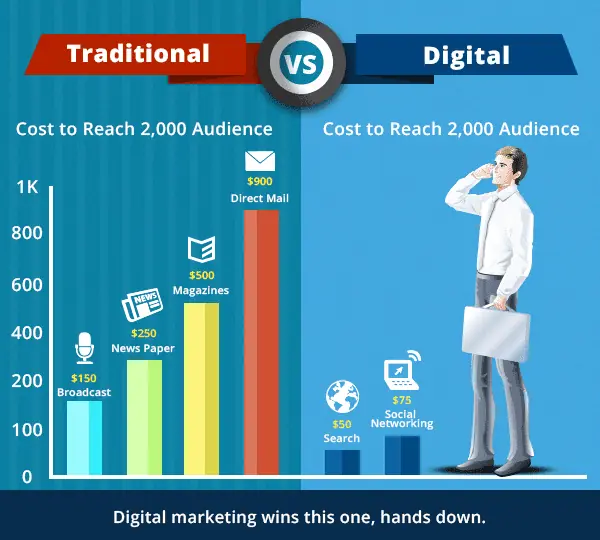 That chart shows us how much it costs to reach 2,000 people using various marketing methods. Take a look at the traditional side, and you'll see that the average business spends at least $150 to reach 2,000 people using broadcast marketing, up to an enormous $900 to reach 2,000 people using direct mail.
Now, check out the digital side of the chart.
It costs just $50 to reach 2,000 people using search engine optimization (which starts with your website design). And you'll spend just $75 on social networking, which you'll use to point people toward your website, to hit 2,000 pairs of eyes. Combine the two, and you spend $125 to reach 4,000 people, meaning you spend $25 less to reach twice the number of people than you'll reach with the most cost-effective traditional technique.
Match (And Then Beat) Your Online Competition
Ask any company about its business goals and you'll get a broad range of desired outcomes. More leads, more clients, more growth, and just…more is generally what you're going to hear. But as we pointed out earlier, there are over 21,000 businesses operating in Denver alone (with many thousands more in the United States) that you have to compete with if you're going to get more.
And most of that competition is online.
Earlier, we highlighted that 40% of small businesses don't have websites. But that means that 60% of them do, and they know that the web is where they're going to find the most customers.
You need to get online to match that 60% of companies, especially when the vast majority of people (remember – 92% of people) say they'll usually visit a website before they buy.
But it's not enough to match your competition. You need to get ahead of them. And that's where there's some good news, as this chart from Smart Insights demonstrates: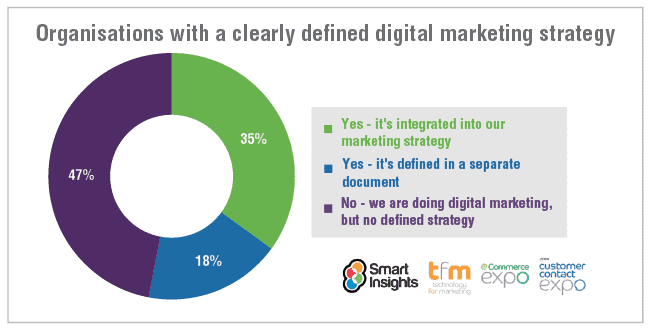 Although most businesses are online, 47% of business owners say they have yet to define a digital strategy. And of the 53% that have a strategy, 18% say they haven't integrated their digital approach into the rest of their marketing, which means they don't understand how important digital is to their success.
What we have here is a window of opportunity for digital-savvy Denver businesses to get ahead of the competition. And with web design (plus digital marketing) from NEWMEDIA, you'll do more than match your competition online.
You'll fly through that window of opportunity and far away from your competitors' collective sight.
So, we can sum up the five biggest benefits of web design companies as follows:
Boost marketing collateral to offer more touchpoints to customers.
Look pretty (and professional) for that all-important first impression.
Make sure your customers can learn what they need to know to like and trust your business.
Save a ton of money on marketing while reaching more people than you'll reach through traditional means.
Get on a level playing field with your competition before taking advantage of their lack of digital knowledge to boost your results.
All you need to know now is how the NEWMEDIA digital marketing agency makes all of that happen for your Denver business.
Reasons to choose NEWMEDIA
Work with One of the Best Denver Web Design Companies
There are a ton of Denver web design companies out there claiming to deliver results for their clients. But the NEWMEDIA team proves (rather than talks about) what it can do for your business.
But don't just take our word for it
Our Recognitions Speak for Themselves
ranks NEWMEDIA a Top 1% Digital Agency in the United States
ranks NEWMEDIA a Top 1% Global Leader Digital Agency.
ranked NEWMEDIA's work the #2 Global Award Winner (and they ranked Twitter #3).
ranks NEWMEDIA among its fastest-growing companies, 4 years in a row.
Don't be confused by the many imitators, with names that look and sound alike - there is only one, original NEWMEDIA.COM - helping clients grow their businesses since 1996.
Give us a call today or visit us online, at NEWMEDIA.COM. Better yet, we invite you to come and meet with us for a no-obligation consultation about your project. While it's certainly not mandatory, we believe that the one of the best ways to determine how well we can work with you as your partner is by meeting with us in person. We've also got guaranteed PPC and social media marketing plans. We're being honest, really! In a nutshell, you can rely on us for all things digital, from web design to marketing.
Our expert team has designed, developed, deployed, hosted, marketed and managed 4000+ social media accounts, PPC and SEO campaigns, websites, mobile apps and software applications for clients of all shapes and sizes, including small- and medium-sized businesses, Enterprise organizations, State and Federal government, leading universities, international corporations, major brand name advertising agencies, local and global non-profits, and start-ups of practically every description.
From the YMCA to CBS Television, we've worked on websites for some of the most recognizable brands in the country. But for us, size doesn't matter, as we'll deliver the best Denver web design (and all of the online marketing strategies that go with it) to companies of any size.
The new Delta Sky Club website portal, designed and developed from scratch by NEWMEDIA, allows Delta passengers who go online in any of their Sky Club lounges across the U.S. to quickly get news, weather & stock market information, in addition to tracking flights on any airline (not just Delta!), searching directly in Google, and getting maps and driving directions to/from any address on Earth.
NEWMEDIA Los Angeles, in collaboration with Sterling-Rice Group (SRG), built a new website for the Almond Board of California under an aggressive development timeline. We built a multi-language website for them while ensuring a consistent user experience by bringing all four existing websites into a single universal system. Our team of experts delivered this mammoth project even after the deadline was shortened by four weeks.
The Six Flags team reached out to NEWMEDIA for a complete website redesign and multi-site ecommerce web development. We redesigned the website to change its complete look and feel and organized content into categories and subcategories to simplify content discovery for visitors. Over the course of the project, we worked in close coordination with the Six Flags team to deliver the website quickly before their parks reopened.
PostNet approached us to completely redesign all their websites, including those of franchisees. We developed a fresh responsive website for them to offer a consistent browsing experience to visitors irrespective of the screen size of the device they use to access the website. Additionally, we developed a tool to help visitors find their nearest PostNet center. Finally, we designed the 300+ franchise websites for them with local SEO and franchise SEO.
YMCA (now "The Y") is an organization that we've all heard of and/or been a part of at one time in our lives. YMCA of Metro Denver came to us for a fresh website design that would communicate their mission of being for youth development, healthy living, and social responsibility. Even more exciting, they had just had a brand refresh and this was the chance to support that refresh with a complementary website.
When CBS Television was producing the show that came to be called Haystack Help, they needed a complex yet easy to use website application to direct the TV viewers to visit, and their search for a Denver website developer led them to NEWMEDIA. Initially, prior to contacting NEWMEDIA, they had selected another web development partner for the project. Then, there was a problem…
LET'S GROW YOUR BUSINESS TOGETHER
We don't claim to offer services in Denver and then tell you that you need to visit an office in another state to get some facetime with us. If you want to speak to us directly, you can visit our Denver office at: 1400 16th St, Suite 400, Denver CO 80202

If visiting us in person isn't your thing, send us a message online or call 303-860-6050 to discover what we can do for you.