Work with one of the top digital marketing agencies in Atlanta to create an indomitable online presence.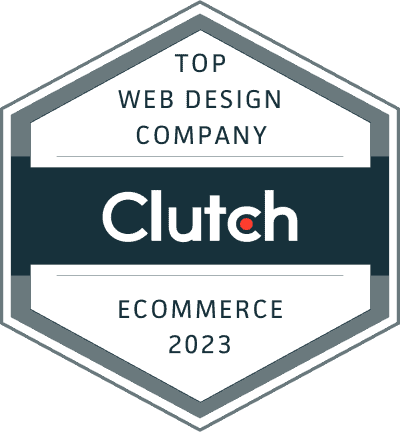 Top 1% Global Leader Digital Agency
Ranked by Clutch 2023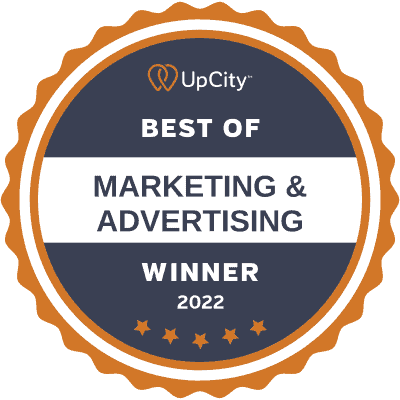 Top 1% Digital Agency in United States
Ranked by UpCity 2022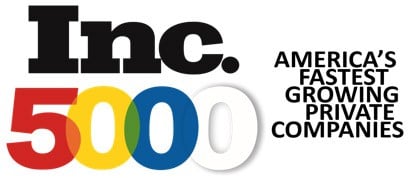 Fastest-Growing Companies in the USA
4 Years in a Row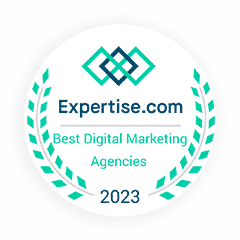 Top 1% Best Digital Marketing Award
Ranked by Expertise 2023

#2 Global Award Winner
Ranked by MASHABLE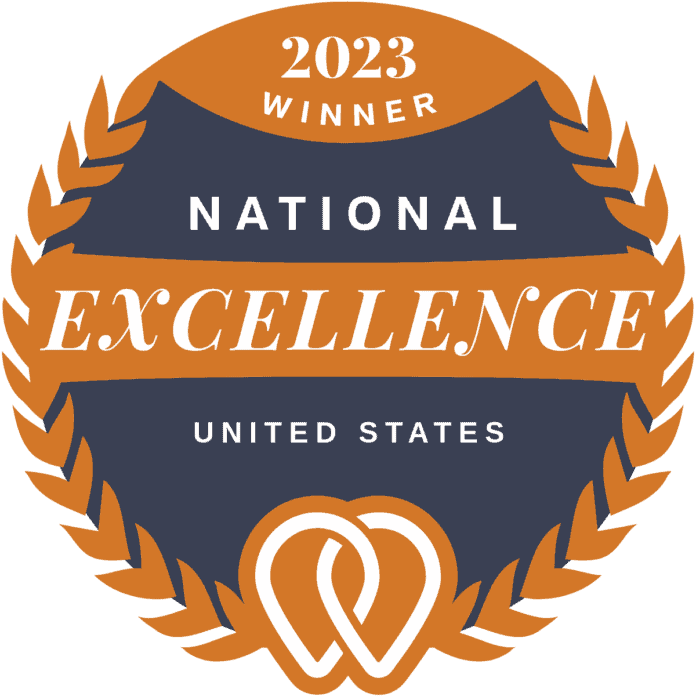 Top 1% Award of Excellence Winner
Years 2020, 2021, 2022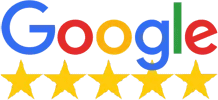 500+ 5-Star Reviews in Google
Ranked by Our Customers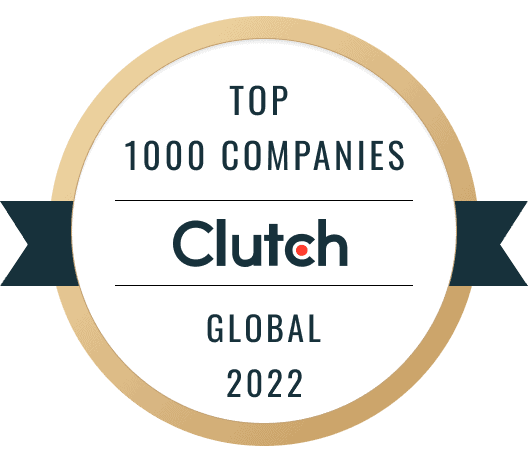 Top 1000 Global Digital Agency
Ranked by Clutch 2022

#1 Global Digital Agency
Ranked by Business Journal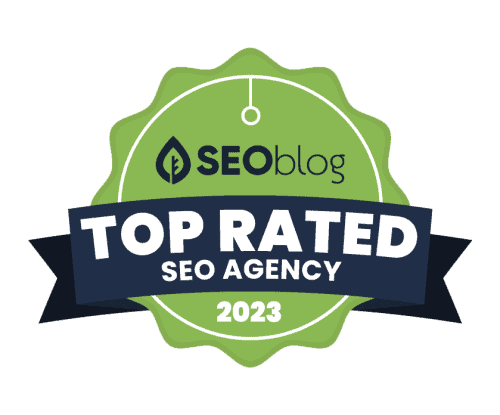 Top Rated SEO Agency
Ranked by SEO Blog 2023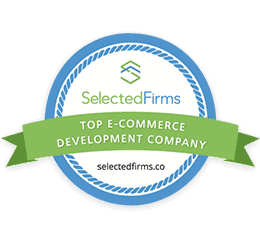 Top Ecommerce Development Company
Ranked by Selected Firms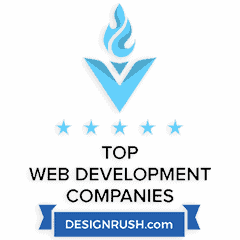 Top Web Development Agency
Ranked by Design Rush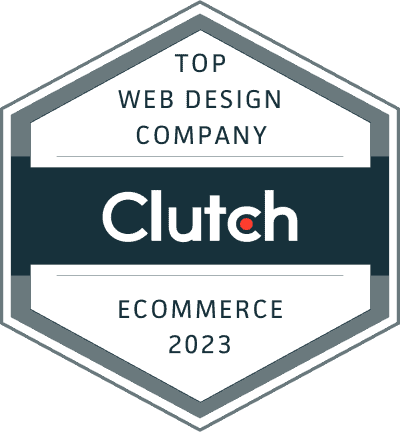 Top 1% Global Leader Digital Agency
Ranked by Clutch 2023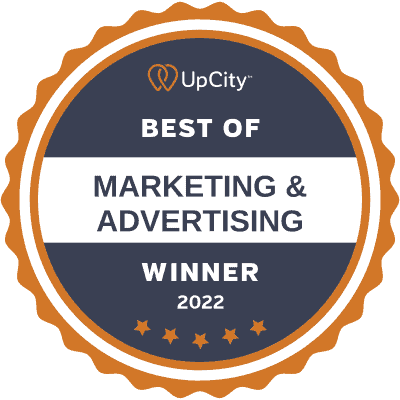 Top 1% Digital Agency in United States
Ranked by UpCity 2022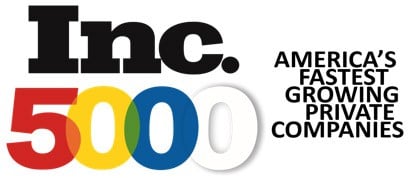 Fastest-Growing Companies in the USA
4 Years in a Row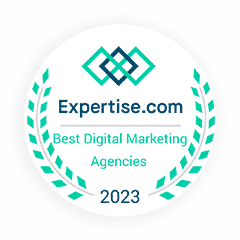 Top 1% Best Digital Marketing Award
Ranked by Expertise 2023

#2 Global Award Winner
Ranked by MASHABLE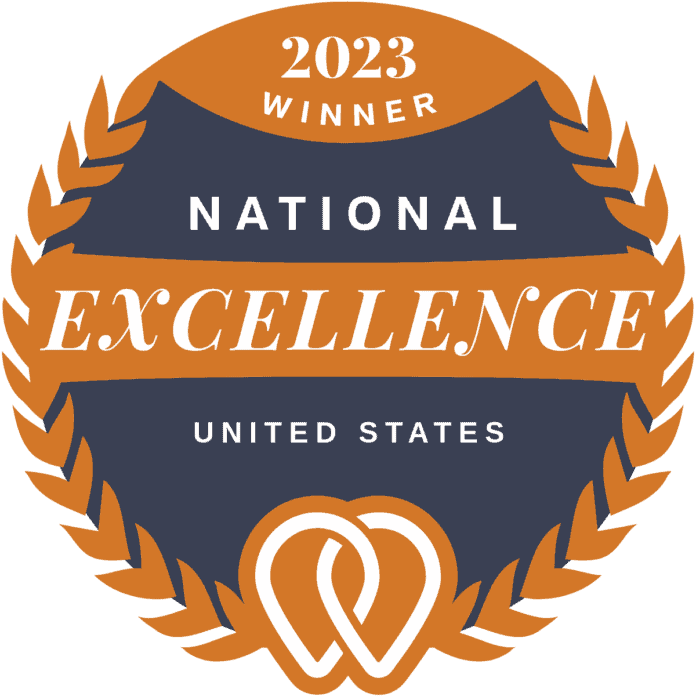 Top 1% Award of Excellence Winner
Years 2020, 2021, 2022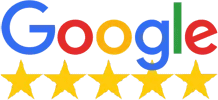 500+ 5-Star Reviews in Google
Ranked by Our Customers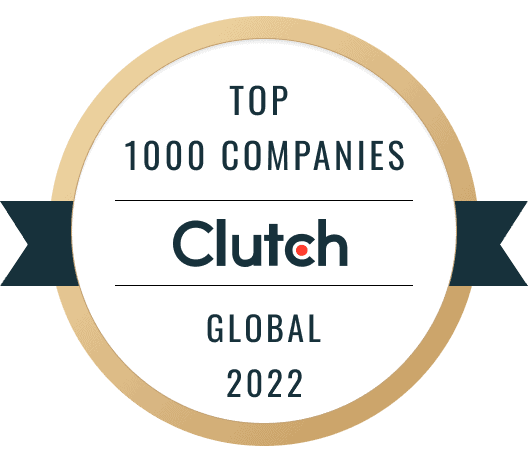 Top 1000 Global Digital Agency
Ranked by Clutch 2022

#1 Global Digital Agency
Ranked by Business Journal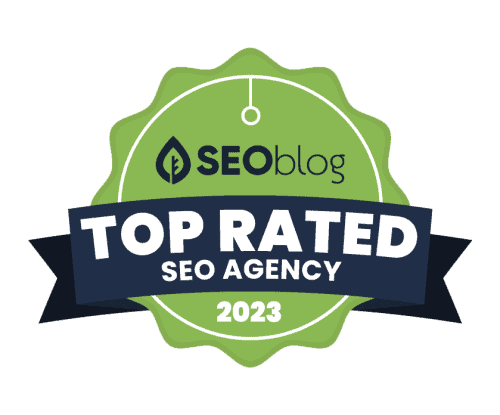 Top Rated SEO Agency
Ranked by SEO Blog 2023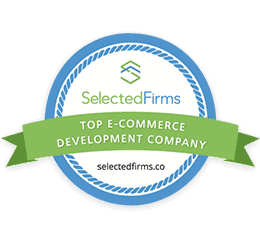 Top Ecommerce Development Company
Ranked by Selected Firms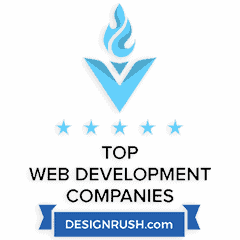 Top Web Development Agency
Ranked by Design Rush
The world has gone digital
You don't have to take our word for it. Your potential customers go online before they commit to any purchase. It doesn't even matter what industry you're in. As this chart shows, the majority of your prospects head to the web before they even think about buying from you: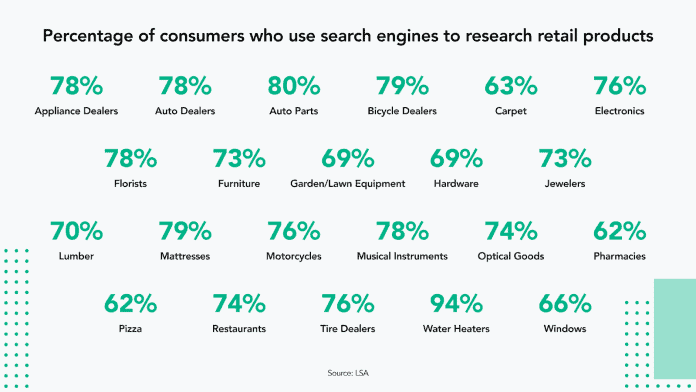 You could stick with the traditional marketing strategies that get mediocre results. Or, you could work with one of the top digital marketing agencies in Atlanta to create an indomitable online presence.
NEWMEDIA is the digital marketing company you need. But before we tell you why, we have to dig into what digital marketing is and why it's so crucial to your company's success.
Any marketing technique you use that requires digital technology is technically a form of digital marketing. Your website falls under the digital marketing banner. Any ads you're paying for, be they on social media or search, are also digital marketing.
But that doesn't tell the full story.
Yes, your marketing materials will appear on computers, tablets, and smartphones. But getting onto digital devices isn't a digital strategy. It's just a means to an end.
That end varies depending on what you want to achieve.
If you want more people talking about why your business is the best thing since sliced bread, a digital marketing strategy gets you in front of the biggest talkers. When you want more leads who actually want to buy from you, digital marketing provides a constant source of qualified prospects for your salespeople to convert.
Ultimately, it's all about your digital presence.
A good online marketing strategy enhances your digital presence. It puts you in the places that your potential (and existing) customers check before they buy from your company.
Getting your strategy right requires a combination of the right creative services and the technical know-how needed to build strong campaigns. If you're missing one or the other, your marketing efforts may end up counting for zero. You'll pour good money after bad into a strategy that doesn't get results.
NEWMEDIA won't allow that to happen.
As one of the top digital marketing agencies in Atlanta, we offer a full-service solution that incorporates every element of the digital landscape. We'll get to what those elements are in a moment. First, we need to tell you why our full-service advertising agency is the right choice for your Atlanta-based business's digital needs.
Atlanta, GA website design, UX, digital development and marketing agency
INCREDIBLE PRODUCT MEETS IMPECCABLE DESIGN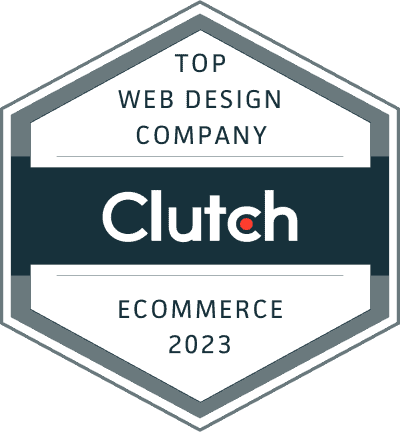 Global Leader Digital Agency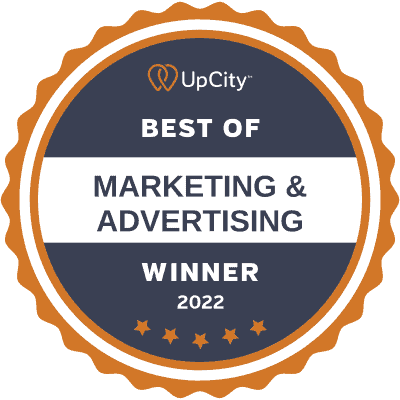 Digital Agency in United States
Web Design | SEO+Social Digital Marketing Agency
We can craft the perfect digital strategy to grow your business, and then execute it for you to generate massive scale. And we can move much faster than you would expect.
The Benefits of Working with the
NEWMEDIA DIGITAL MARKETING FIRM
What do you get when you work with NEWMEDIA to boost your digital marketing campaigns? Every single one of these benefits is within your reach when you take advantage of our digital marketing services.
Reaching your target audience with traditional marketing costs more money than with online marketing. Asset Digital Communications proves that with its demonstration of how much you'll spend to reach 2,000 people with each marketing technique: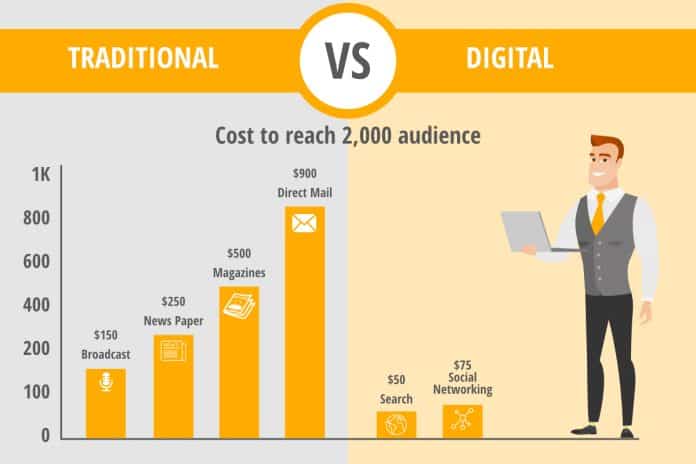 The comparison is pretty clear. The cheapest traditional marketing technique, which is a broadcast ad, requires twice as much money for you to get to 2,000 as social networking. It costs three times as much as search engine optimization.
And it only gets worse from there for the traditional side of things. Topping off with direct mail requires a $900 investment to reach 2,000 people.
That lower cost for digital comes from the fact that you don't have to spend a ton of money on paper and professional printers to market digitally. As long as you have the tools, you can reach the right people.
And the best part is that this diagram only shows what can happen with two digital marketing services. Add email marketing, video production services, and digital ads into the mix, and our digital marketing efforts spell more people reached for far less money than traditional marketing.
Targeted Reach and Qualified Customers
One of the biggest problems with traditional marketing is that you have no control over who sees it. A TV ad gets beamed out to millions of homes. Your billboard poster gets seen by anybody who passes by.
"That's great," you might think to yourself. "The more people who see my ads, the more I'll sell."
That's not the case.
Most of the people who see traditional ads are outside your target audience. They're unqualified prospects. Most will ignore the ad and go about their days. And those who do call may not even need what you offer, meaning your sales team has to waste time filtering out prospects who'd never become customers.
Contrast that to a targeted social media marketing campaign.
You have access to a global audience. But you can use the tools a social media platform offers to ensure your ads only reach the people who are likely to buy from your company. With proper social media management, your ad campaigns can reach just as many people as traditional ads, with the key difference being you'll be talking to people who present a higher chance of buying from you.
The Digital School of Marketing sums this up even better than we can with this simple diagram: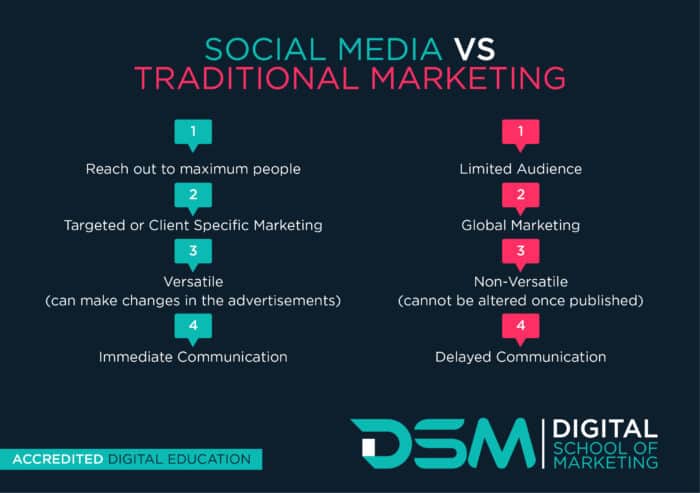 And that's just the social side of things. You can target search engine ads using keywords that match your target audience's intent. Even with search engine optimization, you're shooting for keywords that your potential customers are likely to use.
Good digital marketing companies, like NEWMEDIA, offer the strategic planning needed to make sure your brand gets in front of the right eyeballs rather than as many as possible.
Boost Your Brand's Identity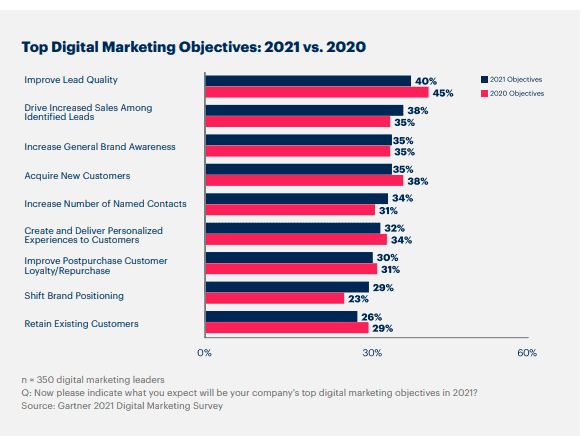 What do you see?

You may say that getting better leads is the main priority for marketers. And it is. 40% of them wanted to use digital to get better leads in 2021. But you'll also notice that this is down 5% on the number who had the same desire from digital in 2020.

"Okay," you tell us. "What about one that's growing, like attracting new customers?"

That's definitely a big one, with 38% of marketers prioritizing it. But it's not the fastest-growing business objective marketers want to hit with their digital solutions.

That's shifting their brand's identity.

There's a marked increase (from 23% to 29%) in marketers using digital techniques to shift a brand's identity.

There's a good reason for that.

With most customers jumping online before they ever see you in person, digitalization has to be a part of your brand strategy. Your business needs your website, social media, and every other digital platform you control to shout your message out loud.

NEWMEDIA makes sure that happens with innovative solutions that get clients ahead.
Local (as Well as Global) Reach
We could go on for days about how big search engine's like Google are. There are reams of stats digitally printed all over the internet that tell us how many billions of people use social media.
For example:
"That's all very impressive," we hear you say. "But I run a local business for local people. I don't need to market to the billions of social media users all over the world."
That's definitely true if you have a small business. Trying to embrace all things digital marketing to appeal to everyone means you'll just run into the same problems you have with digital marketing:
Too much money spent
Not enough of your target audience reached
You're based in Atlanta, GA. You have a business that primarily serves people in Atlanta. What can digital marketing agencies do on a local level to help you?
The answer's simple:
We can boost your profile in local searches.
Take a look at this picture from Search Engine Land: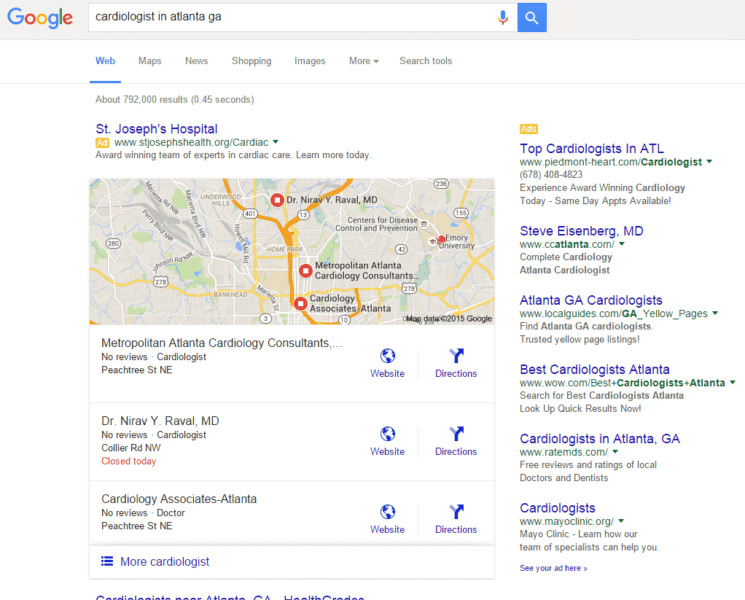 That's an image of the first page of Google for the search term "Cardiologist in Atlanta GA."
You can see what comes out on top. Three results for local businesses, with addresses, links to websites, and directions. Those three results appear above everything else that Google pulls up for the "Cardiologist in Atlanta GA" term.
This one image encapsulates why even local businesses need digital marketing. People don't search for your services in telephone books anymore. A massive 97% of them search online to find local businesses.
If you want to see the true scale of that percentage, 970 out of every 1,000 customers your business will ever obtain checked local search results before they decide to buy from you. If you're not working with a digital marketing agency like NEWMEDIA to get ahead in local search, that means 970 potential customers out of 1,000 may not even know that you exist.
We've just given you four powerful benefits that digital marketing agencies can offer to your Atlanta business.
Let's recap:
Less money spent to reach more people means you get a better return on your investment (ROI).
You can target your digital marketing so you reach people who actually want your product.
Your brand identity gets a lovely boost because you have a better digital profile.
Whether you're a global company or a local business selling to people on the streets of Atlanta, digital is the way to go.
"Okay, we get it," you tell us. "But what does NEWMEDIA do to create strategies that move me away from being a digital dinosaur? What do you actually do?"
That's a good question.
We could tell you that our digital marketing agency exposes you to experienced marketers and features great project managers.
But you want to get into the weeds of our services. Strap in because our team specializes in a huge number of digital marketing techniques.
Customized Web Development and Design Services
As a local business, your physical location is your castle. The signage tells people what you do, and you (hopefully) have a few loyal customers who drop in regularly.
But what about new customers?
We've already talked about how many people check your business out online before they buy. But what you don't know is that most people check out your website before they even think of setting foot in your physical store: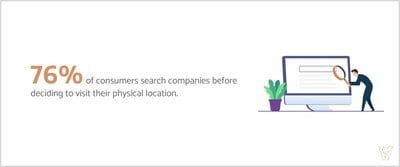 Our web design services ensure that 76% of people actually find something when they research you online.
But we go far beyond building basic websites to serve as online business cards for your website. Our web design service ensures your website looks the part on desktops and mobile devices.
If you need complex website development for a platform with tons of databases or products, our digital marketing agency can handle it.
Do you love Shopify? Is WordPress your content management system of choice? That's great, too, because NEWMEDIA can build fantastic websites on any platform.
Search Engine Optimization
We break out search engine optimization (SEO) services down into four core categories:
General SEO
There's an age-old question in philosophy:
If a tree falls in the forest and nobody is around to hear it, does it make a sound?
We have our own spin on that famous question:
If your business has a beautiful web design but doesn't appear in search engine results, will anyone even know it exists?
We know the answer is "no" because 75% of people never even make it past the first page of Google results. NEWMEDIA uses its search industry expertise to ensure your website makes the biggest sound on search engines.
Local Search Engine Optimization
Small businesses need to go local before they can go global. We've already talked about why your site needs to appear in local searches, so we'll let this image from Blue Corona do the rest of the talking for us: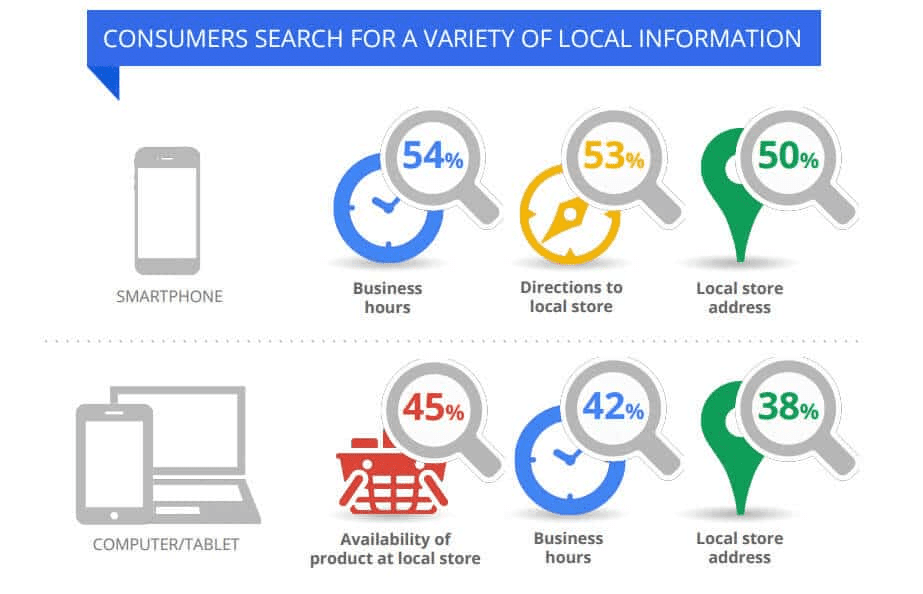 Local people want local business information. NEWMEDIA ensures your customers know when your store is open, how to get there, and what products you sell.
Ecommerce Search Engine Optimization
The best estimates tell us that there may be as many as 24 million ecommerce websites in the world.
That's a lot of competition for your site.
Worse yet, only a million or so of those sites manage to sell more than $1,000 of products annually.
None of our clients' business goals involve making less than $1,000 per year. And with our ecommerce search engine optimization, they (and you) will definitely sell more products online.
Technical Search Engine Optimization
Search engine optimization isn't all keywords and content marketing. The nuts and bolts of your website have to slot together properly to make your site worth a visitor's time.
What does that mean?
Every page has to load quickly. After all, bounce rates increase by up to 103% if your website takes more than two seconds to load.
Search engine crawlers have to be able to navigate your site, too. A crawler is like a digital insect. It explores your site and tells its search engine what it finds. If the crawler can't even figure out what it's looking at, your site is going to rank poorly.
Our technical search engine optimization service puts all of the behind-the-scenes pieces of the puzzle together so you can focus on the more important stuff.
What use is email marketing in the 21st century? Everybody does it. Some digital marketing companies will even tell you that email is dead. After all, most people send marketing emails to their spam boxes, never to be opened by a human being.
Right?
If that's the case, how do we explain this chart from Maven Marketing LAB: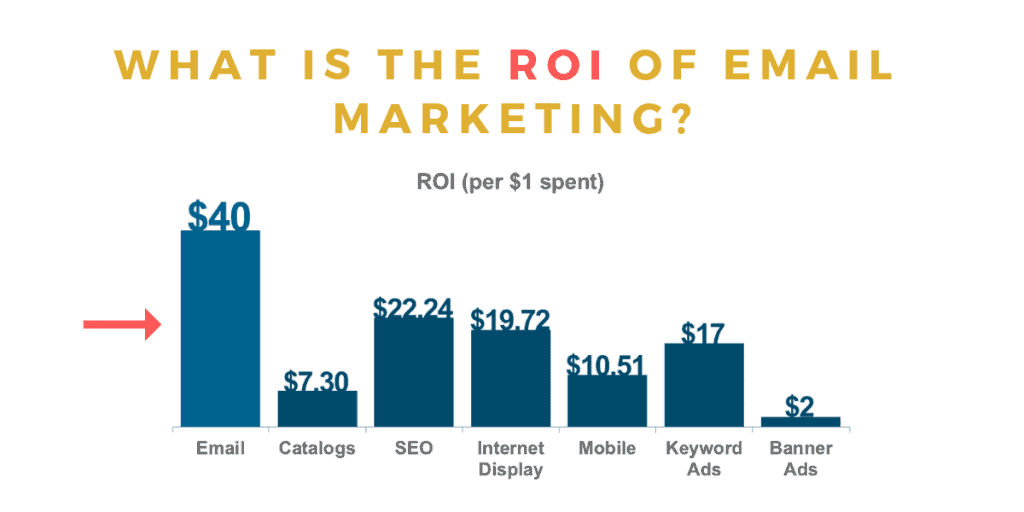 Email is as alive today as it's ever been. And when you do email well with a digital marketing agency that knows what it's doing, the strategy delivers up to $40 for every dollar you spend on marketing.
Let's say you pump $1,000 into email marketing. That means you generate a return of $40,000.
That's good going in our books.
Email program management is about knowing when to send the right emails at the right time. It doesn't work if you have a stock email that you shoot out to every customer, no matter where they are in their journey with your business. A great email strategy ensures you send the right emails, at the right times, to the right people.
Content Strategy and Marketing
"Content is king."
It's a mantra that's been repeated over and over since the advent of search. But just because people talk about content marketing so much that it's almost cliché to talk more, that doesn't change the fact that content is…well…king.
Think of your content marketing as the biggest digital relationship builder your business has. You use your content to make people aware that your company exists. Once they're aware, you use more content to engage and fascinate them. That engagement pulls them closer to making a buying decision.
What do you use to give them the last little push over the line?
More content.
The right content marketing strategy delivers more qualified leads, which means your business makes more sales. And over the long term, good content drops costs for small and mid-sized businesses by thousands of dollars, as we see in this chart from Marketing Insider Group: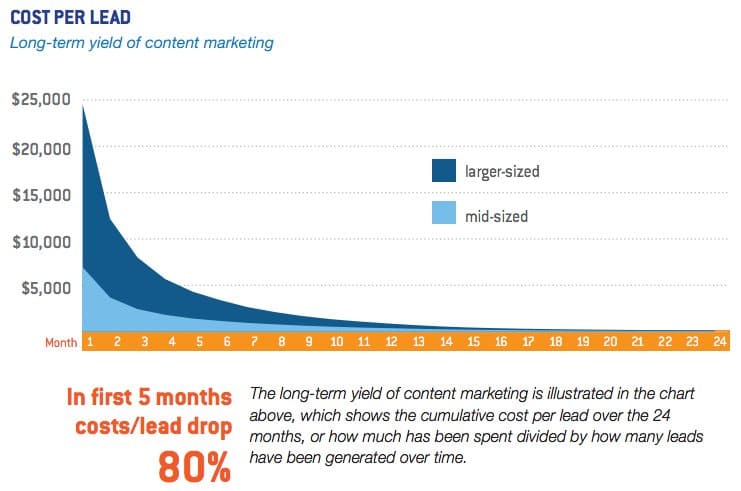 Combine lower costs with more sales, and you have a service that meets two core marketing needs.
Video Production Services
We're going to take a data-driven approach to explain why you need videos in your digital marketing strategy:
So, we see that most internet traffic goes to video and that video marketing delivers a brilliant ROI. And yet, less than a third of videos produce two to four videos each month.
Something doesn't add up there.
Why would these companies not make more videos if they're so effective?
Time is the issue. It can take two weeks or more to make a single video. The good news is that NEWMEDIA's video production team can handle video creation for you, meaning you get to focus on other activities.
We wouldn't be able to call ourselves a full-service marketing agency if we couldn't handle your socials as well as your website.
Our social marketing strategies get you more likes and shares, of course. But if you need to know the true benefits of social media marketing, the experts tell you in this chart: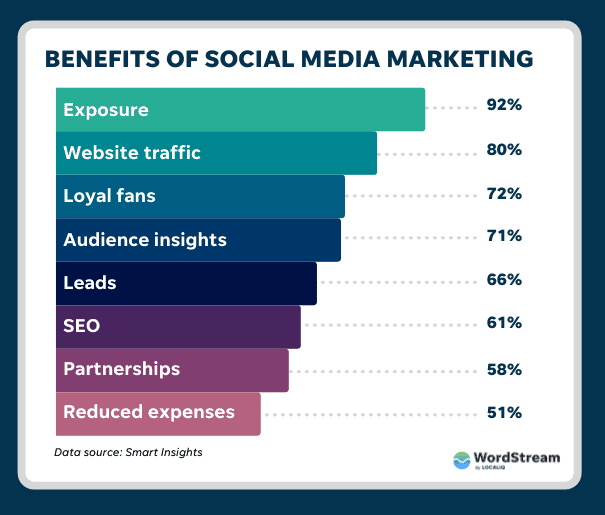 Social media does more than just build exposure and drive more people to your website. 66% of marketers say it's a valuable source of leads. And 58% say the partnerships that come from social media, be those influencer marketing deals or partnerships with other companies, benefit them greatly.
Getting social means you can speak directly to your customers. NEWMEDIA builds your social base within Atlanta and beyond so you form more partnerships, get more leads, and get the exposure your brand deserves.
Pay-Per-Click (PPC) Management
When you can't get clicks organically, you can pay for them.
That's an oversimplification of what PPC advertising accomplishes. And yet, it's the view that many companies have when they try to build PPC into their digital marketing.
The truth is that PPC can give you extra exposure while you're building your organic search strategy. But it's really a combination of paid and organic that gets the best results.
NEWMEDIA is one of the top Atlanta digital marketing agencies for PPC because we know how to combine PPC with search engine optimization.
Our team takes the keyword-related data we get from PPC campaigns and applies it to your SEO marketing. We track your website's analytics so we can see who's doing what and why they're doing it. That's data we can pump back into your PPC campaign to ensure your ads direct traffic to the pages on your site that lead to more sales.
Digital Marketing Agency Atlanta
We've shown you what a digital marketing agency does, and we've covered why you need to have a digital strategy.
There's just one more question to answer:
Why is NEWMEDIA right for your Atlanta business?
We can think of a few reasons:
An Award-Winning Digital Marketing Agency
Clutch Global named NEWMEDIA one of the top 1% of digital agency global leaders. UpCity ranks us in the top 1% of digital marketing providers in the United States.
We've won awards for what we do because we get great results for our clients.
We're A Full-Service Digital Marketing Agency
Think of NEWMEDIA as your one-stop shop for web and digital marketing. We build websites, create stunning mobile apps, and develop marketing strategies that ensure our clients dominate the digital landscape.
We've worked with hundreds of businesses in Atlanta and the rest of the United States. Here are some highlights:
Western Sugar
Amtrak Acela
CBS Television
Delta Air Lines
We've helped small businesses grow by over 10,000% in five years, and we've boosted huge brands to the point where they generate $1 million per day in revenue. Frankly, our track record speaks for itself.
4000+ Digital Marketing Campaigns and Counting
We've worked with thousands of businesses, from global enterprises to small and medium-sized businesses based in Atlanta.
Whether you have a start-up, an established company, or a non-profit, we can formulate digital strategies that get results for your business.
Develop Your Digital Strategy with NEWMEDIA
From our Atlanta office in Buckhead's Terminus 200, Our digital marketing agency helps businesses in Atalanta with web design, web development, UX creation, and online marketing.
Your company could be one of the businesses that we help to grow.
If you'd like to learn more, there are several ways to get in touch with us.
If you like the personal touch, drop into our offices at:
Terminus 200, Buckhead
3333 Piedmont Road NE
Suite 2050
Atlanta, GA 30305
If you'd prefer to speak to us before you meet us, give us a call at (470) 964-6410. Or, contact us online, and a member of our team will be in touch to discuss your digital marketing needs.