NEWMEDIA is moving! We have big plans for the continued growth of our agency itself, and our two funded startups—1FEE and DRUD—that require even bigger space. And let's face it, there's also the obligatory pingpong table, which needs some decent elbow room.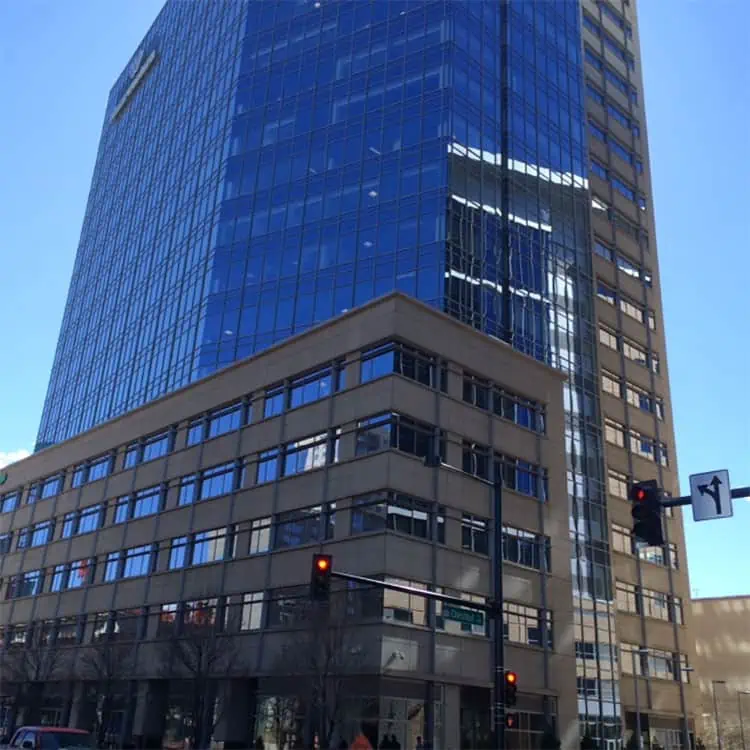 We've been in this area since before the Union Station neighborhood was cool, so we couldn't leave now. We're staying in the hood, but movin' on up: We're taking over the fourth floor at 1900 16th St. in LoDo—at the light-rail stop behind Union Station, and next to the footbridge leading across to Riverfront Park—at the beginning of April. While very exciting for us, the move also is great for our clients: Easily reached from anywhere in Denver, it's also a quick hop from Denver International Airport on the light-rail system to our doorstep for those clients who fly in to work with us.
Space has been tight for awhile at our current location across the street from Coors Field—so much so that internal teams have had to find very creative ways to meet: I walked by a pod standing in a huddle with open laptops, and Rick Manelius, our Director of Operations, was spotted in an alcove under the stairs (our 'atrium") doing an interview with a local newspaper reporter.
The move uptown gives us 14,000 square feet—plenty of room (for now) for our people and equipment. Moving nearby keeps us in the loop: LoDo is a hotspot for high-tech companies like ours.
The Mile High City ranked fourth as a technology industry hub last fall, according to a report by JLL Technology Office Outlook, which tracks such trends. This means Denver likely will continue to grow its prominence as a tech center—and we'll be in the center of that energy.
Denver tech growth is good for business: All high-tech companies benefit when more enter the scene. A healthy, high-tech ecosystem breeds innovation, pulls in more business and attracts more talent—it's a virtuous cycle.
We're doing our part: We're adding five new people a month, and we need to hire more creative talent—brilliant back-end and front-end developers and savvy Drupal and WordPress experts, to name a few.
We're notable for our 20-year track record of providing full-service website design and development that is smart, user-friendly and cutting-edge. We also build and maintain relationships, and this sets us apart. If you're looking for a website designer and/or developer, drop us a line. We'd love to work with you.