Last September we started working with Denver Rescue Mission to launch the first phase of their website redesign project, and the results have been tremendous. The exciting news? DRM has received more than $1 million in donations since launching its new website in November! DRM attributes this online fundraising success to how we designed the donation and other critical pages. The payout? We became good friends with our client and have a long-term, collaborative partnership.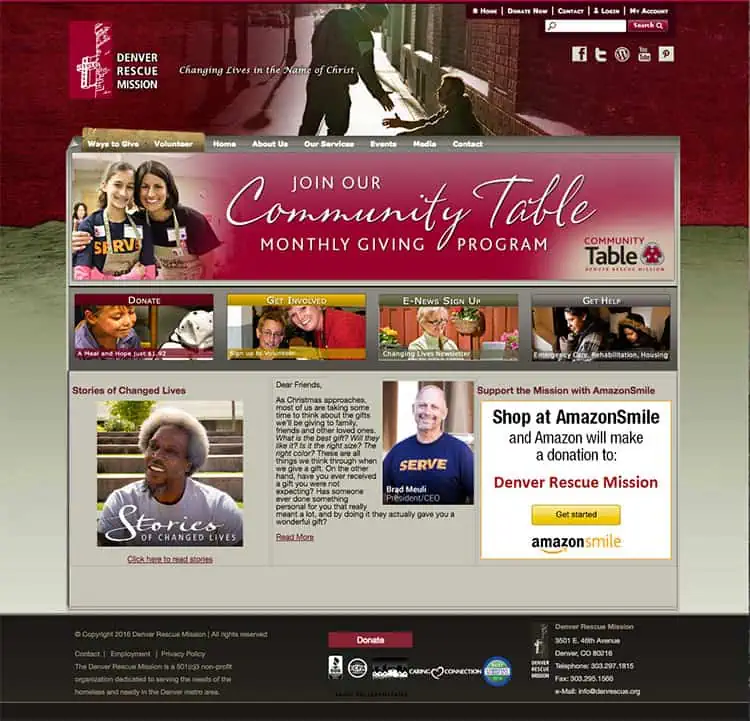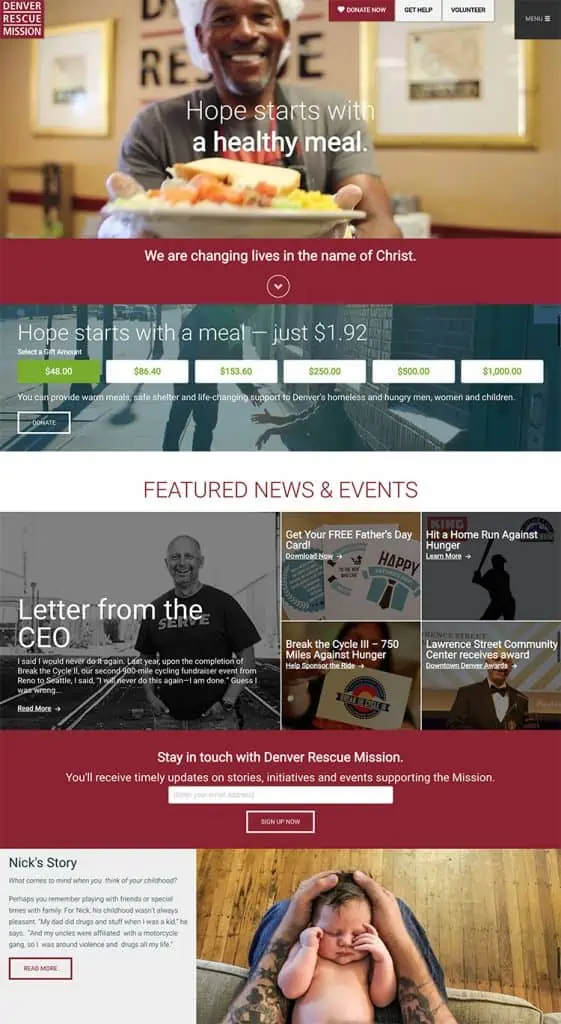 When a client comes along whose mission jibes so well with our mastery, we think it needs a shout out, especially when that client is Denver Rescue Mission (DRM), the non-profit organization that serves the needs of the homeless and needy in Denver and Fort Collins. DRM's good work is funded primarily through donations and charitable giving. To that end, DRM came to NEWMEDIA with an important goal: Help us redesign our website to boost awareness and make charitable giving easy and memorable.
DRM also wanted to migrate several separate websites onto one user-friendly platform to consistently brand itself across all its programs and to make it easier for the public to navigate its system. DRM needed a lot of work done in a short amount of time: They came to us in September and needed the new site fully functional by the December holidays, their primary charitable giving season. It needed to be mobile and tablet friendly, too: DRM needed to reach potential and actual donors across multiple platforms. Of course, they wanted it to be beautiful, too.
As the Project Manager for this project, I worked closely with the DRM team to learn how NEWMEDIA could best serve its needs. Our first phase of the project focused on a complete redevelopment of DRM's website and new integration developments with Blackbaud that incorporated other platforms.
Here's how DRM's Web Marketing Administrator Katelyn McArdle remembers it: "Our challenge was to complete our website in time for our busiest season of the year, which meant that NEWMEDIA had to accept the challenge and dedicate significant time and energy to the project. To say that NEWMEDIA rose to the challenge is an understatement. They went above and beyond to exceed our expectations by creating modules and pages that will allow us to better serve the community and our donors."
How'd we do that?
In short, we combined DRM's assets—primarily its excellent photos and videos—with spot-on messaging, branding and site usability to tell the non-profit's story. We focused hard on how to present the donation tab and page, and we're proud of the solutions we came up with for both: DRM's homepage includes several well-branded options to "donate now" and the donation page not only shares a lot of information, it's helpful and easy to follow, e.g., DRM shares details from its financial report.
The results tell the rest of the story: In November, when the website was brand new, DRM received a 7 percent bump, or $27,000, in donations compared to November 2014. As for the December numbers: Website-based donations rose 25 percent (that's $175,000) over those from December 2014.
DRM has received more than $1 million in donations since November through its redesigned online donation form via various user platforms.
We're pretty pleased with the usability of DRM's new website, but there's more: In December 2015 mobile transactions increased 52 percent over the previous year—the revenue difference was about $40,000. We learned mobile use is increasing in general for DRM: 53 percent of its users visit the site on desktops while 47 percent find DRM on their mobile-friendly devices. That's all good news. It means that DRM is providing multiple ways for the public to find them and, hopefully, donate.
Katelyn and her crew were over the moon with these initial analytics (we like them, too). They've credited us with making their platforms so successful. In Katelyn's words: "We wanted the process to be more than a transaction, so we were very pleased when NEWMEDIA created a donation page that served as more of a conversation piece than a payment gateway. Users are encouraged to donate because they can see the impact of their gifts and they can even share that experience with their networks."
Katelyn and I recently talked about our joint teamwork. She shared that she appreciates when a NEWMEDIA team member "pushes back" a little, encouraging her and her team to envision their pages in a new way (the donation page was one of those times). She says we're very collaborative. "You always wanted to understand our vision. We relied on your expertise on the tech side. You helped to lead us in the right direction without losing sight of our original vision."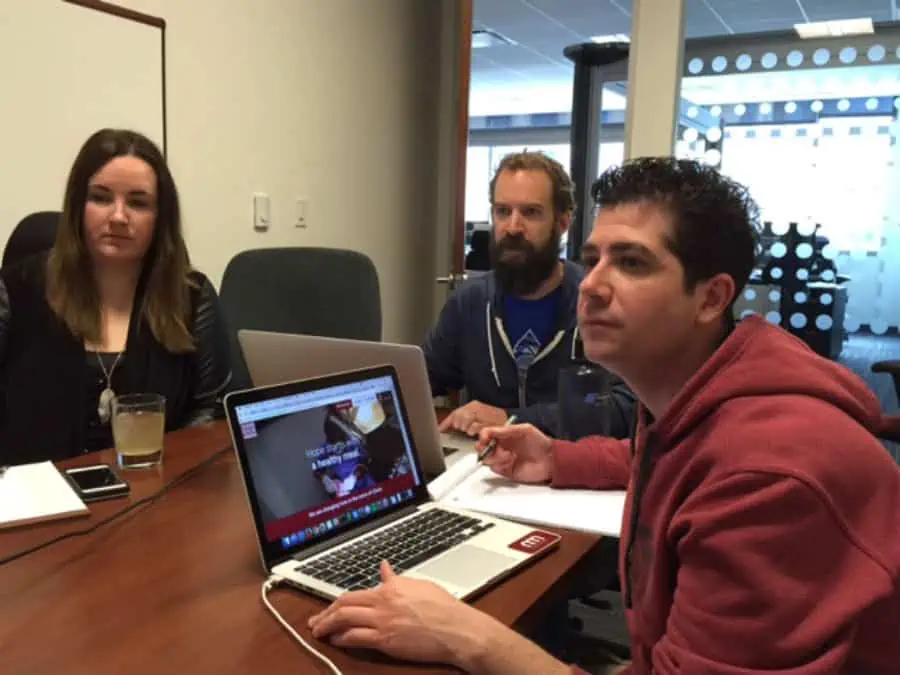 Here's more: "We have an ongoing relationship with NEWMEDIA; we're in it for the long run," she said. "The relationship has changed. There's trust. You're working on multiple projects simultaneously and I don't need to check your progress regularly. I wouldn't trust just any company to do that. It's nice I don't have to micro-manage, and it helps that you're very good at providing updates."
Hearing that makes me feel good, since I provide those updates. At NEWMEDIA we believe that great communication with our clients is key to getting work done quickly and under budget. We want our clients to love the work we do; that's so rewarding for us—the designers, developers and project managers who work on a client project.
Something else Katelyn told me she really liked was how we trained her and others of her staff on how to manage their website. We've taught them how they can improve their pages; we don't have to step in each time, which saves DRM's budget for bigger projects.
She likes the flexibility that the content management system allows with the Drupal site compared to the previous website. More Katelyn quoting: "I like how content falls onto the site, and you kept us in mind as you developed it so we could make adjustments easily after the launch. Our last system was cumbersome and easy to break. At first we wanted to go with WordPress, but the NEWMEDIA team encouraged us to use Drupal, which would allow us to scale the website with more complicated future projects."
We're well into Phase II now—migrating disconnected micro-sites to DRM's Drupal one—and we're still in close contact with Katelyn and her team. We keep them up to date on progress, we let them know when we hit deadlines, we bring 'em in when complications arise and we work together—two teams as one—to build the most beautiful and user-friendly website for this fantastic non-profit group. They do such important and good work at DRM. We're really happy to be part of their team.