We were happy to jump in when a non-profit educational group reached out to NEWMEDIA asking for our help. Shore up some badly eroded biking trails? Sure thing! A majority of our team lives an active, healthy lifestyle with several members game to thrash any mountain trail ride. Besides, who can say no to a sunny day outside of the office hiking up the side of a mountain?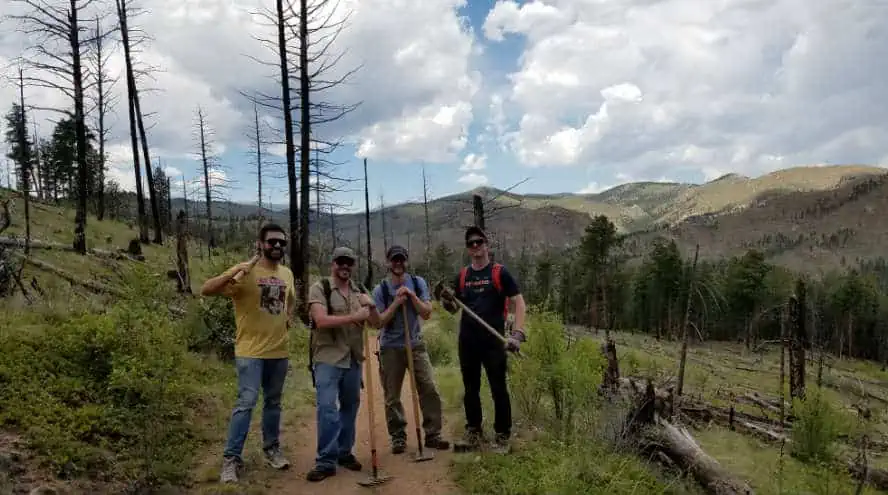 Our intrepid foursome joined the Colorado Mountain Bike Association (COMBA) at Pine Valley Ranch, about an hour west of Denver, to work on the Buffalo Creek bike trail system. COMBA helps to develop and preserve "great mountain biking experiences in Colorado." In other words, this non-profit helps make sure our trails are rideable and hikeable. Colorado has some of the world's best multi-use trails in part thanks to COMBA, which runs on the hard work of volunteers.
With the sun blazing, the NEWMEDIA team spent most of its day as "finishers" among a 30-member volunteer crew. That sounds way cooler than it actually was—we widened ditches—but didn't stop us from owning this title throughout the day. Our four volunteers—Jared Smith, David Bondy, Kyle Masuga and myself—carved out water runoff ditches that exceeded COMBA standards.
We like a challenge
In our line of work, details and teamwork matter. We treated our trail work as we would a client's website: with careful attention to even the little details.
Digging water runoff ditches on the side of a mountain sounds like a simple and straightforward procedure, but earlier in the day COMBA leaders explained why it mattered: If done correctly each spot will last several months to several years. If done badly? They survive only a few weeks. This may be the difference between leaving a trail open or closing it for maintenance. As the mountain bikers in our group may attest, keeping the trail system open and safe is important work.
Building highly functional, user-friendly, beautiful websites is important work, too. If you're in need of some website help, design or development, look no further than NEWMEDIA.